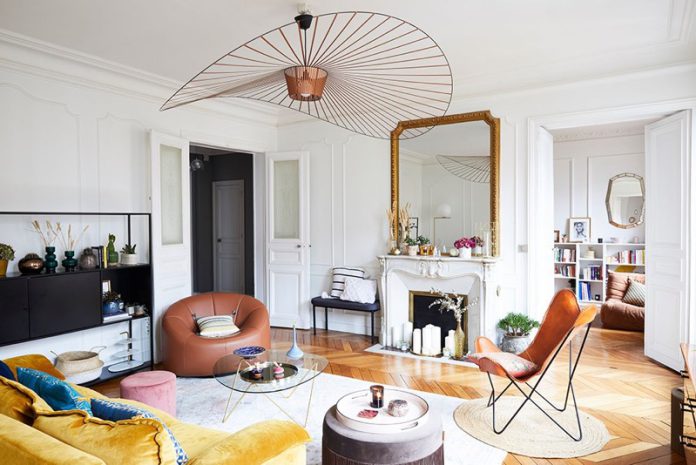 When you own an apartment, renovating and decorating are easy. After all, you are the only person you have to consult. However, living in a rented apartment is an entirely different story because there are clauses in the tenant-landlord agreement that limit how much you can decorate your space.
Even so, it doesn't mean that you are limited on design choices. There are still ways you can make your apartment feel like home without getting in trouble with your landlord.
In this post, we show you seven landlord-friendly ways to decorate your apartment when living in Paris.
Use temporary wall decorations
One way to make your Parisian apartment feel like home without pissing off your landlord is by adding pictures and art to your walls. Worth noting though is that many landlords insert clauses in the lease agreement that ban hanging pictures with nails.
Fortunately, you can go to your local store and get removable hooks, Japanese strips, and command strips. With these temporary alternatives, it's easy to change the decorations whenever you like.
Hide bad flooring
While you can request your landlord to do something about the aging floor, the reality is this may not happen until your tenancy ends. A quick way to add color to the floor is by investing in a quality rug or two to cover the old carpets for a long time. Even a cheap rug can add style to your space and bring out a rental property's hidden personality. A runner in a hallway can upgrade the feel of the hall or entrance leading to the bedroom.
Install mirrors
Apart from checking your outfit before leaving the door, a mirror is a great way to make a small space feel bigger, due to its reflectiveness. Try positioning a few different mirrors around the house to amplify the space. If you don't have space to hang a mirror, you can use standing mirrors in corners.
In the kitchen, you can position a mirror above the sink to make it appear roomier while allowing natural light to set in further. Ultimately, this can bring out a dash of class and elegance.
Upgrade the light fixtures
Most landlords pay the least attention to lighting, so it's understandable if you wish to upgrade some, if not all, of the lights. If the rental has bare bulbs or unsightly pendants, you can add a refreshing touch to it by replacing the shades.
Remember to keep everything safe so that you can restore the light fixtures to the same condition when moving out. Also, position some table lamps on a side table or hall to create a homey feel and add some personality to the space.
Refresh the kitchen
Many people overlook the kitchen when decorating their apartments in Paris, yet it's among the easier places to spruce up. Consider using a removable peel and stick backsplash behind the counters to add a bit of texture and color.
You can also ask the landlord to replace the handles with more aesthetically pleasing ones. Other things to add to your kitchen include colorful towels, a hanging fruit basket, sophisticated wooden cutting boards, and more. Additionally, invest in quality kitchen appliances and cooking utensils and play with how you display them.
Be creative with soft furnishings
You might not be allowed to use a different paint on the wall, but you can add a splash of color and texture to the room using animated wallpaper. Think of colorful cushions in the living room and ravishing bed linen in your bedroom. When done properly, soft furnishings can make a room come alive – perhaps even better than a can of emulsion.
Use greenery
What about adding some plants and flowers to lift the mood in your space? Besides adding life to your room, they also help to clean the air and eliminate toxins. Making your place look elegant and clean the indoor air are other reasons to add them.
Don't just limit the plants to your living room; consider adding them to the bathroom, too. For example, plants like cacti thrive well in a  warm bathroom space.
Conclusion
Decorating your rental does not need to be complicated or damaging. You can find many creative ways to upgrade your space without violating your landlord's rules. If you're not sure whether the decoration you're about to effect is alright, check with your landlord to confirm. These are just a few tips to take your apartment to the next level.
No matter how strict the decoration policy, there's always something you can do to bring out the full potential of your room.