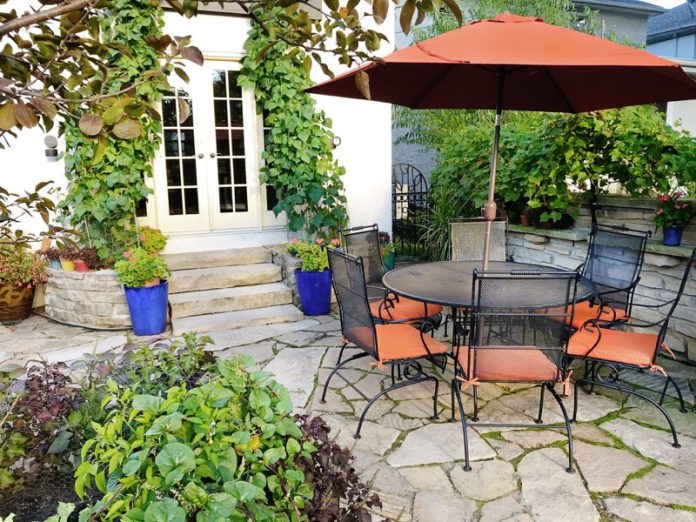 Whether it's a metallic or wooden garden parasol, the unit comes in handy at shielding you from the sun so that you can enjoy the beautiful summer weather. To enjoy the weather peacefully and ensure the garden umbrella isn't blown off by the wind, you must ensure it's properly secured.
How do you secure a garden parasol? There are plenty of ways to go about it. They include:
Use an umbrella base
This is the most popular method to secure your parasol. All you need to do is to head to your local store and place your order. The beauty is there are different umbrella bases you can use, with the common ones being: concrete, granite, and metal.
There is no right or wrong material to go for, as it depends on your preferences and budget.
If your parasol comes with an empty plastic base, you need to fill it with water or sand. Sand is always the best as it's heavier than water, so it provides better anchorage.
If you will be moving your garden umbrella around your garden, fill the plastic base with water that you can quickly pour out and carry the parasol.
Use an inground base.
If you won't be moving your parasol around, you can secure it to the ground. You need to dig a hole of approximately 80 cm3, sink a steel tube, and cover it with concrete. When positioning the ground base, leave at least 20 cm if you have parasols next to each other.
When it comes to concrete, use 4 parts sand ballast to one cement and leave the top square metal plate of the ground base level with a concrete base.
For the best outcome, leave the concrete in place for at least 7 days before you fix the parasol.
Besides the inground base permanently holding the parasol in place, it also eliminates tripping hazards, so you don't have to worry about your family members or even yourself tripping and getting hurt.
Use weighted bags
The weighted bags put weight on the base so that the parasol doesn't move. To use the bags, you need a unique portable base design with an adjustable plastic frame.
Fill the bags with sand, and place them on the portable base to create a 2 X 25kg base weight.
The beauty of the weighted bags is that they allow you to secure the parasol in small and narrow places, such as between tree fruits.
So, what is the best way to secure your garden parasol?
There is no one best way to go about it as it depends on your needs and preferences.
A properly secured and open parasol is beautiful, but make it a habit to close it when not in use. This is to prevent it from cracking or falling over.
Garden umbrellas with wooden frames are elegant and beautiful, but they aren't as durable. If you live in extremely windy areas, go for garden parasols with fiberglass ribs instead as they easily bend and flex, making them less likely to snap or break.