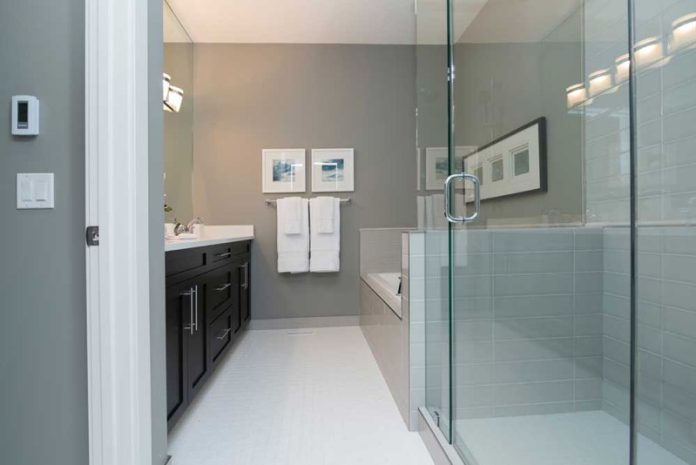 Bathrooms were once an afterthought in the home, with some still remaining in the garden but fast forward to today and now, after the kitchen, the bathroom is probably one of the most important rooms in the house in terms of property and resale value. It's also an incredibly important room for those wanting to wind down and enjoy that all-important self care. No longer a result of purely practical and functional needs, bathroom design has begun to raise the bar and to help you get the most out of yours, here's the ultimate guide to designing the perfect bathroom.
Look At What You Need First
While we know bathrooms aren't purely about functionality now, it's important that you assess your bathroom needs first as this will have a huge impact in terms of how you design it. Is it a large family bathroom? Is a small private ensuite? Does it need to cater to everyone's needs and boast a bath and shower? Or will a compact wet room serve you better? If you're looking for spa style features, be aware this will require a long list of features but a small ensuite will be a much simpler result to achieve.
Once you've decided on this, it's then important to ask yourself about the space you're hoping to create. Will it be an invigorating room to help energise you in the morning? Or will it be a haven to relax and unwind? This decision will effect not only the fixtures and fittings but the colour scheme you ultimately choose too.
Decide On A Layout
Getting your bathroom layout right is crucial to ensure a design that ticks all of your boxes. You want your bathroom to not only look great but work well for you too. If you're happy with your layout however, you may get away with a much cheaper refresh of your bathroom as you'll only need to replace fittings, flooring and tiles for instance. If your layout isn't quite right however, you'll want to address this from the very beginning as you'll need to move waste and water pipes.
If you're in need of gaining a little space, look at rehanging doors or exchanging your current ones for sliding doors. Something as simple as this can create a huge difference to both functionality and style too.
Look For Inspiration
We aren't all blessed with the ability to see beyond four plain walls, so it's worth looking for inspiration. Whether that's from family and friends or even through specific design catalogues. Your main options to choose from are traditional, period classic and of course contemporary however within those categories are a plethora of options to consider. Take your time and find what makes your heart sing.
Ask The Experts
Experts are called 'experts' for a reason. They know what they're doing and they do it with precision and finesse. If you're looking to achieve the perfect bathroom without inducing sleepless nights and stress when it comes to picking the right interior and orchestrating the entire project, then we highly recommend asking the experts.
Matter Designs are our go-to experts, boasting an incredible portfolio in home design, from bathrooms to bedrooms and beyond. Their knowledge is second-to-none and thanks to their ability to work with you on projects, their customer satisfaction rate is incredible. For more information, contact them today on 01268 833 836.