If you're like most people, you probably think of exterior renovations as part of your home's curb appeal. If that sounds about right, you might agree that front doors are one of the most essential parts of your home exterior's curb appeal. After all, who wants to walk through a door that's neither whole nor welcoming?
It's often more economical and practical to buy a new front door than to fix an existing one. Front doors are constantly exposed to harsh weather and heavy wear. But how much should you spend?
How Do You Determine if Your Front Door Needs Replacement?
There are a few ways to determine if your front door needs to be replaced. You may want to take a closer look at the door's condition. If the door is quite weathered, it might only need to be cleaned. But if the door lets moisture seep in, it might need to be resealed. If there are any broken or missing hinges, they'll need to be fixed to keep sealed or swing open and shut properly.
Then again, you might want to look at a door upgrade. A front door can be so much more than just a necessary entrance. It could embellish your front exteriors in ways you hadn't considered before.
Bundling the Costs of Front Doors & Exterior Renovations
An oversized door with an extravagant knocker and a stylish handle could be the finishing touch to your exterior renovation. And getting one would undoubtedly cost less than some exterior renovation options. How you manage an exterior renovation depends on many factors, but if you were to put an oversized front door, the entrance would need some remodelling and exterior work.
Another thing to consider is the addition of a storm door. For any exterior renovation in Edmonton, a storm door could grant significant savings on your energy bill each month and the added heat retained in your home.
As a former windows and exteriors company, Ultimate Renovations has the expertise in making storm door installations on any size of door you select. But they also have the expertise to maximize curb appeal when they make a customized storm door installation.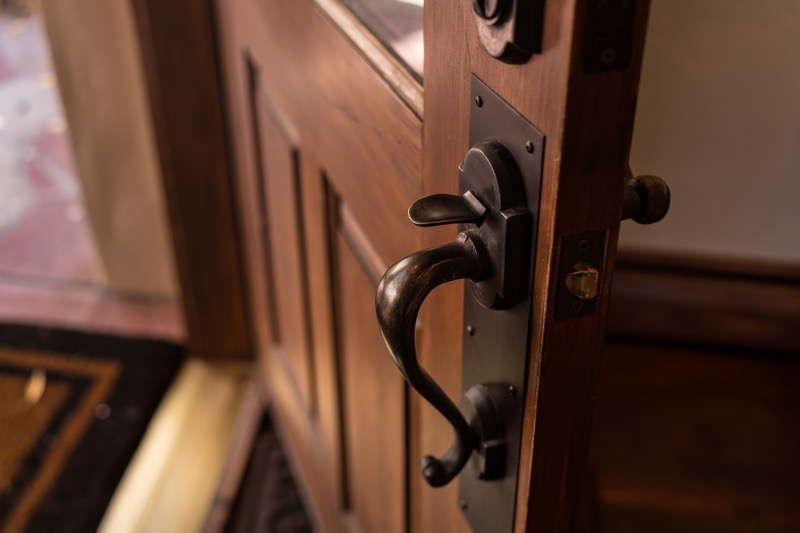 How much does it cost to replace a front door?
It can cost anywhere from $450 to $1,550 to replace a conventional front door as a part of your exterior renovations. With remodelling and exterior work adjusting the size of the entrance so as to fit an oversized door, it would definitely be closer to or in excess of $2000.
The cost totally varies depending on the size of the door, the type of door, and the difficulty of the job, especially if it involves any remodelling, resealing, or a storm door. It's critical to your home's safety and energy efficiency to be sure that you're getting a quality front door replacement before starting your project. That goes double if you're getting a new front door with a storm door.
What is the average front door cost in Edmonton?
The average higher-end front door costs about $1,500. But it can be much more expensive depending on the type of door you need to replace and the condition of the old door. For example, a premium, oversized, custom front door may cost between $3,000 and $5,000.
A stock front door that fits your existing doorframe nicely may only cost $500 to $700. If you want a quick and easy replacement, a simple door with simple features might not be too expensive after you add up all your costs.
However, if you need to replace a front door with some premium handles, deadbolts, or knockers, that can increase your costs by several hundred dollars. It could be even more if you opt for smart home or digital features on the locking mechanisms.
There are many benefits of replacing your front door when carrying out exterior renovations. But the most important benefit is that it can help keep your home safe and warm. When your front door is slowly getting worn out, there's an insulation issue and a security risk at the same time. So it might be an urgent concern, but perhaps one that you can wait to bundle with other exterior renovations.
Not only will it save you money in the long run, but it can also help to keep your home looking its absolute best. To get an accurate estimate of the cost of replacing a front door, give Edmonton's experts in home exteriors, Ultimate Renovations a call!