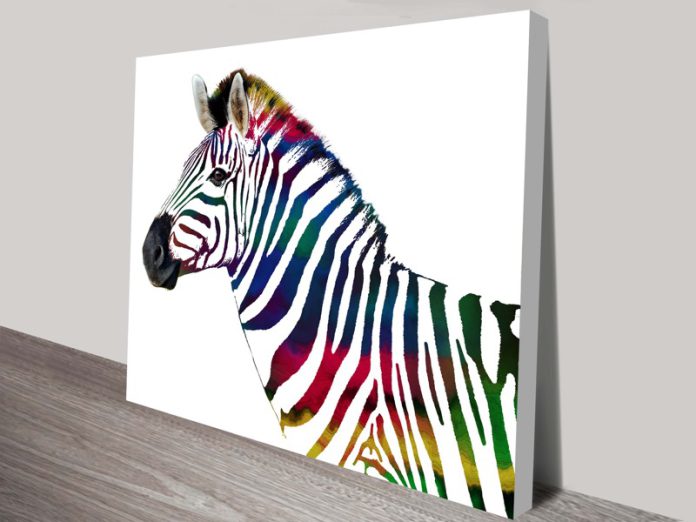 Rainbow animals art is the perfect fit for individuals looking for quirky art pieces to install in their homes. Art pieces depicting animals in colorful hues of the rainbow are ideal for fun homes and animal lovers who want art that can transform their plain, old walls into fun, dazzling canvases.
So, without any ado, let's take a look at some animal rainbow art pieces that you can decorate your walls with!
Rainbow Animal Canvas Art for Your Wall
Here are some compelling rainbow animals art pieces that you can install in your home:
My Mum the Rainbow Giraffes
It has to be one of my most favorite art pieces of giraffes. After all, what could be more beautiful than a mother giraffe lovingly licking her baby's face with her tongue! What makes this art piece even more adorable is the rainbow patches used for the two giraffes. This colorful animal canvas wall art will look fabulous in your baby or kid's room or nursery.
Hippie Lion
If you're looking for a unique and colorful animal canvas wall art for your lounge room or bedroom, you must take a look at this magnificent and fun art piece depicting a hippie lion! If you're a fan of this magnificent big cat, you will certainly love the details of this artwork. However, what truly makes it stand out is how the mane of the lion is made to look like a stunning head of dreadlocks with colorful beads in it!
Little Chief the Meerkat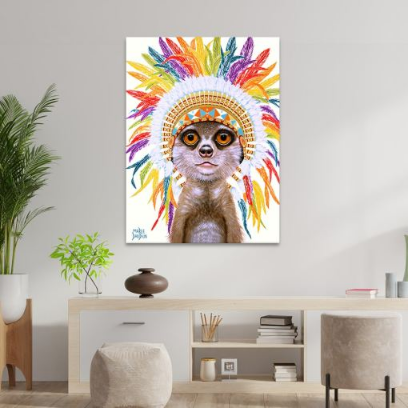 This adorable painting of a little meerkat in a colorful chieftain headpiece will be the perfect fit for your kids' room. The hyper-realistic eyes and nose of the meerkat are beautifully offset by the cheerfulness of the headdress associated with native tribes. This canvas print wall art will certainly add the right pop of colors to a bland wall and will also fit right in with your kids' furniture.
Cupcake the Cow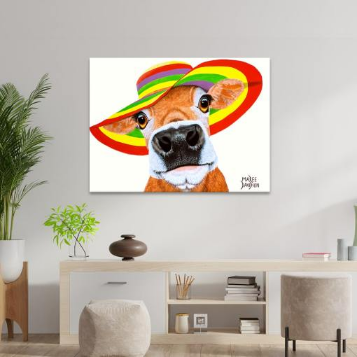 There is nothing cuter than this wonderfully detailed painting of a cow with an elaborate, rainbow-colored hat on! This picture-perfect artwork will brighten up your wall regardless of where you decide to install it in your home. It will certainly be a talking point for your guests, and your kids will love its striking colorfulness. Oh, and don't even get us started on that oh-so-cute nose!
Pug 4 Life Dog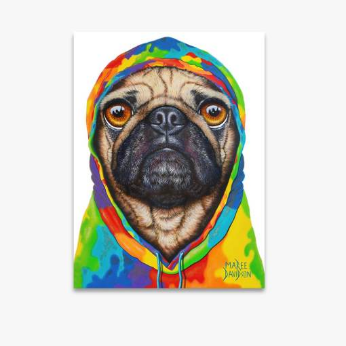 As someone who has seen many pug pups up close, I can safely say that this print perfectly captures the perpetually and deceptively "sad" look in a pug's eyes! I say deceptive because these canines are adorable little balls of energy that will keep you entertained all day long. However, what I adore about this artwork is that incredibly hip rainbow hoodie! Have you seen a more fashionable pug? We sure haven't! You can add this delightful-to-look-at animal artwork in your lounge or kids' room.
Colors in the Wind the Horse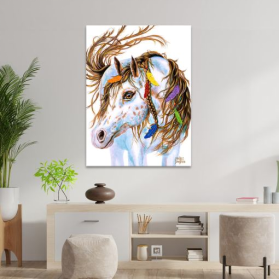 If you've been looking for a Pocahontas-inspired rainbow animal art, look no further than this downright majestic canvas print of a horse with rainbow feathers attached to its mane. It is a beautiful image of a while, almost silver horse with brownish hair. What is truly captivating about this art piece is the attention to detail and that magnificent braid that falls perfectly on the side of the horse's face! It will be the ideal fit for your lounge.
We Still Call Australia Home Emus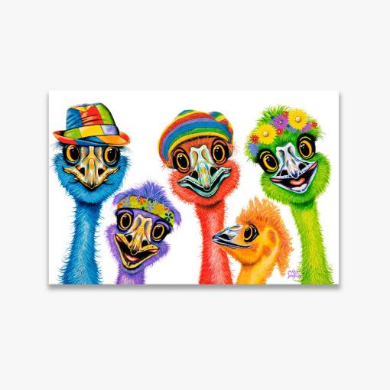 Emus are the second-largest birds after ostriches. As an endemic species to Australia, it's only fitting for you to have a colorful print of them hanging from your walls! This rainbow wall art depicting five cheerful emus is equal parts hilarious and endearing. It is easily the quirkiest wall art that you can install in your home, and it will be a terrific ice breaker for when guests come over.
So, now that you have taken a look at some genuinely compelling, attractive, quirky, and fun animal rainbow art, make sure to explore more animal canvas paintings on our platform!