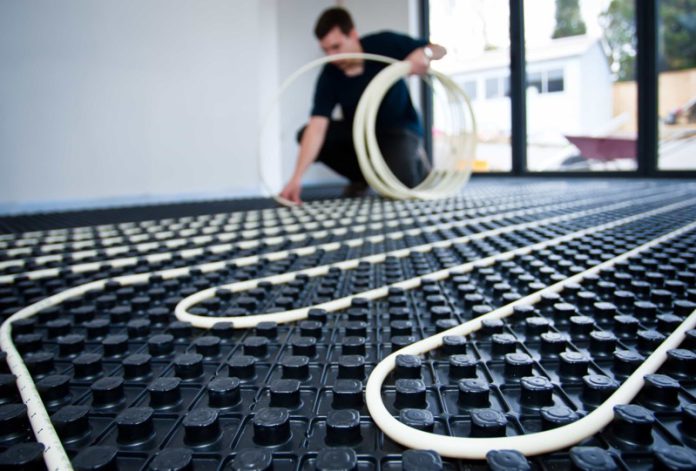 If you have ever spent the night in a luxury hotel, you have probably experienced the comfort of underfloor heating. Radiant underfloor heating is a system installed in the subfloor to transfer heat to your floor covering, distributed evenly across the room. It can serve as your primary or supplemental heat source in your home, depending on your needs. There is a lot to love about underfloor heating systems.
More energy efficient
Today, homeowners seek residential solutions to reduce their carbon footprint, and radiant heated flooring ticks all the boxes. Electric and hydronic radiant heating systems can reduce your energy bills by around 20-25% and even more if your home has a proper insulation system.
According to underfloor heating experts at https://www.floorheatingsystemsinc.com/,  the traditional radiators can heat water to 160degrees Fahrenheit, yet wet underfloor heating only requires to be heated to 84degrees Fahrenheit.
Electric systems heat faster, saving more energy and the best part is that you can control them with a digital thermostat to set the temperature depending on your heating needs.
Better air quality
Forced air systems rely on air circulation to heat your home, which stirs up dust and other airborne contaminants around your home. That is detrimental to sensitive family members such as those with asthma and other respiratory problems. But with radiant floor heating, you don't have to worry about allergens. It is a non-allergenic heating system, and humidity and mold are also less likely to bother you.
Easy to operate
You can control radiant floor heating with a smart thermostat with just a push of a button. The better part is that it is also controllable with a wifi-enabled thermostat, which means you can remotely adjust your heating needs. Plus, they require no maintenance giving you the value of your investment.
No noise
Unlike the traditional heating systems that make a lot of noise when heating your home, radiant floor heating doesn't make any noise when heating your home. In fact, you won't realize that it is working. Installed underneath your flooring, the system dissipates heat to your floor, which is then distributed to your room quietly, giving you much-needed peace of mind.
Easy to install
With the right professionals, radiant floor heating is easy to install whether you are constructing a new home or remodeling your existing home. Hydronic heating systems are easy to install when building new and if you have a boiler in place. Electric radiant heating is easy to install when remodeling your floor and is also cost-effective in the long run, reflected in the energy savings.
It saves you more space.
As the name suggests, underfloor heating is installed beneath the floor, which leaves you with more space around your home. Traditional heating systems such as furnaces and radiators take up a lot of space, not to mention the risks of kids tampering with them.
The bottom line
Underfloor heating systems distribute heat uniformly across the floor, leaving you with a warm and comfortable living space. It is tucked under your floor covering, so you don't have to worry about space, and is also non-allergenic, leaving you with better air quality.