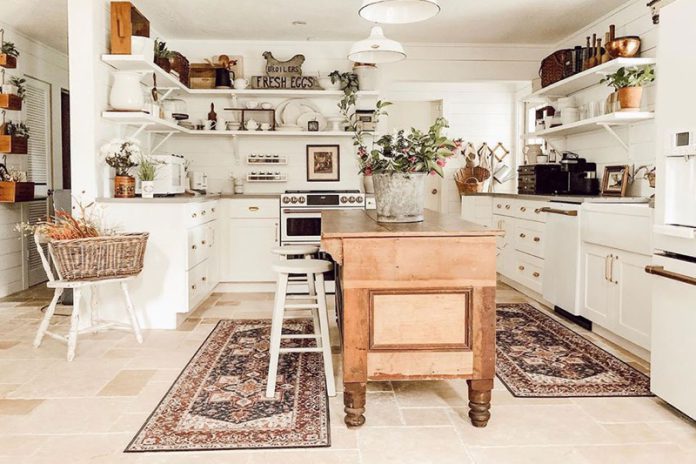 Runner rugs are long and thin rugs. These rugs are typically rectangular in shape, but they are also available in a few other unique shapes.
Whatever the shape, a runner rug's length is sometimes multiple times more than its breadth. Runner rugs are typically used on staircases, small corridors, bedrooms, the home's entryway, the kitchen, and in bathrooms, right in front of the wash sink.
The Benefits Of Placing Runner Rugs in Your House
Runner rugs offer a variety of intriguing features for your home.
They not only look wonderful and contribute to the beautification of your home, but they also provide protection. This is especially true if you have hardwood or another type of hard flooring which is more prone to damage (specifically in high-foot traffic spaces).
A runner rug makes hardwood floors comfier to walk on, and it also provides better traction, reducing the likelihood of anything sliding across the hardwood floor. Rather than a cold, hard, and slippery floor, runner rugs provide a warm, comfy, and safe surface beneath your feet.
Due to its narrow width, this kind of rug is suited to use in areas where a larger rug would be inappropriate. This is one of the key reasons these rugs are so appealing to the homeowners who make use of runner rugs to transform a long, off-putting hallway, a bedroom floor, or a bathroom from dreary and dull to warm and wonderfully vibrant.
Runner rugs can instantly bring a plain-looking room to life and offer character and comfort. Additionally, it does not require any setup time. Simply place the runner rug on your floor, and you are done.
Places to Put Runner Rugs
Runner Rugs in Entryways and Hallways
Entryways and hallways, in general, have a pretty austere and dismal appearance. These rooms are often smaller than other rooms, and they might easily appear congested when you put too many items.
The majority of homeowners disregard these spaces and leave them alone because they believe the space available is too tiny for any activities.  However, that does not mean that you cannot aesthetically enhance the space. Simply adding a vibrantly colored runner rug to the foyer may transform the space.
In these tiny spaces, you can choose either formal or informal runner rugs – depending on the theme you are going for. The type of runner rug that you will choose for your doorway will be able to set the motif or theme for the rest of your home's common rooms.
By incorporating a runner rug into the corridors, you can instantly differentiate the private portions of your home, such as the bedrooms, from the common areas like the kitchen and dining room.
Incorporating Runner Rugs into Your Bedroom
It is wonderful to be able to get out of bed and place your feet on something soft and warm. However, when a standard-sized rug is used, a significant section of the rug often ends up covered beneath the bed.
A runner rug is the best answer in this case.  Its narrow, long design makes it ideal to use.
Runner Rugs in the Kitchen
Runner rugs come in various sizes, so you are likely to find one to fit even the tiniest floor space and the most unusually shaped floor area in your kitchen.
A vibrant runner could help soften the harsh lines found in most kitchens while also adding color and uniqueness to the space.
Utilizing Runner Rugs in Small Areas
The majority of homes end up with multiple small, narrow areas between other pieces of furniture, particularly in walk-in closets, dressing areas, pantries, and even washing areas. A runner rug put over these places can create an eye-catching focal point and divert attention off from the room's diminutive size.
Placing Runner Rugs in High-Traffic Areas 
A rug creates a comfortable walking surface in high-traffic areas. If you are looking for a rug within that area, it is a great idea to pick one which is darker in color as a bright-colored rug will soon look dirty.
Another major thing that you must bear in mind if you are looking for a rug in high-traffic areas is to have a sturdy rug that would be able to endure all of the traffic. A hand-knotted rug will always be more durable than a machine-made rug.
Runner Rugs on the Staircase
When used on staircases, runner rugs provide an aesthetic appeal and functionality. While wooden staircases look extremely attractive and stylish, they can be quite slippery and hazardous when you are walking wearing your socks or even bare feet.
A stair runner can bring a great deal of flair to this room while also offering additional comfort and safety.
One of the best features of staircase runner rugs is their length exceeds their width several times. When using staircase runner rugs, it is critical to note that they should be securely fastened to the floor surface to prevent the runner rug from slipping off the stairs, causing a major threat to those going down or up to them.
The Best Material for a Runner Rug
As you are probably aware, runner rugs are typically put in high-traffic areas. Thus, it is critical to evaluate the rug's material. Wool runners are preferable because they are durable and can withstand daily use by people – or pets.
Wool is an excellent material for a runner rug because it is highly durable, resistant to dirt, and springiness.  Wool's inherent fiber makes it impervious to dirt and fluids. This implies that it can be easily sucked away throughout the cleaning procedure. Moreover, it is ideal for entryways because it does not absorb outside elements such as snow or rain and is very easy to clean. With these factors, you should absolutely invest in new wool runner rugs. They are high-quality and come at a reasonable price.
If you have some more queries, you could ask professional designers or even search from the internet for more knowledge about using and choosing appropriate runner rugs.