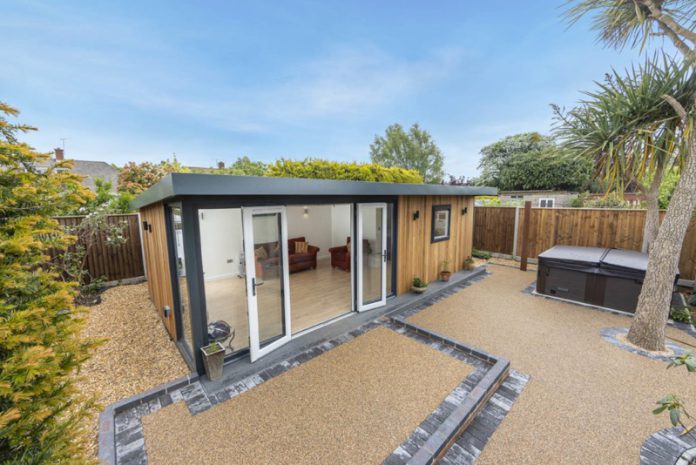 The area around the house can not only be beautiful and well-groomed, but also functional, if you figure out the right architectural solution. Garden rooms can be used for various purposes, differ in design and size, and be used at different times of the year depending on the type of construction.
What is a garden room?
The garden room is a one-story building made of logs, beams or wood. Brick and other massive materials are rarely used, since this is not a residential building that requires capital development, but rather a small structure that is meant for spending time in the garden.
The room can be open, closed and semi-open. The open version resembles a gazebo and is used for recreation in the warm season. Semi-open rooms have some walls, are either partially divided or have open space, and are often great play areas, places for meditation, or summer kitchens.
Closed garden rooms are very popular and high-demand. They can be turned into the following things:
play space;
workshop;
a place for gardening and other hobbies;
room for sports and meditation practices;
restroom;
guest house;
working area, etc.
The space has windows and doors, a reliable roof and foundation, keeps the cold out and protects from different weather conditions, therefore it is comfortable and functional.
5 ways to use garden rooms
Garden rooms are a great investment. It will be a great addition to your yard, improve the landscape design and the overall appearance of the site, while giving you a place for rest and other activities.
Separate office
Freelancing and work from home have become more popular in the past couple of years than ever before. But it is difficult to combine work and household chores without being constantly distracted. The garden room will be a great home office, which will be isolated from the main house and create the illusion of a full-fledged workplace.
When planning a work area, you need to consider the following points:
correct positioning of the table;
lighting of the working area;
Internet and communications;
sockets near the table;
the need for voltage stabilizers.
Other details depend on the intensity and type of work.
Place to rest
Of course, there is nothing better than enjoying nature when the weather is fine. But the weather can sometimes be quite unpredictable, and sometimes you need to hide from bad weather, heat, sun, and cold. Garden rooms equipped with everything necessary for protecting you from any external factors and providing a place for you to relax.
For example, you can put a large table and chairs in the center, and turn the corner area into a small cinema with a TV, soft sofas and armchairs. You can also fill the shelves with books, magazines, board games, coloring books and various supplies. Here you can also install a turntable or audio system.
Time with children
Nothing brings children and parents together better than taking up a hobby together. This is not just a play area, but a "secret" place where real miracles will happen. Here are some things that you can organize with your children in the garden room:
a place for growing plants;
creative workshop with easels, lots of painting supplies, clay, a table for arts and crafts;
a small kitchen for culinary experiments;
a music zone;
a small library that will be constantly updated with new books and magazines, etc.
Your kids can also take part in the designing process by letting them choose the color of the walls, drawings, décor, textiles and toys. This approach will make them feel included and important.
Guest "house"
Properly equipped, enclosed garden rooms are ideal for accommodating guests. The guests will have their own personal space, and so will the owner.
If the room will be used to accommodate guests, the following functional areas should be considered:
a small kitchen block with an electric stove, mini-refrigerator, microwave oven;
dining place;
combined bathroom (toilet, shower);
a place to sleep (small bed, sofa bed);
a closet or drawers for storing their belongings.
Even a small room can be equipped with everything you need if you take a responsible approach to space planning and develop a design project in advance. For example, you can install a shower drain or take it out separately. Sometimes a small veranda or terrace is added, which brings a feeling of coziness and adds extra space to the home.
Will the construction of a garden room affect the value of the house?
Garden rooms do not count as living space, but they do add value to the home. First, they are functional and can be used for different purposes. Secondly, such structures are static, closed and not exposed to external influences. In addition, garden rooms are often referred to as architectural forms that affect the landscape design and the overall appearance of the yard.
Therefore, it is important to think over not only the interior layout, but also the appearance of the building. The increase in the value of real estate will directly depend not only on the size of the building, but also on the condition it is in.
Garden rooms can solve the problem of lack of space. Even if there is very little space in the yard, you can design a small but cozy room where you will have everything you need for work and recreation.