Remodelling your kitchen can be a big undertaking, so you'll want to make sure you get it right.
After you've chosen your cabinets and appliances, it's time to think about the finishing touches and little details that make the space yours. Lighting plays a crucial role in interior design, as the right light fixtures help create the perfect ambience and emphasise your style and personality – so this is one of the details you'll need to pay careful attention to.
Modern kitchen lighting is an incredibly versatile option and will instantly elevate your space. Discover some of the best lighting ideas to give your kitchen a stylish boost!
Glass Pendant Lights
Glass pendants can add a sense of airiness and whimsy to a space while still being highly practical. They provide elegance and sophistication and blend seamlessly into your current style to create a refined look.
Light diffuses wonderfully through glass light fixtures, creating a halo of glowing light to illuminate your kitchen, giving you the perfect combination of task and ambient lighting.
Vintage Style Kitchen Wall Lights
Vintage style lights will add instant charm to your kitchen, working incredibly well for traditional or country style interiors as they have that distinct, characterful look.
Retro wall lights not only look great and act as decor in their own right but will also function brilliantly as task lights, illuminating worktops so you can cook in comfort and safety.
Statement Lights
Even if your kitchen is on the smaller side, a statement light or series of lights can add an impressive visual element.
A row of industrial pendants over a kitchen island or a combination of bold pendants and wall lights will give your space that expertly styled look, helping you achieve the perfect modern kitchen design.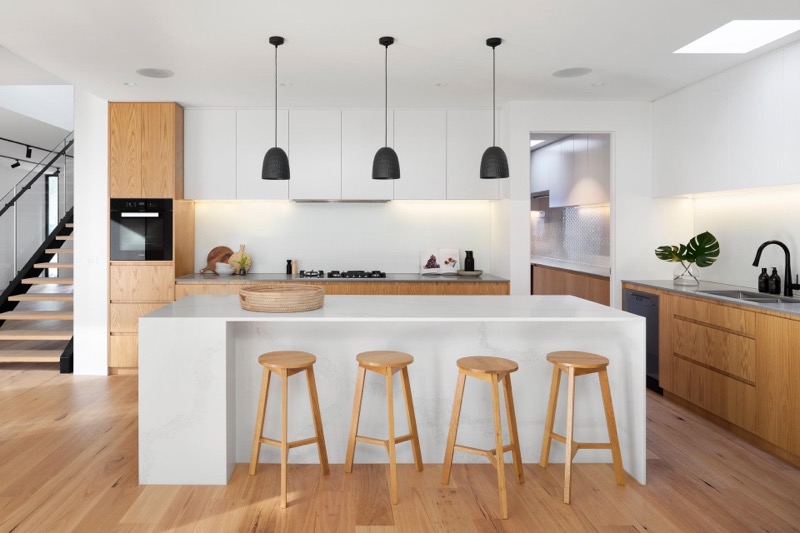 Metallic Light Fixtures
For modern and industrial style spaces, metallic lights work particularly well, highlighting the room's clean lines and raw, minimalist quality.
Metal lights are incredibly versatile, with options of pewter, brass and copper being especially popular for all manner of interior styles. Darker metals look great in industrial kitchens, while lighter brasses and coppers combine beautifully with traditional farmhouse aesthetics.
Exposed Bulb Lights
Exposed bulb lighting is another way to bring character and unexpected interest to your kitchen. Exposed filament bulbs provide an inviting, warm glow and look at home in any kitchen, whether it's got a contemporary or vintage look.
Hanging bulb pendants over a dining table will give you the perfect calming ambience for when you're sitting down to relax with a meal and catch up with friends.
There are so many ways to get creative with kitchen lighting, so you are spoilt for choice when it comes to decking out your remodelled kitchen in the latest trends! How will you incorporate modern industrial lights into your home?