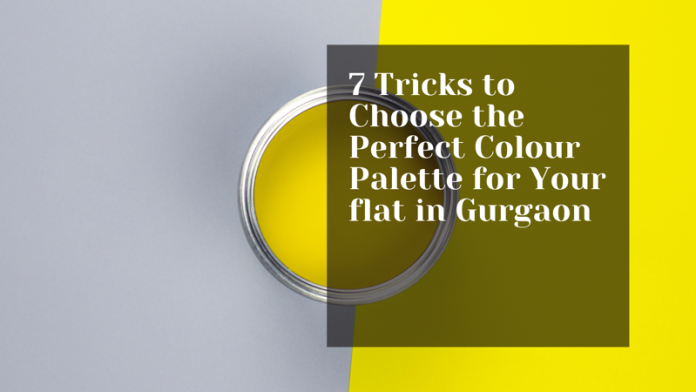 Whether you are moving into a newly purchased property or thinking of renovating the current residence, one of the most critical choices any homeowner has to make at least once in their life when I was searching for flats for sale in Gurgaon, I looked at several pre-owned flats that had eye-catching colour palettes and had decided to replicate the same in my new house. When the time came to select the colour combinations for interior decor, I realised that choosing a colour palette for your home was not as simple as picking paint colours.
If you're repainting a room, choosing a suitable colour scheme is both – an essential and challenging aspect of interior decorating. It is said that using the right colour can improve the room's vibe drastically. After successfully colour-matching all the decor in my house, I decided to blog my thoughts and offer some interior design tips! Continue reading to learn about palette-perfecting tips appropriate for your personality, style, and living situation.
Pick a Colour from Any Room Accessory
For deciding a colour scheme, grab one from the most noticeable item in your space, such as a vase, painting, or even a beautiful rug. After you've chosen the base colour, you can decide the room's or home's colour scheme, which may be monochromatic, identical, contrasting, or complementary to it.
Paint Methodically
Paints can be costly, especially when they are of excellent quality. So, rather than purchasing numerous buckets in the hopes of choosing a colour palette that works well with your room's walls, you may want to try out a paint swatch test. We may also utilise a painting tool to ease this task and save some of your valuable time.
Make Good Use of The Colour Wheel
One of the best palette-perfecting tips for interior decor is the colour wheel. This technique is ideal for painting the bedrooms since it allows you to practically see different colours and help you choose the right colours to enhance the room's relaxing atmosphere. You must utilise the colour wheel to select complementary colours next to each other on the spinning wheel.
Always Remember – Lighting Matters
It is never too early to think about lighting in any indoor space. Lighting shouldn't be overlooked, no matter how big or small the room is. The colours and tones can change at any time. A room's lighting may alter how one perceives its colours over time. A colour that looks great during the daytime may not look as good after the sun has set! When I searched for flats for sale in Gurgaon, I realised that I liked flats that received plenty of sunlight more than those that did not.
Paint the Most Important Rooms First
The initial steps of room painting could be the most troublesome, and it requires a great deal of patience. So it is better to start the painting from the most used room in the house, such as the living room. If you're overwhelmed by the prospect of choosing a colour palette for your house, go with a mild, neutral tone for the main space and then expand on it for the rest of the house's palette. It's always better to have all the required painting tools and apparatus to help the work.
Divide the Colour Components
You can use any colour for the room using the 60-30-10 rule. To do so, divide the colour components into 60-30-10 percentages. You can paint 60 percent of a room in a dominant or most vibrant hue (such as the walls), 30 percent with a subordinate or secondary colour, and 10 percent with an accent shade.
Add A Little Greyish Hue
The bedroom is a space where you can use whichever shade of Grey colour you want since the space is private and the shade goes well with almost anything. A Grey colour may be used as a neutral backdrop for repainting a room, especially in a space that requires some calm and seclusion. Neutral hues complement it, and even contrasting colours can elevate the room's look if used correctly.
Conclusion
An essential thing while painting is choosing colours that are true to your personality and match the vision of your ideal house. In the end, the colour palette for my flat in Gurgaon was representative of my likings more than anything else. If you're looking for professional painting experts, you may visit Nobroker's online portals to check the best options.