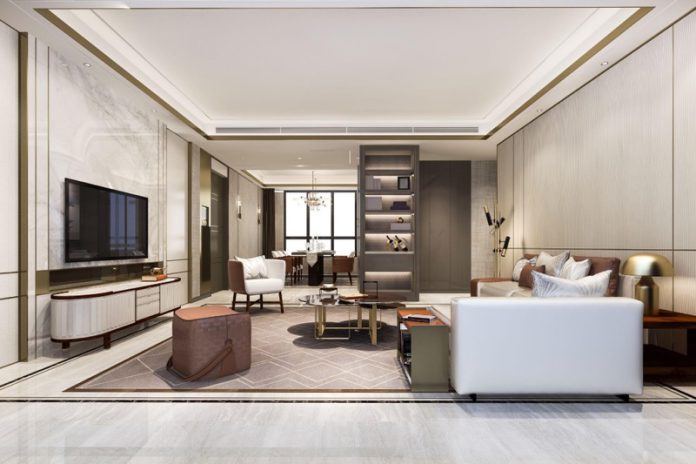 If you don't have room for a 7 feet tea table just after placing your PS5, we can relate to you because you're not alone. We apartment dwellers or urbanites often find that space is at a premium.
Your limited living space can be viewed as a creative design challenge if this describes your experience. A space-saving and multifunctional solution combined with your style is the key to living comfortably in small spaces. With smart decisions, you can make your room extraordinary and inviting while giving you the space you need. Make the most of the living room with these ten tips.
10 Best Ways To Decorate And Expand The Living Room Space
1. Utilize built-in shelving and furniture.
Investing in built-in solutions and shelving that will fit your needs and space is a good idea. The advantages of custom built-ins in a small room include working into a challenging space while adding features to make the most of it.
For example, you could build a deck out of a deep shelf and brackets. You don't necessarily need to hire a carpenter if you're on a budget.
You may purchase modern living room furniture either from physical stores or online classified web portals.
Get creative and DIY.
Why not place an attractive rolling drawer under the sofa?
Or how about a built-in sofa with functional storage underneath?
In the same way, place shelves in an artful pattern on a wall instead of a custom-made unit to create a media unit. To create a vertical design, put shelves up the wall. This will help give the room a sense of volume, creating the illusion of expanding it!
2. Nesting tables are absolute go-to's!
Minimalism is your best friend when it comes to creating more space in your living room. Think carefully about which furniture you need rather than putting unnecessary items in your area.
Folding or multifunctional furniture can be helpful if there is a need for more furniture than the space allows. An example is nesting tables. To use the nesting tables, pull them out when you have guests. When not in use, tuck them under the main table. A small living room doesn't need extra furniture!
3. Hang curtains as high as your expectations!
Consider hanging curtains and blinds closed to the ceiling if your windows are lower than your ceiling height. This trick will create the illusion of taller ceilings and a larger room by increasing the apparent size of the windows.
4. Mirror Mirror On The wall
Adding mirrors to make a small space look larger is a concept that you'll hear everyone talk about over and over again. The reason is that it makes any room seem instantly larger because it is one of the most effective ways to do that. In smaller homes, such as urban apartments and smaller houses, where space is limited and narrow rooms in larger homes, this is especially useful. In addition to adding depth to a room, mirrors can also add a great deal of character and a sense of individuality to a space.
5. Illuminance Is The key
Lighting plays a prominent role in the look, as well as the vibe, of a room. Only one light source in a narrow room makes it seem dim and shallow and inevitably makes it appear small and cramped. Rather than relying on just one light source, we recommend installing more, spreading the light evenly around the room, thus visually expanding it.
Installing several small LED downlights evenly spaced on the ceiling is one way to achieve this. You can also place a few tables or floor lamps around the room, ensuring they illuminate all corners of the space. As well as being far more cost-effective, this will also look chic at the same time, adding a breath of elegance to the room.
6. Ensure everything is crystal clear.
Adding clear glass lamps and lucite tables to a small space will appear spacious and airy. They reduce visual clutter, allow the eye to move freely through the room, and provide needed functionality and a modern look for a small space.
These tips are not only helpful for small house owners but also for home staging in case you're planning to put your house up for sale! By following these tips on organizing a living room to add space, you'll be able to gain an advantage over comparable houses. Homes lighter, brighter, and airier tend to appeal to a broader buying audience and sell for more money.
7. Don't clutter up.
When you have a small living room, you can't afford excess clutter taking up space. Get rid of all unnecessary items in your home if you have a clutter problem. Give away, sell, or store things you no longer need.
With woven baskets with lids to conceal any remaining clutter in your living room, you will feel cleaner and more spacious. Maximize space by placing baskets on open shelving, at the end of a sofa, or under a console table. To make it easier to find items in your baskets, label them with attractive tags.
8. Well thought out color can save the day.
A classic tip for painting a smaller space is to use white or neutral hues. The same color trim and wall should be used in a room to draw the eye upwards and emphasize the ceiling.
In addition, you can use more subdued colors. A smaller space can be stylishly inviting by using soothing colors like navy or charcoal grey. Small rooms require darker walls and softer elements to create depth and lighten the space. Place lighter furniture against a dark wall, for instance. The second layer contains light-colored furniture, glossy accessories, and a neutral rug.
Try painting stripes on a wall. It does not matter whether the lines are horizontal or vertical; they will visually enlarge or lengthen the wall.
9. Bring in the sun.
Make your room brighter by focusing on natural light sources. Having a sunlit room makes an enclosed space feel more spacious, as the light eliminates shadows that can make it feel smaller. Placing a vertical mirror next to a window will reflect the sunlight into a room, enhancing natural light. Besides reflecting light, this will also give the illusion that the space is deeper. Make sure your most-used pieces of furniture have a view of the outdoors – such as the shelf you filled with your favorite books or your sofa.
Consider installing track lighting if there is little natural light. Its bright light and flexible track heads can replace direct sunlight without taking up the valuable table or floor space.
10. Rugs take it to the next level.
Keeping rugs that extend beyond furniture in each function room might seem counterintuitive, but it is vital to do so when possible. For instance, in a living room, a rug under the sofa, coffee table, and other seating will open up the space and give it a more spacious feel. Alternatively, a rug sized just a bit larger than the coffee table can feel more like a bath mat, emphasizing the living space's limited size.
You spend a lot of time in our living rooms, so give your living room a sense of character with accessories that tell your family's story. It honestly doesn't matter what the size of your home is; you can always incorporate stylish features that reflect who you are. So next time you're planning to rejuvenate your living room space, do give this article a read again!