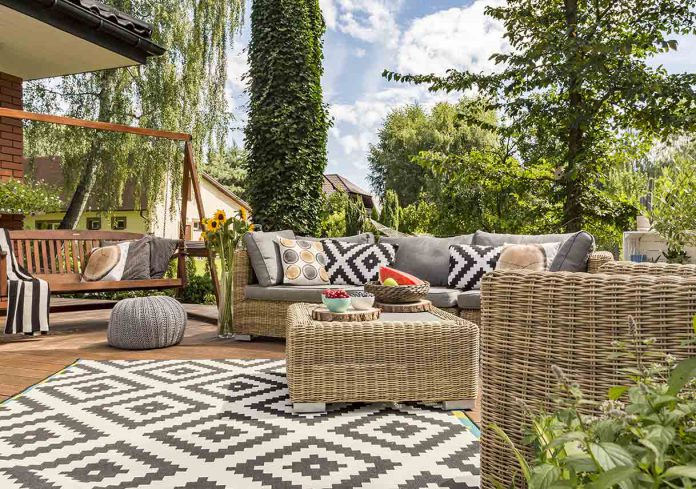 A patio with a lot of unused or misused space begs for attention. Yes, there is a right and wrong way to arrange furnishings in your outdoor space, and chances are this may affect the time spent in it. While the best products for your patio or yard aren't necessary, they should boost your chances of being satisfied with the result.
Infusing larger space with coziness might be a tad more challenging than doing the same to a smaller area, but it is very much doable. These tips should ensure you stay on the right path.
How To Bring Warmth and Coziness to a Large Patio in Five Steps
Whether you're dealing with an empty or misused patio space, the following steps should transform it into a chill and relaxing area for you and your loved ones.
Step 1: Decide on a Theme
No, the theme doesn't necessarily have to be something grand. There are budget-friendly ways to go about it if you don't want to shell out too much on this project. That said, you should start with a theme that doesn't break the bank. That means themes like a Sultan's Oasis, Triton's Underwater Kingdom, and other too-specific themes could be out of the question.
A better starting approach would be to think of colors, textures, and designs you associate with warmth. Once things are clear in these areas, you should move forward with a more detailed vision of the space you want to create.
Getting this step right is vital to nailing the next ones, so never leave things vague where the theme is concerned.
Step 2: Pick the Right Furnishings
People associate wood and wood designs, as opposed to metal ones, with comfort and coziness in general. Something about the color, texture, and smell of wood brings one closer to nature. From a picnic in the garden to relaxing in a hammock in the forest, wood items bring many relaxing scenarios to mind.
However, its quality is more important to consider than a piece of furniture's look. Pick out pieces specifically for the outdoors to create the ideal space for rest and relaxation. Not only are these pieces better-equipped to withstand the elements, but they also bring a more nuanced comfort suited to outdoor relaxation.
Step 3: Encourage Both Conversation and Healthy Alone-Time
There's nothing quite like the warmth felt when spending time with loved ones. Even just talking about your day to people who listen and care can take a massive weight off your shoulders.
Arrange your patio furniture in a way that encourages conversation but also allows for alone-time when necessary. Create a section where chairs form a circle or are arranged across sofas to facilitate verbal sharing. These areas may also encourage non-verbal sharing, where loved ones can bask in comfortable silence with each other.
Ample space means there can also be spots for meditation. Set these areas up near a fountain, by the window, or a piece of landscape artwork, in areas where the outside breeze hits directly, or in tucked-away corners. Any of these can make a beautiful setting for reflecting and contemplating.
Step 4: Designate Space for Meal Preparation and Dining
Nothing screams cozy like a grill and meal prep area. Whether it's a stand-alone or built-in grill, a practical outdoor kitchen is a great way to add warmth and comfort to your outdoor space. Having designated space to whip up some of your favorite snacks and go-to comfort foods means neither you nor your guests have to walk to the main house to feed your hungry stomachs.
As necessary as food at bringing warmth is food preparation. Nothing can infuse you with a cozy feeling, quite like the smell of barbecue cooking on the grills or the mouthwatering aroma of cabbage chowder simmering in the outdoor fireplace.
Step 5: Create a Fun Area
You might be too focused on relaxation that you forget to create a fun space for everyone. So aside from the hammocks, lounge chairs, and ottomans, consider making space for gaming areas, minibars, and hot tubs.
Consider having a mini-playground designed into your patio if you have kids. Set up a mini garden close to your patio if you love gardening. That way, you can cozy up in a lounge chair while appreciating the fruits of your hard labor.
Don't Forget About Maintenance
Creating a warm and cozy space outdoors; it's another thing to maintain. The best-laid maintenance plans include patio furniture covers, intelligent arrangements, and knowing when it's best to take things indoors.
Of course, we can't forget proper cleaning. Clean according to what's best for the material and schedule a deep cleaning session once or twice annually. Last but not least, use your patio. Nothing can liven and warm the space up quite like human presence.