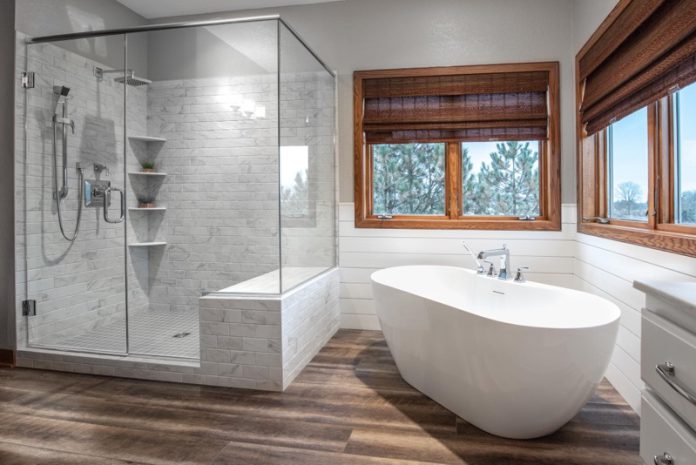 People often want to remodel their bathrooms by changing the tiles or fixtures. The first step is deciding what look they are trying. Marble, granite, ceramic, stone. What do they prefer? People need to go shopping and look at different materials to see which one feels right.
You should also consider whether or not they want something simple or extravagant when choosing bathroom remodeling materials.
Some people do not have time to shop around. They may hire professional bathroom remodeling companies to have everything needed. They specialize in construction-related jobs like making bathrooms bigger, replacing old toilets with new ones, and adding extra rooms. It is possible to have them purchase everything for you.
You need to make sure that you choose the proper bathroom remodeling contractor to hire. It's easy to inquire and ask for quotes for your bathroom remodeling job on the same day.
Matching the Materials With Your Bathroom
The best way to see if something will match in the bathroom is to bring paint chips of the primary colors already in the bathroom. The store personnel should read between the lines and find tiles fit into the design plan.
They need to know what kind of space they are dealing with to pick out things accordingly. For example, using marble tiles for a small space will make it look even smaller because there would not be much room for grout around each tile.
Some people do not have time or patience to shop around when looking at different kinds of materials, especially when it comes to spending money. There are professional bathroom remodeling companies that sell materials. That can be more convenient for some people.
If you are on a tight budget, you can always shop for the materials on your own. You only need to ensure that you know which materials to buy.
Bathroom Tiles: What Do You Need to Consider?
You need to consider your budget when looking at different kinds of bathroom tiles, and each type has its strengths and weaknesses. Make sure you get durable fixtures to last long and don't cost too much money over time.
Be practical- buy more than you think you will need because you can save money! The most important thing is to find beautiful new designs for your home bathrooms so that it looks like a whole new place when people walk in the door!
Get comfortable tiles to stand on for more extended periods. Marble, granite, and stone floor tiles are exquisite, but they are cold and hard. Ceramic is often the best choice for a bathroom remodel because it not only looks durable but is comfortable to step on after a long day at work.
Another thing people should look for when getting tiles is the color scheme they want in their bathroom. Assuming they prefer natural materials, people can get different shades of marble or granite floor tiles with matching wall tiles to create a unique design theme for their home bathroom renovation project.
Get ceramic flooring for your bathrooms these days if you don't like using marble, granite, or stone. It's simple and easy to do- pick out your favorite color schemes and designs so that you can get the most out of your bathroom remodeling job.
Pay attention to the sealant used in making your tiles. Tile is often coated with wax or other materials so as not to get wet too quickly. Make sure the material you choose is also safe for small children because tile flooring can be hazardous if it has sharp edges.
Bathroom Fixtures: What Should You Choose?
People need to look at their budget before shopping for bathroom renovations because this determines which kinds of fixtures they will need to use when installing new bathrooms, floors, walls, showers, and more.
If you are on a tight budget but still want to get the most out of their bathroom renovation project, you need to make sure they look at practical fixtures and help them save money in the future.
Most people who purchase standard-sized shower stalls end up spending too much money on hot water alone. They need to buy something more energy efficient like a rainforest showerhead because it will help them conserve precious hot water for daily use. That is one of the best ways to improve your existing bathroom flooring without having to spend too much money.
Consider buying plumbing fixtures made with durable materials so that you can use them for many years down the road.
People who don't have enough time should choose a material that is easy to clean and maintain so that it will always look new even after many years of being used.
They should also check if the material is resistant to bacteria and mildew because a clean bathroom is healthy.
People need to do other things when getting fixtures for their home bathrooms than they need to save money in the long run.
If you don't want to worry about running out of hot water or cleaning materials, go ahead and buy extras like extra showerheads, sink faucets, bathtubs, and more. This way, you won't have any problems with your remodeling job!
Improving How Your Bathroom Looks
So what are some ways that people can improve their existing bathroom floors? There are many ways to get beautiful new designs and save money in the long run.
You can get different colors of ceramic flooring to match their home bathrooms and choose fixtures that are durable and easy to clean. Make sure they buy more than they need so that they don't have to worry about running out of materials later.
If you want your bathroom floors, walls, or other fixtures to look new, take a look at your local hardware store for all the supplies you will need when doing your remodeling job.
Most stores let customers try out their products before purchasing them since some tiles and flooring materials might not be comfortable for certain people. Whatever you do, though- make sure that you get beautiful new designs for your existing bathroom!