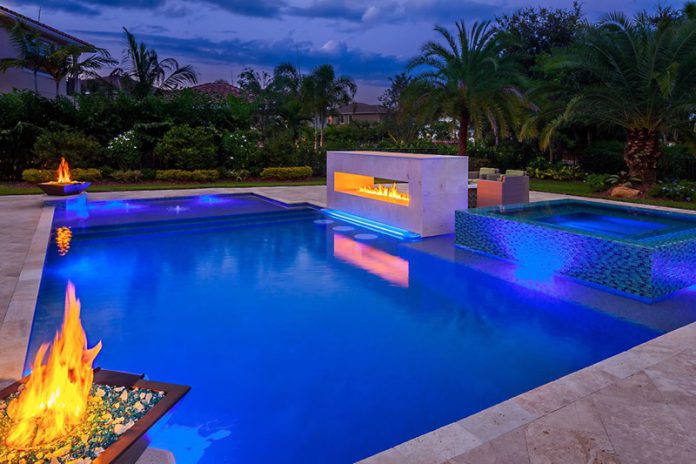 The USA is a nation of swimming enthusiasts. Each year, over 27 million Americans swim to increase their fitness levels. If you love a dip in the pool, then you probably want your own. It certainly adds a touch of luxury to your home. But wait – there's another option. A swim spa is like a pool, only better, making it the truly ultimate form of home design luxury.
What is a Swim Spa?
Until recently, swimming pools were considered the ultimate in home luxury. However, with 10.4 million residential swimming pools now existing across the USA, this is becoming a reality for more and more Americans. However, if you want to take luxury to a new level, a swimming pool won't cut the mustard. Instead, you might want to opt for a swim spa.
A swim spa combines a swimming pool and a hot tub. It has the fitness benefits of a space to swim with the relaxation and therapeutic benefits. This means you get a large open area with no seats at one end of the pool and, at the other, some seating and jet propulsion.
Swim Spa Benefits
A swim spa offers both exercise and recovery in one package. You can go from working out in one end before heading straight to the hot tub to relax and ease the tension in your muscles. This can provide a massive boost in wellbeing, allow you to lose weight, gain strength, and overcome muscle tightness or aching joints.
A hot tub alone has few fitness benefits, while a swimming pool offers less relaxation. Combining the two is the ultimate in luxury because it provides both. Furthermore, swim spas are large and look stunning in a decent-sized back garden. Swim spas can easily be installed in a single day despite their size.
Finding a Swim Spa for Your Home
Are you ready to get a swim spa for your own home? If so, then you're probably wondering where to start. Well, buying a swim spa isn't much more difficult than purchasing a swimming pool or hot tub. If you find a professional company that can deliver and install it for you, then all you need is enough money on your credit card.
Find a local dealer to ensure that you can get a quick and easy delivery and installation service. For instance, Colorado residents can look online for 'swim spa stores Denver', where it's easy to choose and buy the right product for you. Check the size and features of the swim spa to ensure that it will look beautiful in your garden.
If you're lucky enough to live in a part of the country with nice weather, then water is an ideal way to add a feeling of luxury and tranquility to your home. Of course, a swimming pool is okay, but a swim spa is on another level. If you have the means, then consider installing a swim spa to not only make your home look wonderful but also to boost your health and fitness levels.