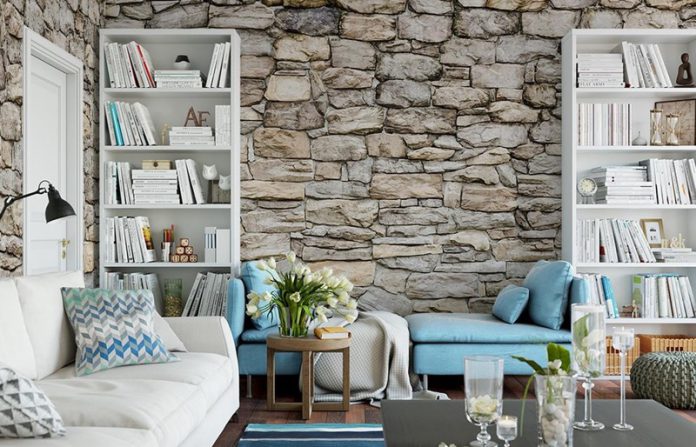 You've come to the right place if you're looking to add natural stone to your home. Natural stone adds texture and an air of elegance to any living space. Take granite, onyx, and ammonite, which all work perfectly in home design, as long you know how to use them. As well as looking great, natural stone is environmentally-friendly because it doesn't contain harmful chemicals. Read below for four great ways to use natural stone in your home's interior.
Kitchens and Natural Stone
Kitchens are one of the most popular rooms to renovate, and natural stone can be your best friend. Natural stone is easy to clean, visually pleasing, and helps to show off your personality. There are plenty of colors and finishes to choose from, which means that natural stone can work no matter what your overall home style.
Typically, natural stone is used on countertops and tables in the kitchen. However, you can replace your backsplash by using natural stone, which will make for a unique feature in your kitchen. This type of stone is extremely versatile, which means you can create a visual masterpiece by choosing to use a mosaic finish.
Natural Stone Flooring
Natural stones, such as granite and quartz, are perfect for flooring in any room, especially hallways and kitchens. They are extremely durable and easy on the eye, which means they will last through the general wear and tear of life. To get the best design using natural stone, you should consider custom stone cutting from the World Stone Group. If you install a high-quality granite floor, it will raise the value of your home considerably – perfect for if you ever sell your house.
Stone Shelving
Everyone has wooden cabinets, glass shelves, or closed cabinets, which makes them boring additions to the home. If you're trying to make your home stand out, natural stone is the perfect material to use for shelving. Natural stone is aesthetically pleasing and extremely easy to maintain. Installing open natural stone shelves into your living space will help to open up the room, and is something you can't achieve with closed cabinets. Additionally, stone wall shelving units are a great place to show off your prized pieces, whether that be artwork, achievements, or lavish ornaments.
Bathrooms and Natural Stone
Bathrooms are another popular room for renovating, and natural stone is incredibly easy to add. Instead of using ceramic tiles around your bath, why not use natural stone? Your bathroom will look elegant, and you won't need to spend a lot of money. If you want to make a statement, you can add backlit granite panels to your walls, which will allow you to play around with colors while keeping that elegant texture.
Natural stone is a fantastic addition to any home and can be used in any room. Not only does natural stone look fantastic, but it's also easy to maintain, and will last a long time. If you sell your home in the future, the added stone will increase the value.