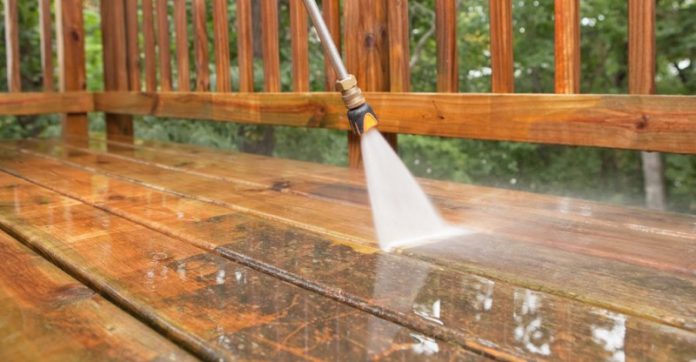 Power washing is a home cleaning method that seems to give fast results with a minimal amount of effort. However, there are a lot of pros and cons to this type of exterior home cleaning. And it does come with a list of pros and cons that you should always take into consideration when thinking of power washing your home.
4 cons to power washing your home
Power washers are often used to clean the exterior of a home and while they certainly get the job done quickly, these are some points to consider before you start power washing your house.
#1 Using too high pressure can cause the water to penetrate your walls and cause problems. Your home is made to withstand conditions like rainfall and storms, but it is not made to withstand water under high pressures on its surface. This can cause the water to penetrate too deeply, and it may even seep into the inside of your house causing more harm than good.
#2 If used incorrectly or by someone who does not have adequate experience using a power washing, home cleaning can turn into home-wrecking. As power washers can easily damage-prone surfaces like wood or stucco, crack windows or even move stones or tiles entirely.
#3 Apart from being abrasive and potentially damaging to the walls, using a power washer to clean your home can blast off the paint you merely wanted clean. Unless you were power washing your home to repaint it afterwards, you don't want to risk damaging your paint.
If that happens, you might find yourself having to repair or even replace some parts of the siding. This is not something you can do alone, and you should definitely contact a professional like HxHome Solutions, the best Chicago siding company.
#4 Using a power washer the wrong way can not only result in damaging the siding of your house but can even knock it loose entirely. Using a power washer on a brick house can cause mortar to come off and can cause a lot of damage that is costly to repair. 
4 Pros to power washing your home
While using a power washer incorrectly or with too little experience can have an undesired outcome for any homeowner. When handled correctly, having your home cleaned with a power washer can be very beneficial.
#1 Power washing with the right pressure will the dirt and grime that has built up on your house right off. Raising your curb appeal and the value of your property without needing to do any renovations.
#2 Regularly cleaning your home as a part of your yearly home maintenance routine, will save you money in the long run by avoiding unnecessary repairs.
#3 When power washing is performed carefully (by a professional) using a power washer to clean your home before repainting it ensures the surface is clean and primed for a new paint job that will last longer.
#4 Power washing will remove mould, fungus and mildew from your home. These bacteria are both harmful to the surfaces of your home and your health. Especially with mildew, if left unchecked it can affect your home's interior because it can grow within the walls.
Power washing is a great way to clean your home, but it is recommended to hire a professional service to perform the cleaning for you. Hiring a professional service like Nedstevens.com means you can sit back and relax while a well-trained professional handles the equipment and cleans your home. If anything does go amiss, a professional will have insurance that covers any possible damaged. And lastly, a professional like nedstevens.com will offer a 2-year warranty on any work done.