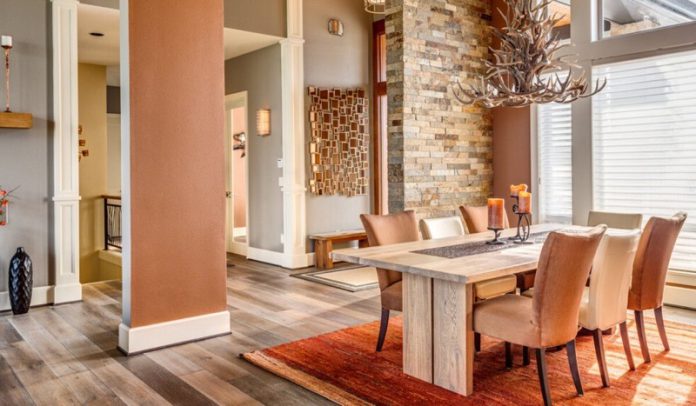 Dining rooms can be used for a variety of different things depending on their layout. Sometimes they can be used as formal gathering places where family and friends can gather to enjoy delicious meals together, while other times they can be used as transitional spaces with their own distinct décor from the rest of the house. Painting your dining room will complete the transformation for those looking for a quick and easy way to update their space. It is possible for dining room colors to be as unique as the people who live in them. No matter if their personal style is more in the vein of timeless elegance or an eclectic mix of colors, we have something to suit everyone's preferences. It is currently possible to find the ideal paint color for a contemporary dining room. The following are some suggestions from leading residential house painters on how to choose the best paint color for a dining room that will impress your guests and make them feel welcome.
Bold Dining Rooms
Adding a splash of vibrant, bold color to a dining room can completely transform the space. Incorporating your own personal style into the interior design of your home can be accomplished by using a vibrant paint color. It is possible to create an extraordinary dining room experience that will be remembered for a lifetime simply by using vibrantly colored walls to set the mood. Vibrant hues such as red, orange, and yellow as well as coral are among the most stimulating for the eyes. As a result, these colors are excellent for encouraging social interaction, conversation, and appetite stimulation, making them ideal for creating the ideal family environment for celebrations and get-togethers of all kinds.
Not only walls, but you can also choose some bold-colored furniture to fill your dining room. You can go to Lowe's to find various kinds of furniture that are interesting and also fit your personality.
Schemes of the Present Day
Choosing the right paint color for your dining room can help you transform it into something more stylish, trendy, and modern. Many homeowners are opting to move away from the tried and true paint colors of the past in favor of something fresh and exciting in their homes. People are creating the perfect backdrop for unforgettable family dinners by picking original chairs for sale and using unexpected colors instead of the traditional ones. The use of deep purples, charcoal grays, and muted blues are just a few of the modern color palettes that can be used to create a dining room that is unique and memorable.
Relaxing Dining Rooms
It is also becoming increasingly popular among homeowners who want to create a warm and welcoming dining room environment to relax in. White, off-white, and cool blues, as well as paint colors from the creams and beige families, are excellent choices for creating a light and airy atmosphere. This palette of colors is bright and cheerful, and it contributes to the creation of an open, harmonious flow throughout the dining room.
Create Impressions with a Painted Ceiling
In order to create visual interest and depth in any dining room space, a painted ceiling is an excellent choice. Even though ceilings are often overlooked when it comes to room décor, they are particularly important in the case of paint applications. Painting the four walls of one's home is usually the only thing that comes to mind. However, as painted ceilings become more common, the number of ways in which they can be decorated increases as well. Using a painted ceiling as a way to draw attention to architectural features such as pillars, coffered or vaulted ceilings is a possibility. When it comes to creating a dramatic and stylish dining room atmosphere, colors such as aqua, celery green, and deep burgundy are all excellent options to consider.
Accent Walls
Choosing a bold, eye-catching color for an entire dining room may seem like a little too much of a risk for some people. If you're not quite ready to commit to a room that's bursting with color, an accent wall might be the answer. The use of a vibrant color on one wall and a neutral color on the rest of the walls can transform a dining room into something truly spectacular. When it comes to adding a splash of color to a dining room without overpowering the space, an accent wall is the best option. Accent walls are available in a variety of styles and colors, and they serve as the ideal backdrop for other focal points in the room, such as eye-catching buffets, china cabinets, and beautiful artwork. Accent walls are available in a wide range of colors and styles to complement any decor.
Conclusion
Homeowners can transform and design their dream dining room today by strategically incorporating a new paint color into the scheme. This will allow them to express themselves creatively. Residential dining rooms designed in the manner of a restaurant offer a variety of settings in which homeowners can gather with friends and family to create lasting memories while also enjoying delicious food. It only takes a few minutes to paint the walls to completely transform the appearance and feel of a room, and it is a relatively inexpensive way to do so. It is possible to revitalize a dining room, which is one of the most important rooms in the house, with a fresh coat of paint. Cutting-edge, modern, and traditional paint colors, as well as vibrant hues derived from nature and the environment can all be achieved by using popular paint colors. There are virtually no restrictions on what you can do.