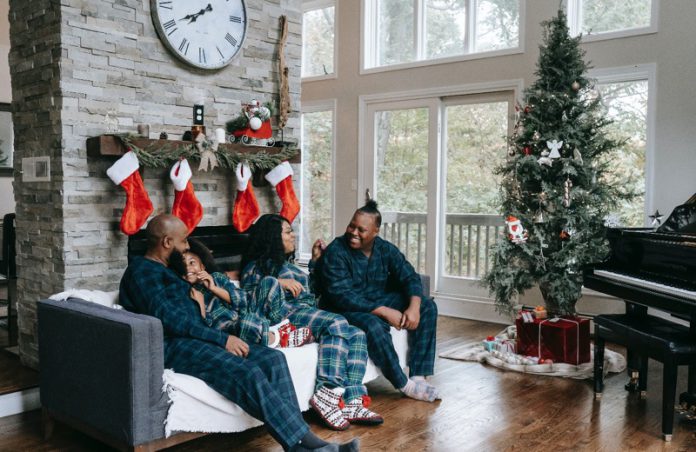 Winter is here, and we can already hear the jingle bells. It won't be long before we start decorating the Christmas tree, putting up all those beautiful lights, and hanging the Christmas stocking on the fireplace. People love to share the holiday spirit with friends and family around the warmth of their fireplace. Nothing is more exciting than inviting your loved ones over to celebrate the holiday cheer and enjoy the Christmas fiesta. You plan on your menu, decorations, presents, and all the fun activities. At the same time, you want your home to look its best throughout the holiday season. Although you might want to spend most of your holiday budget on the Christmas extravaganza, you can still manage to rejuvenate your space with these amazing budget-friendly home improvement ideas:
1. Spruce Up Your Home with a Touch of Fresh Paint
A fresh paint touchup can do the magic for you without being heavy on the pocket. Choose some vibrant colors for highlighting areas while keeping the hues light for the rest of your living space. You can go for some eye-catching hues and textures to add interest to your bedrooms' ceilings and back walls. Use roller brush with stencils to create some stunning patterns and amp up your living space. However, if you haven't painted before, leave it to the pros! So if you're wondering, "How can I find an expert painter near me?" we got you covered! Check out painter1.com to find some of the best painters near you at extremely affordable rates and a 2-year warranty. You can get a free on-site estimate and get the service right on time and schedule.
2. Increase Your Kitchen Storage
Holidays are perfect for stocking up on groceries, candies, snacks, and canned food. You don't want to miss anything at your Christmas party this year but don't have much space to stash things up in your kitchen. Time to step up your kitchen space while staying on a budget! You don't need to start an entire kitchen renovation project. All you need to do is find some handy wall-hanging racks to fix on your wall space or some new kitchen cabinets to set up over your existing kitchen cabinets to create more space.
3. Add a Highlight to Your Entrance
Your home's façade and outer living spaces create a first impression on your visitors. Painting your main door and adding a highlight like a stunning gas lantern or some beautifully-organized plants can uplift the entire look of your house. Try to give your front door a contrasting and eye-catching color, and don't choose the same hues for decorations, fixtures, and other highlights. Install low-cost solar-powered LED lights on the pathway and pair them with twinkling lights for Christmas decorations to bring all your fantasies to life.
4. Declutter
Sometimes, things as simple as decluttering and organizing your household items can uplift the entire look of your home without spending any amount at all. Holidays are the perfect time of the year to get rid of all the unneeded items you've been keeping all year. Decluttering the house gives it an open, organized, and cleaner look and doesn't cost you a penny. Organize toys, books, and personal items in cupboards and storage baskets. Mark the items you deem unnecessary or those you haven't used for over a year. Donate, sell, or discard these items to free up some space. You'll be amazed at how a simple decluttering can completely transform the look of your house.
5. Add Some Elegance and Finesse to Your Fireplace
Holidays are a time to cherish with friends and family, relaxing near the fireplace and drinking hot chocolate on Christmas Eve. Sitting around or hanging your Christmas stocking on a shabby old fireplace isn't a good idea. While planning a home improvement project before the holidays, don't skimp on spending some bucks on a minor touchup of your fireplace. You can give your fireplace a little facelift, get your chimney swept or a minor repair, or revive its hues. If your fireplace needs a fresh coat of paint, try high-gloss paints with a traditional or contemporary flair.
6. Install a Kitchen Island
A kitchen island is every home cook's dream, particularly when you have an open floor plan. With a kitchen island installed, there's so much you can do. You can prepare food while watching your favorite TV show or cook a meal while you keep an eye on your little ones. A kitchen island not only provides some extra bit of space for cooking and meal prep on a busy holiday, but it also increases your kitchen's storage and adds value to it. You can enjoy a holiday meal with friends and family with live cooking and serving. You can also find a low-cost preloved movable kitchen island in a thrift shop or an antique store if you're lucky enough.
7. Revive Your Wooden Floor
As you may have seen on your favorite flipping shows, real estate investors and homeowners prefer to restore the old floors instead of new installations due to the scope of floor renovation and the costs involved. If you want to give a new look to your floor while staying on a budget, try giving it a pressure wash and a new polish in case you have a wooden floor. You can find a variety of hardwood floor polishes in nearby stores. Try polishing heavy traffic areas at least twice a year to keep them in pristine condition.
8. Install New Light Fixtures
Holidays are all about an abundance of sweets, treats, and twinkling lights. You'd want to light up your house inside out as you and your family and friends join together to sing the Christmas Carols. Time to invest in some stunning light fixtures all over the house! Replace all the old bulbs and add some extra lights with a mix of highlighting bulbs, soothing lamps, and lanterns. Install a stellar centerpiece chandelier in your living or dining area and over your kitchen island. You can find one at a much lower price at antique stores.
Final Thoughts
Holidays are around the corner, and if you're planning to refresh the look of your house, you don't need to cut down your expenses on presents and the Christmas menu. Follow the above-mentioned easy and budget-friendly home improvement ideas to spruce up your living space and impress your visitors with the all-new look of your home. Happy Holidays!