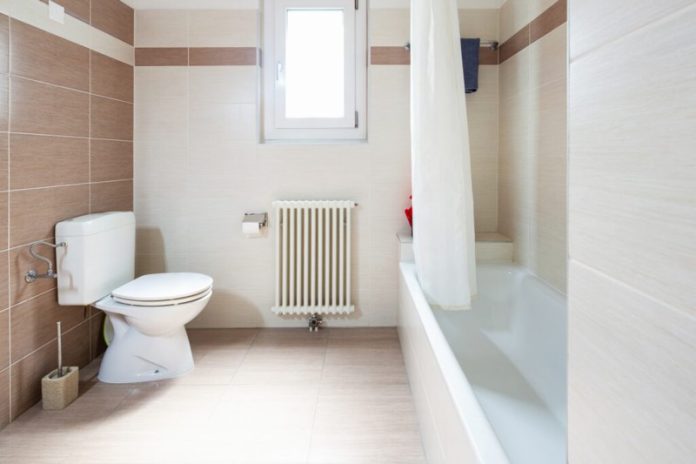 With winter fast approaching, the time has come to wrap up warmly and spend cosy nights at home with a lovely steaming mug of tea. As much as there are lots of things to look forward to in the winter months, getting in and out of the shower isn't one of them. This is especially true in homes where central heating isn't a reality. There is nothing worse than stepping out of a steamy shower into the cold winter air. Well, help is at hand in the form of a bathroom heater.
These nifty little devices are great for warming up your bathroom space to allow for a more comfortable experience when it comes to transitioning in and out of the shower every day. The market for bathroom heaters is now extensive, and you'll find some great combos that offer the bonus of lighting and fan features that contribute to improving the overall bathroom environment and experience.
Our Top 7 Bathroom Heaters
With that being said, this is a saturated market, and it can be difficult for shoppers to know which bathroom heater option is right for them. To make life easier, we've done the research and used our industry insight to formulate a list of the best bathroom heater options available on the market today.
1. Martec Linear Mini Slimline 1000W Bathroom Heater
First up, we have the Martec Linear Mini Slimline 1000W Bathroom Heater, which is one of the most popular options we've seen. This is a 3-in-1 combo bathroom heater that not only offers you the instant halogen heating function to keep your bathroom space toasty but has a quiet exhaust fan that circulates the air in your bathroom to keep everything fresh and prevent dampness. On top of that, it also features a lighting element that can help brighten up the space.
The design of the Mater Linear Mini Slimline is sleek. Its subtle aesthetic allows the heater to merge seamlessly into any bathroom's design style. What's more, it is available in both silver and white, so you can take your pick to best suit your bathroom.
2. Martec Contour 4 Bathroom Heater
Next up, we have another heater from Martec that is another incredibly popular option. It's the elegant Martec Contour 4 Bathroom Heater. Another brilliant 3-in-1 combination model, the Contour 4 features a powerful heater along with a high-extraction exhaust fan and a lighting feature. This is an excellent option if you have a larger bathroom, thanks to the four infrared heat lamps that warm up the space faster. The design is simple yet functional and is available in two colour options: silver and white.
As customers have come to expect from Martec, the fan on this bathroom heater is as quiet as a mouse which ensures you can relax comfortably in the space without any bother. Furthermore, the heater features energy-efficient LED lamps (1080 lumens), which means you can use the heater without stressing about clocking up a huge energy bill at the end of the month.
3. Martec Profile Panel 2 Bathroom Heater
The Martec Profile Panel 2 Bathroom Heater is a great choice for those looking to heat up a smaller bathroom. This is another 3-in-1 combination heater featuring a high-extraction fan, heater and lighting, all packaged within a compact, sleek design. It features two infrared heat lamps that will have your bathroom feeling warm in next to no time.
While the Profile Panel 2 is designed with small bathroom spaces in mind, Martec does have a four heat lamp option available for larger areas. This option also comes with an adjustable heat setting, which is a great bonus feature.
4. Martec Contour 1 Bathroom Heater
The Martec Contour 1 Bathroom Heater is a variation of Martec's Contour 4 Bathroom Heater designed with flexibility in mind. Featuring just one infrared heat lamp, this model allows you to place as many or as few heat lamps as you feel it is necessary within your bathroom space. The fact that the product is so small makes it easy to place a singular light in key areas of the bathroom without having to worry about spatial restrictions.
The Martec Contour 1 Bathroom Heater has a beautiful curved design. Its discreet slim profile accentuates the space without drawing a lot of attention itself. Available in silver and white, this heater can be seamlessly integrated into any bathroom design.
5. Brilliant Smart Ultimo WiFi Bathroom Heater & Exhaust Fan
If you are in the market for a top-quality 3-in-1 combo bathroom heater with a tech-savvy twist, then the Brilliant Smart Ultimo WiFi Bathroom Heater and Exhaust Fan will be perfect for your home.
With this product, you won't just be getting a brilliant bathroom heater with four instant LED heat lamps that will warm your space up fast. You also get smart control features that will allow you to control the unit from anywhere remotely. Plus, it is compatible with Google Assistant and Alexa for voice control.
This smart bathroom heater allows you to create schedules for when you need the bathroom heated up. Now, who wouldn't mind an extra 10 minutes in bed without having to wake up to switch on the heater ahead of time? It is also great for those instances where you want to leave the exhaust fan running a little longer to ensure the bathroom stays dry and mould free. Now you can do so and switch it off remotely whenever you want from anywhere in the world.
6. Martec Vapour Bathroom Fan Heater, Light & Exhaust
Another brilliant option from Martec worth considering for your home is the Martec Vapour Bathroom Fan Heater, Light & Exhaust. This 3-in-1 combo also features a high-extraction exhaust fan, a heater and lighting. With its great exhaust fan, it allows for instant steam extraction, which is just what you need if you enjoy an extra hot shower on those cold days. This bathroom heater features two 1000W ceramic heating elements, which allow for fast, powerful heating.
What sets this particular product apart from others on the market is its design features. Not only does it have an ultra-modern, super-slim profile that allows it to easily fit into any bathroom, but the 12W tricolour LED panel light also allows you to set the colour temperature to your preference or to match other bathroom lighting features.
7. Aspire Bathroom Heater & Exhaust Fan with Tricolour 20W LED Light
If you like the idea of having the ability to change the lighting settings on your bathroom heater, another option worth taking a look at is the Aspire Bathroom Heater & Exhaust Fan with Tricolour 20W LED Light. These tricolour LEDs can also be adjusted to get that perfect light temperature.
As well as having the instant steam extraction feature and a quiet fan, this 3-in-1 combo heater has a modern design that is not just easy to clean but can go unnoticed in most bathrooms.
This bathroom heater comes equipped with two 400W infrared heat tubes as well as a radiant heat tube which allows for faster healing. The great thing about this system is that it also has a half-heat function which is perfect for those days that aren't freezing, but there is still a slight chill in the air.
What Kind of Heater Light Is Safe to Use in the Bathroom?
While all of the models we've featured in this article are excellent choices, it is natural that as a responsible homeowner, you'll have some safety concerns, especially where electronics, heat and water are combined. So, here are some tips on what to look for in a bathroom heater as far as safety is concerned.
First and foremost, you should opt for a heater that has specifically been designed for the bathroom. Such items have specialised design features to make sure the product can withstand the reality of a high-moisture environment.
It is also wise to take note of any specific features that are mentioned in the product description. These features could include switches that turn the product off automatically if there are any issues or the temperature exceeds a certain point. You can rest assured that all of the products featured in this list will most certainly include these safety features.
Furthermore, it is essential to acknowledge the safety impacts of features like extractor fans which help regulate temperature, as well as the safety potential of smart apps. How you use your new bathroom heater can play an important role in safety. For instance, avoid covering the heating elements to avoid starting fires or positioning the unit somewhere it will be continually exposed to water, rather than just steam or damp air.
How Do You Install a Heater Light in a Bathroom?
It's important to weigh up the pros and cons of each of these bathroom heaters, analysing the features of each, and making an informed decision on which model is most well-suited to the needs of your home. But just as important is working out how your bathroom heater will be installed, so you can start enjoying it and making use of all its great features.
As bathroom heaters are relatively complex pieces of electrical equipment and are installed in a high-moisture environment that presents potential safety issues, it is best to enlist the services of a licensed electrician.
The benefit of hiring a professional electrician rather than attempting to install the bathroom heater yourself is that it not only speeds up the process but it ensures that the job will be done safely. What's more, hiring a reputable electrician means that if you do experience issues with the bathroom heater further down the line, you can have a professional point of contact.
Which Heater Will You Choose?
In short, the installation of a good-quality bathroom heater has the potential to improve your quality of life at home. Especially during the winter months, a bathroom heater will ensure making that transition in and out of the shower is far more bearable.
These days the bathroom heaters on the market are not only beautifully designed but are also sophisticated in terms of unique features. We've used our industry insights to provide a rundown of some of the most popular bathroom heaters available right now. Whatever your needs, the size of your bathroom and the particular aesthetic you are after, you are sure to find the perfect bathroom heater on this list!