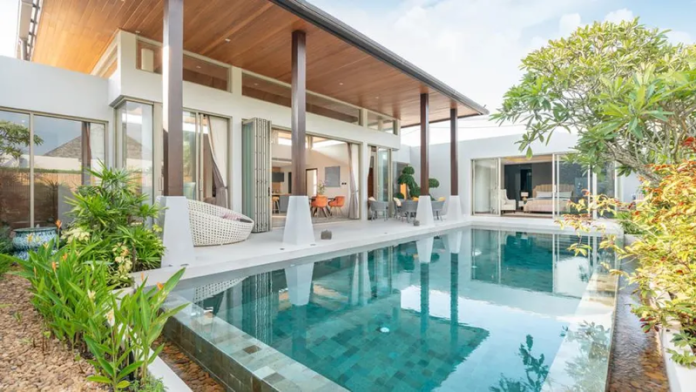 Swimming pool design is an art form in itself, and maximising space is often tricky. But surprisingly there are many different ways in which you can get the most out of your space! If you're struggling with a small pool area, or you feel like maybe your setup isn't quite as good as it could be, these space-saving tips are just for you.
Utilise Corner Spaces
Corner spaces are often overlooked when planning a pool area and can often become a place for junk and storage. However, with a little creativity, they can transform into fantastic areas for comfortable loungers or charming small plant arrangements. These additions not only enhance the aesthetic value of the pool area but also maximise the use of space without invading the swimming area.
Install a Wall-Mounted Pool Cover
A wall-mounted pool cover is a great space-saving solution. These pool covers are attached to the wall, so they don't occupy any additional space in the area. This feature also makes covering up your swimming pool a breeze which is an important part of keeping your pool safe and maintained.
Opt for Slimline Furniture
When it comes to poolside furniture, choose slimline designs. Bulky chairs and loungers can quickly fill up your pool space, making it feel cramped. Slimline furniture offers the same comfort without taking up too much space. Slimline is also a lot easier to move around and reorganise as you need. You can even look for folding furniture as an option so that you can easily store it away when not in use.
Use Multi-Purpose Furniture
Multi-purpose furniture is a game-changer when it comes to optimising space around your pool area. Instead of cluttering the space with multiple pieces, consider the practicality of storage benches or tables with built-in cooler compartments. These versatile pieces not only provide seating or surface area, but also offer convenient storage for pool accessories and beverages. Imagine having a bench where you can store towels and pool toys, or a table with a built-in cooler to keep your drinks chilled. With multi-purpose furniture, you can maximise functionality without compromising on space or style.
Include a Deck
A pool deck serves multiple purposes and offers more than just a safe and non-slip surface around your pool. It effectively expands your usable space, providing versatile areas for various activities. For instance, it can be transformed into a dining area where you can enjoy meals with family and friends, a relaxing lounging space to soak up the sun, or even a play area for children to have fun and play games.
Vertical Gardens
Do you love your plants but they seem to be taking up all your floor space? Maybe a vertical garden would work better for you. This tip could be something to consider for your indoor plants as well. Planting a vertical garden along the fence line of your pool means you can keep the greenery while also saving a lot of ground space that would have been used for traditional pot plants and gardening.
Use Hanging Lights
Much similar to the above piece of advice you can also apply it to lighting around your inground pools melbourne pool area. Instead of large, standalone lamps, use hanging lights such as fairy lights to illuminate your pool area. Not only do they free up floor space, they create a lovely ambiance.
Install a Foldable Shade Sail
A foldable shade sail is a versatile sun protection solution that allows you to enjoy shade whenever you need it. It conveniently folds away, saving valuable space around your pool. With its adjustable design, it ensures optimal coverage, making it a perfect addition to your outdoor oasis.
Design a Swim-Up Bar
Last but not least, something that is both fun and practical. A swim-up bar is a unique concept that combines leisure and convenience, offering you the opportunity to enjoy a refreshing drink without having to leave the water. This innovative setup eliminates the need for a separate seating area, making it a space-saving and enjoyable addition to any pool.
Have enough space after all?
After going through all these space-saving solutions, are you beginning to entertain the thought that perhaps a pool might just fit into your space? Remember, a well-planned pool area is not simply about the size of space you have, but also about how efficiently you can use that area. Careful selection of furniture, innovative lighting, and creative use of every nook and cranny can help you establish a pool area that's both functional and aesthetically pleasing. Don't let size constraints deter you from creating your dream outdoor oasis. With these tips at your disposal, a pool might just be more attainable than you ever imagined.
Picking the Right Pool for Your Space
Choosing the right pool for your available space is a crucial step in creating your very own dream oasis. While size is an important factor, the shape and depth of the pool should also be considered for maximum utilisation of space. The number of different pool types and shapes and sizes are far more than people realise.
Rectangular pools are great for smaller spaces with clean lines and efficient use of space. However, kidney or freeform shaped pools can add character and appeal. Limited space? Choose plunge pools – compact, deep, and perfect for a refreshing dip. Enhance with water features. For fitness, consider a lap pool – narrow, long, designed for laps, and requires less space. If you have kids or enjoy entertaining, a shallow play pool or a pool with a built-in spa might be more suitable. Fibreglass pools offer durability and low maintenance, making them a popular choice. The key is to identify your needs and preferences, which will guide your decision-making process. Remember, you're not just picking a pool, you're creating a lifestyle.
To conclude
By implementing some, one or all of the above techniques such as utilising corners, selecting multi-purpose furniture, and incorporating a vertical garden, you can optimise your pool space effectively. With a touch of creativity and careful planning, even a small pool area can be transformed into a serene and expansive oasis.