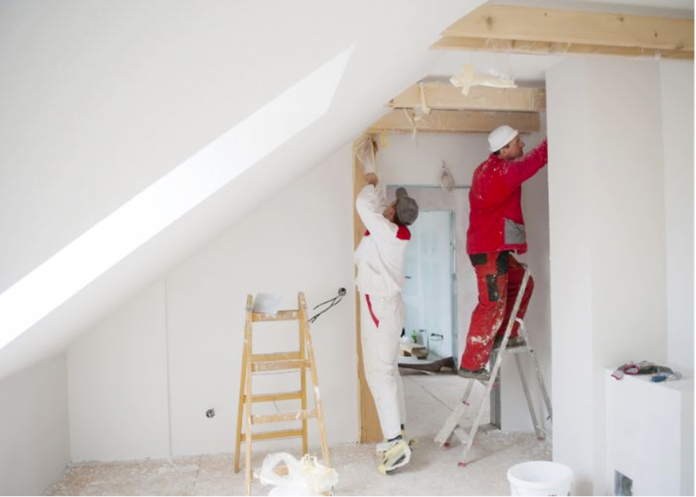 When it's time to paint your home in St. Paul, everything needs to go right the first time. Unfortunately, taking on your home's painting by yourself can be a time-consuming and exhausting task, especially if you are big on a perfect outcome. The best way to get the job done is to hire a painting company. Getting the right contractor to do the job will not only make the process easier for you but will also help you to get the desired outcome for your house painting. In this article, we present to you six important qualities to look for in a painting company in St. Paul for a great outcome.
Also, choosing the right one among the dozens of painting companies out there can be an overwhelming task. You need a way to vet them before making a decision on which one to hire.
Professionalism
The professionalism of a painting company can be gauged in many different ways. One of the first things to observe is how they communicate with you when making inquiries about their services. Watch out for how they relate with you and how detailed they are about their services.
How respectful are they? How knowledgeable do they sound about what they do? These are good indicators of professionalism. You want to also observe how organized they are, not only with their tools but also with the project you've brought before them.
And now, one of the most important things you should ask them is to show you their license or certificate. If the painting is not willing to show you their license, then you probably want to take your project somewhere else, as this could be a sign that they have something to hide.
Experience
Verifying the professionalism of the painting company shouldn't be limited to licenses and certifications. You want to also know what experience they have as a company, especially as reflected in their portfolio. Not only will this show you their past projects, but it will also tell you how long they've been in the painting business.
Ask them to show you some of their previous painting projects to check if they complement their expertise. You can also take time to check what past clients have to say about them online. If you love what you see, then you may hire them for your painting project.
In verifying their experience, take a look at their skill set. Being sure of their expertise gives you the peace of mind that they can execute your project well. After all, you want to project to run smoothly and be completed without a hitch.
Trustworthiness and honesty
Trusting a painting company is not limited to believing in their ability to get the job done; you also want to be able to trust them to be in your house. Checking through their work history is a great way to find out if they can be trusted.
While checking to see what previous clients have to say about the company and their services, watch out for any comment that suggests that something went missing during a project. If any complaint of such comes up, you may need to rethink your plan of working with them.
One way of checking whether the painting company is honest is by asking for their prices and comparing with the average cost of house painting in your area.
Communication skills
Communication is an important quality that should be considered before hiring a painting company. if their communication is poor, you stand the chance of having an unexpected outcome in your project. They should be willing to talk to you before making a decision during the project. And should there be any need to change anything, the company should let you know about it before taking an action.
Mistakes can sometimes be inevitable. If a glitch occurs in the course of the project, the company should be able to admit when they are at fault. Keeping you in the loop of what is happening in your home is a sign of professionalism that is worthy of commendation.
Friendliness
The painting company you want to hire should be friendly and courteous no matter the circumstance. They are going to be working in your home where you and your loved ones should always be comfortable. You don't want to work with a contractor that will act rudely and fight with your family.
Being friendly and courteous shouldn't even be limited to when the work is going on; these should extend beyond when the contractor is done with the day's task. This removes all signs of threats in your home. So, do not ignore the slightest sign of rudeness when contacting a painting company.
While you may not see the connection, a courteous and friendly painting company is very likely to give you quality service.
Responsibility
There is almost no way to measure how responsible a painting company is until you hire them. However, one of the simple ways to have an idea of their responsibility on the job is checking if they are insured. A company that has on-the-job insurance coverage has proven to you that they are willing to take responsibility for any damage that occurs during the course of the project.
Take time to ask them from the onset about their insurance. In fact, a good painting company will not only take responsibility for any damage caused by their workers on the job, but they also ensure that they are liable for any injury to their workers on the job. Their insurance policy may even cover worker's compensation.
Hiring a professional painter versus DIY
While you may be tempted to believe that painting a house is a simple and easy process, it is not necessarily the truth. There are many reasons why you should leave your painting job for a professional.
It saves you time
Professional painters have the right tools
Injuries sometimes happen during painting. Your safety is guaranteed when you are not the one doing the job.
You may not have the skills of the pro
Final words
Choosing the right painting company among many may not be an easy or straightforward process, but with the right qualities in mind, and the right questions asked, you are on your way to getting the best of them. The internet is always a great source to check out your prospective painting companies in St. Paul. One of the popular and helpful resources is the Better Business Bureau.