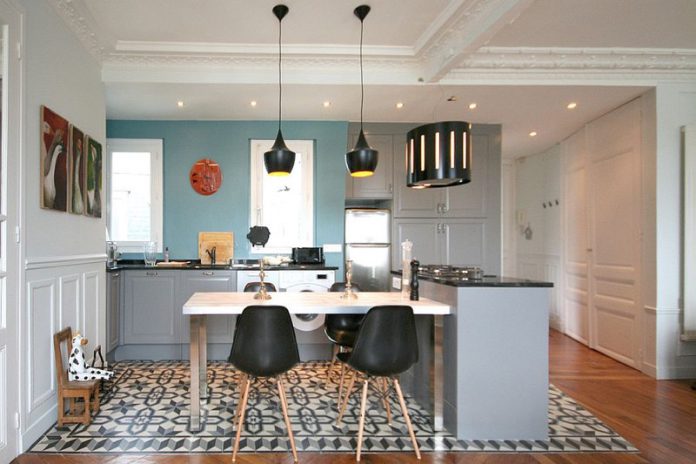 Are you hunting for ideas to add character (a little bit of YOU) to your kitchen space?
Your hunt is over!
When it comes to kitchen design, functionality always comes first. We put much thought into appliances and layout. But, while functionality is critical, what turns a house into a home is your personality gushing through it.
Your kitchen is the heart of your home, so it should reflect YOU. That is why we have put together 7 simple ideas to make the heart of your home oozing of you. The best part is that you do not even need to do a complete kitchen remodel!
Implement some or all of these 7 ideas, and your kitchen becomes more than just a functional space but a space where memorable moments and conversations happen.
If you're looking to change your kitchen look and feel, you'll find these ideas helpful.
7 Ideas to Help Add Character To Your Kitchen Space
Bring the Island into Focus
If you have an island at the heart of your kitchen, bring it into focus by painting it in a colour different from that of the perimeter cabinets.
You have the flexibility of shifting from harmonious contrast to a soothing contrast and you make a statement by painting it in vivid or bold colour.
To spice things up, you can even use a mix of shades for the stools around your island.
Borrow the Magic of Artwork
When it comes to the kitchen, we focus on essentials like storage, appliances, and workspace.
Have you ever witnessed where artwork was introduced to a living room or bedroom and fresh glamour strolled in? No rule bans artwork from the kitchen!
You can introduce artwork pieces to add some artistic touch and carve out an area of visual interest right in the heart of your home.
Intriguing artwork pieces, paintings, and pictures can transform your kitchen from a bland space to a sophisticated space dripping with charms, warmth and YOU.
If you intend to put the artwork near the stove, choose a frame and protective covering that is moisture-proof.
Choose an Interesting Floor/Wall Surface
Inject character into your kitchen space with an interesting floor and wall surface.
Patterned kitchen tiles are a perfect option. They make a powerful statement and it will help guide the eye around your space. They also come in various styles and colours, so you'll always get something you love that compliments your design.
If you've opted for strong patterns on the walls, keep the worktops simple.
Change the Cabinet Accessories
The swiftest way to add character to your kitchen is to replace cabinet accessories like knobs and pulls. Many designs like brass pulls, leather straps and jet-black T-bars are available.
You can choose a single design that complements your kitchen space or cherry-pick more than one design and colour for some dramatic effect and to get the most out of style and function.
Drop a Statement With Lighting
Who says your kitchen lighting has to be boring? Your lighting can also make a statement!
Yes! Your kitchen is a multi-functional family space, so integrated spotlights and task lights are essential. You can sprinkle some awesomeness with oversized low-hanging pendant lights and wall lights.
Some stylish pendant light hanging over your breakfast bar or island will make a statement. And will also define areas of your kitchen. A good tip is to visit stores or antique fairs to search for pendant lights you love.
Use Open Shelving for Show-Off
Though wall cabinets help declutter your kitchen space, they deny you the opportunity to display items you can use to add character.
Open or floating shelves allow you to show off attractive items and your favourite belongings.
You can add character by displaying items like your cookbook collection, statement art, ceramic crockery, wine collection, potted plants, family pictures etc.
However, you have to be strategic with your arrangement. Because you might be tempted to dump random pieces of items on the shelf over time.
Make sure to keep the items and shelving surface neat! This will help you to make your family life a little less hectic in the long run. You'll thank yourself!
Accentuate with Natural Stone
Natural stone is a popular choice for adding character to a kitchen space.
Asides from their beauty which makes them serve decoration purposes, natural stones are versatile, durable and eco-friendly.
Consider using worktops made from natural stones like granite, marble, and quartz. If you have allergies, natural stones are a suitable solution, because they are water and mould-proof.
You'll agree that adding character to your kitchen isn't rocket science. Just simple tweaks will have YOU reflecting in your kitchen space.
Did you find these ideas helpful? Is there anyone you'll love to try out?
If it's the natural stone way forward for you, don't forget to check out some of these Somerset worktops. You could stumble on some bespoke worktops you might fall in love with!