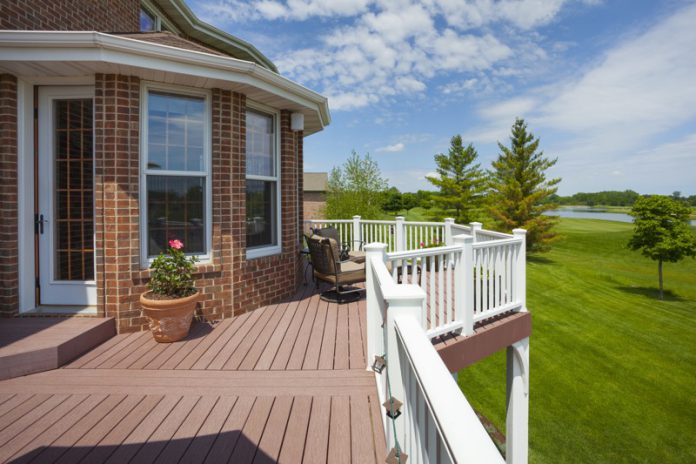 Polyvinyl chloride (PVC) is one of the most produced materials globally, used in objects and fixtures for the home, like deck railings. A PVC deck railing is low maintenance and viable solution for anyone seeking a waterproof deck, particularly useful for warm or rainy climates. A PVC deck has become increasingly popular among both urban and rural homeowners as it proves to be cost-effective and durable. This highly requested deck material is an excellent alternative to wood, especially for homeowners with a pool installed on their property, as the water will not damage it.
This article will cover what you should consider before choosing a type of deck rail, the costs of PVC deck railing, how it can help your yard, and if it's worth the costs!
Considerations
Before you go ahead and purchase a deck railing to install, there are a few things that you should consider beforehand. While there are various types of deck railings that are available for installation, including PVC, there are numerous things that you need to factor in. Some of these considerations include:
Building codes: It is advisable to research the building codes in your area when considering a deck rail installation, as it is meant to help homeowners reduce the rate of accidents that may occur. Of course, these codes will all depend on the location of your home, position of the railing, and building type.
Durability: Because the deck railing will be exposed to natural elements, you will want a durable deck railing. If you live in an area that often endures weather extremities of any kind, a sturdy deck railing that can withstand anything is paramount.
Maintenance: Sometimes, a functional deck railing will require much care, while others do not–all depending on what the railing is made from. High maintenance deck rails take a lot of effort to upkeep, and if you are someone who does not have the time to tend to the maintenance of certain railings, some railings might not be for you.
Design: The appearance of your deck railing is important to match and fit the overall aesthetics of the rest of your home. Choose a railing based on colour, style, and texture that best suits you and your home.
Cost
PVC deck railings are fairly affordable, particularly in comparison to other materials like wood or metal. A PVC deck rail will usually cost you an average of $9-$16 per square foot or $20-$40 per linear foot. Because PVC railing is inexpensive, you can easily install it on your deck on a limited budget.
Benefits
In addition to the affordability of PVC deck railing, there are many other benefits that this material has to offer. PVC deck railing is biodegradable, making it very durable and long-lasting. It's also a low-maintenance deck rail, and it only needs light washing when it becomes visibly dirty. Further, the vinyl makes this railing scratch-resistant, splinter-free, insect-resistant, and very easy to construct and assemble, though it should be done by a professional. More so, this railing is resistant to mould, and mildew and will not splinter or rot, unlike railings made from wood.
Disadvantages
Although PVC deck railing has many benefits to offer any homeowner, it also has some disadvantages. Some of the weaknesses of a PVC railing are that it is structurally weaker and inferior to that of wood or metal. And due to its prolonged exposure to the sun, PVC will eventually begin to fade over time, which will reduce its aesthetic appeal. It also cannot be customized in various ways because you cannot paint it. If you ever decide to remodel your home, being stuck with the same colour PVC railing may cause a problem in the future.
Conclusion
Installing a PVC deck railing is one of the most inexpensive railings you can purchase for your home, more affordable than wood and metal. Although it can come with some minor disadvantages, PVC deck railing has numerous positives that outweigh the negatives.