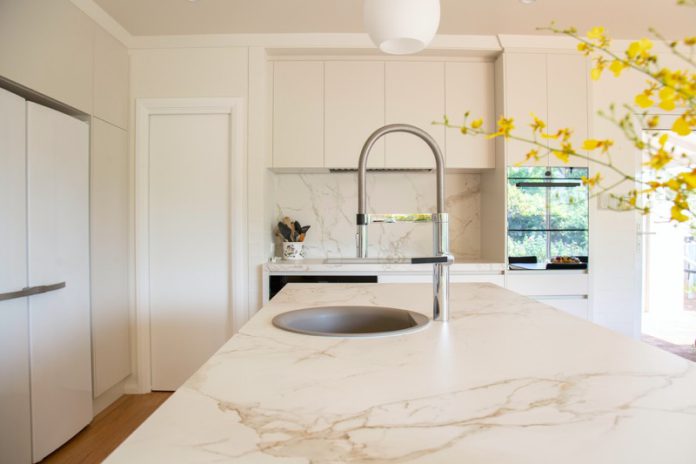 Thinking of doing some home improvements soon?
Statistics show that throughout the height of the Covid-19 pandemic residents in the UK started spending over 35% more on renovation. Currently, we're also spending around £40 billion on home improvements, with a lean more towards kitchen and garden improvements compared to home office enhancements, as post lockdown life resumes working normality for many.
Today, we're shining the spotlight on kitchens and bathrooms, and the various exciting and transformative trends for these functional spaces in 2022. Just because these spaces are so practical, doesn't mean they can't be absolutely beautiful too.
So, if you are thinking about improving your home and you're a bit stuck for inspiration, grab a drink and nestle down for these top kitchen and bathroom trends for 2022:
Top Kitchen Trends For 2022
"Everything happens in the kitchen. Life happens in the kitchen." – Andrew Zimmerman
Multi-use
Kitchen diners, kitchens that spill into outdoor areas, mini school study areas or home offices – multi-use kitchens are popular in 2022.
Wallpaper…
Wallpaper has been created to deal with the steam and heat of the kitchen, so you can cottagecore your cooking space with chintz, or elevate your neutrals with a bold botanical print – whatever takes your fancy. The choice is now yours in 2022 with this clever advance in decor tech.
Wood
Textural, stylish wooden kitchens are popular in 2022, as we celebrate this natural material in all its knotted, natural glory.
Recycled/ Upcycled/ Sustainably Sourced
Second hand kitchens, upcycled kitchens and sustainably sourced kitchens all fall into the same trend of reusing materials and products rather than letting them go to landfill. It's a really important green move to make if you want to improve your eco-kudos as the construction industry accounts for a third of the world's waste.
Flashes Of Bold Colour
We're going all expressive in 2022, but not so much that our kitchens are garish. Instead, think bold kitchen units, a bold fridge, a bold coloured sink or dishwasher. It's a splash of unexpected colour in a space that commonly demands 100% timelessness. It's a surprise for the eyes, and a welcome one.
Smart *Everything*
Technology is advancing faster than we can get used to the convenience it brings, and the kitchen is not going to be a stranger to this in 2022. Smart plugs, taps and fridges, voice activated appliances, automated cleaning devices – they all have a place in the 2022 kitchen. The most popular types are those that make life easier, rather than novelty 'use once and gather dust in the cupboard' types.
Minimalism
Minimalism continues to dominate preferred decor styles in 2022 as the way we present our homes shows an acknowledgement of consumerism and the various negative impacts of clutter.
Green
Green is very on trend this year in all its forms. Muted vintage creamy greens, rich tide pool jewel tones, fresh and clean leafy greens, dark moody mosses – a green kitchen is a modern kitchen this year at least.
Intimate Dining Areas
Dining booths, kitchen corner tables and benches, smaller dining areas with a focus on intimacy – in 2022 we are snuggling up together and enjoying food, drink and good times.
Metallic Touches
Small metallic touches like gold lighting or furniture, industrial metal fixtures and fittings, and even swirls of gold in marble worktops all provide a rich palette of finishing touches to 2022 kitchens.
Marble *Everywhere*
Marble is a thing in 2022. Its opulence, its luxury, its quality – it's just such a classic, unique and beautiful addiction to a kitchen space. If you do decide to indulge and enhance your kitchen with marble in 2022, do speak to a professional stone worktop supplier who can install it properly and get you the very highest quality marble available. You're going to have this exceptional stone in your home for a long time, so it's worth investing in products from a company who will supply you the best, and install it so the finish matches the material.
Cork/ Wood Flooring
Tiles are on the back burner in 2022 kitchens as we see classic herringbone flooring and sustainable options like cork adorn the floors of the heart of the home.
Top Bathroom Trends For 2022
"If I want to be alone, some place I can write, I can read, I can pray, I can cry, I can do whatever I want – I go to the bathroom." – Alicia Keys
Wallpaper…
Yep, the wallpaper we mentioned above for kitchens has a place in 2022 bathrooms too! Whether you go all out and cover the space with it, or just go for a feature wall, it's an option now so you can be as creative as you fancy.
Green
Green is having a moment all over the house, but for the bathroom it has a really natural place, contributing to the relaxed and serene feel that this room has.
Blues are certainly around too, but greens are pipping them to the post ever so slightly, especially for those who still feel like blue is just a touch too cold for the bathroom.
Everything Wellness
From aromatherapy steamers built into shower systems, to heated wet room seats and even trees being planted *inside* bathrooms and incorporated into the structural design, wellness is very much a part of 2022 bathroom home improvement plans. It's time to put features in place that help you wind down and get a moment to breathe as the crazy world whirls on outside.
Warm, Earthy Tones
Terracotta, sand, taupes and other earthy tones are a big bathroom trend this year. It's a warmer, richer play on the standard neutral and works well with the various natural textures and materials we're filling this functional space with at the moment.
Bold Basins
In the same way unexpected bolds are turning up in kitchen design in 2022, the same thing is happening in bathrooms, but with the basins. Pinks, blues and greens  – whatever takes your fancy. The same can be seen with toilet ceramics, but – importantly – there isn't a matchy-matchy theme going on, which is what stops this trend being a bit too 70's/80's avocado toilet suite.
Big, Beautiful Shower Heads
Think outdoor showers in tropical far off locations, and experience showers in spas, and you're heading in the right direction. Rainfall shower heads, cross water showers, sensory showers, open showers – anything that gives you a touch of luxury beyond your usual two minute scrub down with the Radox against a flaccid wet curtain.
Stunning Stone
As with kitchens, marble and stone is very much a trend for bathrooms in 2022. It's luxurious, attractive, timeless and long-lasting, especially if you use the best stone worktop supplier and installation company. Homeowners are also being a touch more creative with the space, playing with more vibrant and unique stone colour patterns than may not feel neutral enough for the kitchen.
Planty Shower Buddies
Indoor houseplant sales are growing around 13% every year, and the enthusiasm for our leafy house pals shows no signs of stopping either. In the bathroom, all kinds of plants love the steam and indirect light, but it's not just a one way relationship. What you get in return is gorgeous splashes of natural colour, interesting shapes and an accessory that truly connects you to the outdoors.
"A room should never allow the eye to settle in one place. It should smile at you and create fantasy." – Juan Montoya
So, how will you create your perfect kitchen and bathroom this year? With any of the ideas above, and plenty of your own creativity (and a little bit of fun), you're going to make these practical spaces standout, stunning and special in 2022.