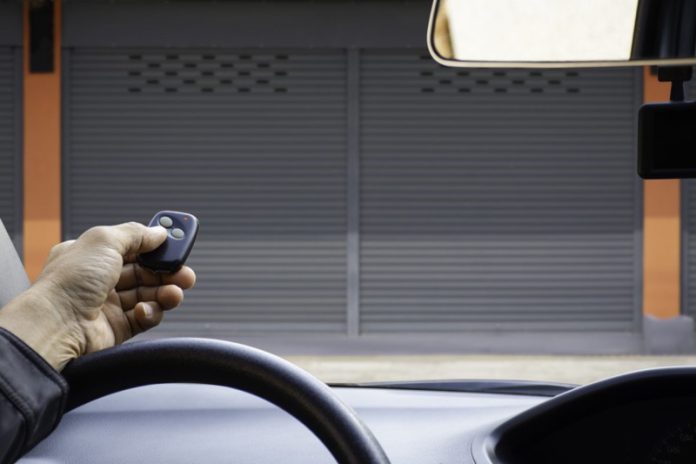 Remote operated garage doors are taking the UK by storm. Since they started their meteoric rise they have become a staple sight, adding sophistication to thousands of homes. With an easy to operate remote controlled vertical opening function, electric roller garage doors boast an array of benefits to the user.
Garage doors truly are undervalued, it is only when they no longer work or get damaged that their true value is perceived. A garage door actually can add value to your home and they add security to your home. Bearing this in mind, careful consideration should be given to selecting a garage door. There are many options that are manually operated, but the ease of access that a remote operated garage door gives is just too convenient to ignore.
If you are looking for a garage door that you can rely on for security, automation and insulation properties, the remote operated roller garage door is the right option for your home. There is an element of sleekness and sophistication that they add to a home.
Convenient Opening
It has to be said that the UK weather isn't exactly  living in the tropics. Roller garage doors that come double skinned and insulated add a warmth to your garage space, making it more pleasant to be in. The added benefit of having a remote operated garage door in the UK is that when you pull up to you house at the end of a long day, rain pouring down, the wind just about allowing your garden gnomes to take flight – you don't have to get out to gain access to your garage.
Having an automated garage eliminates having to braise the cold weather, but it also ensures that you get into your home safe and that it is then locked away for the evening.
Another convenient factor about the remote operated roller garage doors is that they require minimal space for installation as well as operation. As the name suggests, the roller door rolls back into a small box that is secured above the garage opening. Gone are the days of limited space from the traditional garage door track system that limited the height usage of your garage.
The roller garage door systems allow for maximum usage in both length and height and thanks to the insulative properties, there has never been more opportunity to enjoy the full potential of your garage.
Increased Security with Remote Access
Remote operated garage doors are so secure, so much so that they are a deterrent for burglars. When comparing remote accessed garages to the traditional up and over manual competitors, there really is no discussion to be had. If you are heading away on holidays, you can completely disable the system by unplugging it, or you can go a step further and add a padlock so that the garage door simply cannot roll back and function.
Remote Operated Garage Doors Increase Safety
There are so many instances where traditional garage doors have fallen closed and hit cars or even worse, people as they are passing by. One of the best features of remote operated garage doors is that they come equipped with safety sensors.
The safety sensors come standard with any roller garage door that complies with the UK safety standards. They ensure that if there is anything in the path of the door, even if you have requested it to close, it will not until the obstruction is removed safely, be that a car or a child trying to play and pass under the closing door.
Accessibility for those with Disabilities
Traditional garage doors can be difficult to operate, so if you or a family member suffer from a disability or mobility issues, a remote operated garage door is a great solution that takes away all of the manual operations and allows anyone with the remote to access the garage with just the simple click of a button.
Sleek Remote Operation
The automatic roller garage door system operates off a keyfob system that you can securely store in your car for ease of access. The lightweight aluminium constructed garage doors allow for the door to simply glide discreetly and silently into the storage box above the garage opening.
Compared to the traditional track system with the up and over opening function, these remote operated garage doors are whisper quiet and boast huge convenience factors.
If you are in the market for a new garage door, make sure that you check that it is double skinned and insulated and that it has sensors, meaning that it complies with the UK safety standards. If you check for these, you will know that you are getting a good deal on your new remote accessed garage door and that your family and possessions will be safe.