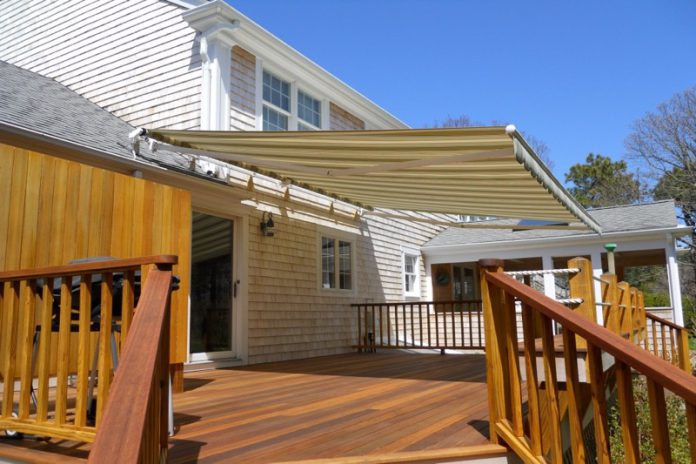 Do you want to create a cozy place in the backyard of your home where you can enjoy the nice weather with family and friends? In that case, an awning is one of the first things you should consider. Today on the market, you will find various models, starting from permanent and retractable awnings.
In this article, however, we will pay special attention to retractable awnings and one of the most popular types, namely the roof-mounted retractable awning . This type of awning is a fantastic addition to any home, and the advantages it possesses are indeed many.
However, before we share why you should buy a roof-mounted retractable awning, we will talk about the product and its main features.
What is a roof-mounted retractable awning?
The most specific thing about roof-mounted retractable awnings is that they are mounted to the surface of a building. That can be a wall, roof, rafters, fascia, and more. Exactly what type of mounting will be is a key, as it is responsible for the safety of using the awning.
To this end, specific mounting requirements must be adhered to. Our recommendations are always to contact a professional company that will install your awning in the best and safest way possible so that you can enjoy the benefits of the retractable awning.
When purchasing a roof-mounted retractable awning, you will receive instructions on installing the product. Keep in mind that the requirements for mounting a retractable awning to a home or commercial building structure vary, which means that not every type of installation is allowed everywhere.
Another essential feature of roof-mounted retractable awning is the materials from which it is made. In terms of parts, awnings consist of roof brackets, mounting brackets, folding arms, ledger board, awning frame, and fabric cover.
Always choose products made from high-quality materials. Avoid plastic parts and trust metal structures that are made of stainless steel. Regarding fabric covers, we advise you to choose waterproof and durable ones.
Why choose roof-mounted retractable awning?
Awnings today are one of the top trends in outdoor living. They provide you with a different place to relax and a better look to your home, adding a touch of luxury. They are practical and convenient to use because you can retract them. They suit your home, cafe, hotel, restaurant, and other commercial buildings.
Provide full protection
This type of sunshade will provide UV protection, which is one of the main tasks of the product. You can create a place with pleasant shade where you can relax. If you choose an awning with waterproof fabric, rest assured that you will also get rain protection.
Flexibility
One of the most significant advantages of retractable canopies is precisely the option to retract them whenever you want. When the canopy is open, it gives you complete block-out shade protection and wind and rain protection. If you wish to have the canopy retracted, you can enjoy the sun or watch the starry sky already. Controlling the awning is extremely easy, with some being operated mechanically and others automatically at the push of a button.
Expand your living area
The roof-mounted retractable awning will provide you with a more functional space that you can use. That way, you'll have an area to have family dinners, chat, entertain and play games. You will also contribute to your exterior, turning your home into a beautiful place.
Suppose you are looking for a canopy for your commercial establishment. In that case, you are expanding the area for more customers, providing them with more comfort and convenience, and turning your place into a beautiful space.
Protect your furniture
As a home or a business owner, one of the things you surely want is to protect your furniture, preserving its original look for a long time. As we know, the sun's harmful rays can cause furniture damage and fading. Thanks to awnings, you will be able to protect them from fading.
Reduce energy costs
Last but not least, installing a roof-mounted retractable awning will provide more coolness in your home to maintain a comfortable temperature without constantly turning on your air conditioner during hot summer days. Consequently, your electricity bills will also decrease. That, in turn, helps to protect the environment.
Well, have you convinced yourself of the benefits of sun shades? Now you can look at what models and designs are available and choose the perfect roof-mounted retractable awning for your house or business.