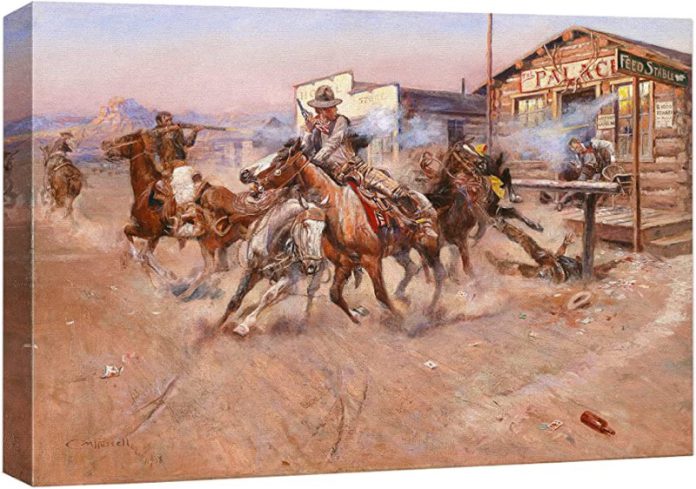 Everyone knows that a good piece of art can do wonders for the character and mood of a room. A painting hanging on your wall can brighten your home and add a layer of personality and class as no other household accessory can.
With that being said, the question then arises, what painting or paintings should you choose? The choices are practically endless. Anyone can choose a Van Gogh or a Da Vinci, but that is too obvious and uninspired of choice. Why not impress your guests by going for something extraordinarily different and rare?
Charles Marion Russell was a highly respected American painter specializing in scenes showcasing America's Wild West. His paintings are a fabulous collection of iconic images filled with intense action, beautiful ambiance, and historical authenticity. With over 2,000 paintings to his name, there are many wonderful paintings to pick from.
Elk In Lake McDonald
The wild landscapes of North America are some of the most immensely vast and beautiful in the world. Their monumental mountains, roaring rivers, and endless plateaus have inspired many artists who produced many masterpieces.
In the case of Western artist Charles Russell, this was no different. Russell was enamored by the jaw-dropping natural scenery of Montana and lived there for many years. During this time, he painted numerous paintings of the territories there, as well as the native population of Native Americans.
When Charles Russell artist from America, wasn't painting the affairs of cowboys and Indians, he honed his craft by painting his surroundings. So naturally, Lake McDonald was his favorite, and he dedicated several paintings to the sprawling body of water. However, unlike many of his paintings which have acted as the centerpiece, Elk in Lake McDonald has a calming and relaxing vibe, and for this reason, it would make for a great painting to decorate your living room with.
Smoke Of A .45
On the other hand, if you are looking for a painting that is exciting, entertaining, action-packed, and sure to keep your attention for months or even years, Smoke of a .45 ticks all the boxes. Alongside Russell's painting titled In Without knocking, Smoke of a .45 is considered 'the' essential cowboy painting.
It has even been said that these two iconic paintings of cowboys in action were the main inspiration for the Spaghetti Western movie genre. In this iconic painting, a gunfight has broken out after what seems to be an alcohol-fueled card game gone wrong.
This classic cowboy scene is infamous in many Wild West movies, and they have Charles Russell's artwork to thank for it. Charles Russell was famous for painting these types of scenes. The list is quite long, but others worth checking out are, In Without Knocking, Outnumbered, and Stagecoach Attack, to name just a few.
Waiting And Mad
If you would instead add a little historical and cultural flavor to your abode, Charles Russell was also one of the leading American artists depicting Native American society. Russell had great respect for America's indigenous people and even lived with one of their tribes for a while.
During this time, Russell painted dozens of paintings of Native American life and is considered one of the best historical sources on the matter as a result. Just like his thrilling cowboy painting, much of his Indian artwork also has the same level of intensity and gusto.
Not all his paintings focused on the danger and excitement of the Wild West, though. Take the painting Waiting and Mad, for example. In the painting, one of the most lovingly detailed of his entire collection, a beautiful Native American woman lies by the fire in her hut. This colorful and romantic masterpiece will turn heads and start some conversation when people see it hanging on your wall.
Just A Little Sunshine
One thing that has always been great about art is its ability to create discussion and debate. To some degree, every painting is symbolic and thought-provoking in its motivation and composition and acts as a symbol for much larger concepts.
Although Russell was primarily a Realist painter who depicted real-life events, his artwork is also brimming with Romanticism and Symbolism. The over-the-top action and exaggerated color used inspires many different emotions and impressions.
In many ways, Charles Marion Russell's paintings are a love letter to the freedom, adventure, and opportunity life in America offered at this time. Just a Little Sunshine is just one abstract example of this. There are many other great symbolic paintings to choose from in Russell's collection, and any of them would make a great addition to your home.
Laugh Kills Lonesome
Nothing sets the mood quite like a night scene painting. The contrast between the cold darkness of night with the bright light of the moon or the warmth of the campfire has been a favorite topic for artists to paint for centuries.
Laugh Kills Lonesome is perhaps Charles Russell's best 'night' painting and is often hailed as one of his best painting periods. It's simple yet magical premise shows a group of cowboys camping for the night under a moonlit and star-filled sky.
At its core, the painting embodies the adventurous nature of life and the importance of companionship. But, more than that, Laugh Kills Lonesome represents the beauty of a single moment in time. Its warm color and tranquil tone will no doubt inspire a sense of peacefulness and inner joy as you gaze at it lovingly from your armchair.
 Conclusion
American artist Charles Marion Russell is undoubtedly one of the greatest painters ever to paint the romance of life in the Wild West. Hanging one of his epic paintings in your living room is a surefire way to add feelings of joy, adventure, and appreciation, into your life.