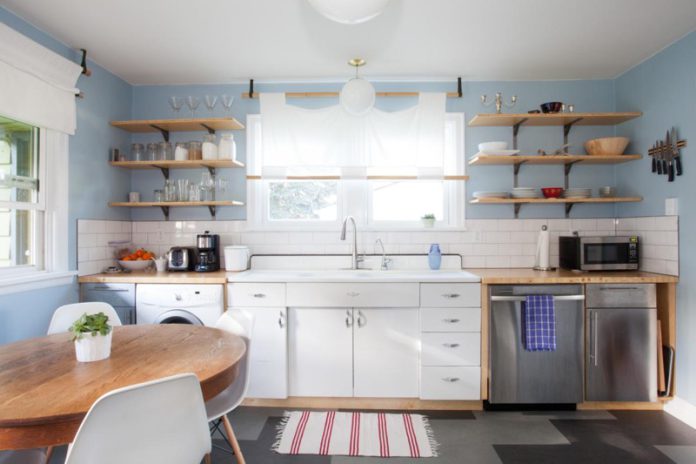 When it comes to giving a new look to your kitchen it is really important to keep a lot of things in mind. A single mistake or any hurry might end up in giving you the results that you did not wanted.  A well-executed new kitchen renovation might be one of your most important home improvements.
It might be intimidating for people who have never renovated a kitchen before to go through the procedure. While gathering information, seeking inspiration online, and examining samples in your neighborhood shop may be enjoyable, it's crucial to consider the overall picture before moving further.
Work it out with the professional 
To give your kitchen a new look it is really important to have a discussion with an expert like Houseace.
Establish a Budget 
It is always a good idea to check out that you have set a budget so that you do not spend a lot of your savings on your kitchen renovation.
Establish a Timeline
Be careful to set a deadline as well as a precise budget. Do you require completion of the improvements in four weeks? Or perhaps you could extend it to 8? When you discuss on the things with the experts it is important to let them know about the timeline.
Your builder should be able to give you a solid estimate of how long the kitchen renovation will take. You must also discuss about how much time are they going to take to complete the work. This will help you out in understanding the entire process.
If the restoration of your kitchen is significant enough, you could have to leave your home. Therefore, you have to create a strategy for your future residence, including how long you intend to stay there. Consider include this in the remodelling budget as well.
Do You Need Any Permits? Think About It
Keep in mind that certain renovations call for permission from the municipal authorities. If you don't have them, it may be difficult to sell or refinance your house since potential buyers and lenders want to ensure your modifications adhere to building laws and regulations.
Check the Plumbing
Consider whether any plumbing has to be moved when planning a kitchen remodeling. Even though you could have specific pieces in mind for specific locations, it's crucial to ensure the right pipes can be transferred.
Consider Your Storage
Consider where you will place everything in your kitchen if you can. You can check out the things that you already have so that you can enjoy getting the best.  So first, decide how much storage you need, then look up innovative solutions for more ideas.
Pick Appliances Wisely 
Make important to keep resale in mind when selecting any new kitchen appliances. For instance, a refrigerator with a bold color or a surface material that is a little out there might hurt your home's ability to be sold in the future.
Keeping Good Lighting in Mind
Think about several lighting options if you don't want your kitchen to be too dark. To focus on various cooking chores, you will, at the very least, require ambient lighting for general illumination and task lighting.
Consider the functionality of the layout.
Another crucial factor to take into account is the arrangement of your kitchen. What would your kitchen look like if you used every drawer and every gadget at once? Can't you go inside the oven if you open the fridge door? Before you approve the floor plan, think about the remodel's arrangement. Ensure you have adequate space if you're considering installing a kitchen island.
Exist Any Non-Negotiables Here? 
Think about your new kitchen design elements that you cannot live without. Before you plan out to start the construction you need to look for the negotiations so that the things fall in your side.
Budget
Before setting a budget, you must decide how much you can afford to spend on your kitchen renovation. If you don't know how much money you have available, you risk making disastrous planning mistakes and quitting the project before it is finished.
You will need to determine what you can afford because kitchen renovation is one of the most expensive remodeling tasks you can undertake. To complete your project, you might need to investigate home equity loans or withdraw funds from your savings. There are many choices, so you might want to discuss your objectives and budget with your financial counselor.
Kitchen ideas
Websites like Pinterest and Instagram may be fantastic inspirations when browsing for kitchen renovation ideas. When working with a designer, you may save photos and present them to them.
You can get ideas by perusing other people's kitchens. It is entertaining to ask people about their kitchens and get their advice on making yours even better. You can find kitchen remodelers just about anywhere, and they all have plenty of solid suggestions you may write down and use as inspiration for your kitchen design.
Choosing the right appliances
 Appliances You should begin your search for appliances early to ensure that you receive the best ones for your needs and that they will be accessible when you are ready to install. Also, don't think there is an endless supply of the appliances you desire because manufacturers occasionally run out of stock.
Built-in appliances appear better and are frequently manufactured of higher-quality materials to last. However, to properly incorporate built-in appliances into your kitchen, you must prepare ahead of time.
You will have many options today because so many appliances are available. However, if you want your kitchen to endure a long time and inexpensive equipment will have poor quality, do not choose them. 
Conclusion 
If you establish some clear ground rules, several methods ensure that your kitchen makeover doesn't spiral out of control. Your kitchen renovation will go easily with just a little planning, and you could even finish it on time and under budget. However, keep in mind a backup budget if your project comes up with anything unexpected.