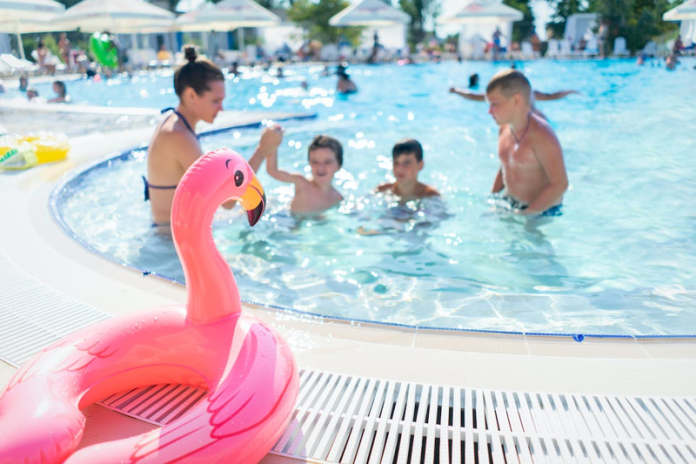 It's very hot, it's too hot outside and sitting inside feels like a crime. With clean reluctance you sit outside anyway. You plop down on your slightly too warm lounge sofa and put on a nice summery tune. The bass gives you a wonderful summer festival feeling. Life is good. But after ten minutes you'd rather go back inside because of the heat. Fortunately that's no longer necessary. We have put together 4 cool tips to help you get through the summer in one piece. Read on quickly!
Costa del parasol
If you're already hot, it's not a good idea to sit in the sun as well. Make sure you have some shade in your garden. A parasol is the first option, and these are available in many different colors, shapes and sizes. A big chance there's one for you. But we also have other shade-related solutions you probably haven't thought of yet. Are you familiar with the phenomenon of the "green" parasol? No, we thought not. The 'green' parasol consists of plants and trees that are pruned in such a way that they create shade. A great advantage of plants as parasols is that it can be up to 15% cooler. This is because plants and trees evaporate water, increasing humidity. Moreover, this also looks very cozy in your garden.
In addition, it is certainly not a bad idea to invest in a nice shade cloth, or a tarp. You span this tarp over (part of) your terrace and you immediately have a very cozy atmosphere to tackle. These shade cloths also give your garden a modern look.
Fan with misting
This fan is a must for your garden this summer if you can't stand the heat. A fan with misting you can fill with (cold) water, which provides a pleasant breeze. This is the ultimate coolness for your garden. The only thing you need is an outlet or extension cord. Put the fan on and enjoy!
Take a dip
When we think of cooling off, water is at the top of the list for many. Therefore, it would be great if you can find cooling in the form of water in your garden. Nowadays, there are many affordable inflatable hot tubs on the market. Put such a bath in the shade and you won't come out of it for the rest of the day. Be warned though: your friends will probably visit you even more often now. When summer is over, you can easily park this hot tub in the shed. Moreover, this also gives you the ultimate luxury vacation feeling. In our eyes a top purchase for the summer!
Pool party
It's summer and that means it's time for a party! Invite all your friends, arrange a pool and get cool drinks in the house. It's nice to give the party a theme. Of course it's not practical to have everyone come in a princess dress, and it's also much too hot. So choose a theme that goes well with a hot day! Think of outfits with bandanas or a hawaii blouse. There are enough nice carnavalskleding that will be perfect for this occasion. Make matching cocktails, get funny inflatable accessories and other feestversiering. The pool party will be so much fun. Enjoy it, summer is the time to go crazy!
If you make use of these four tips, you'll easily be able to hold out in your garden this summer!