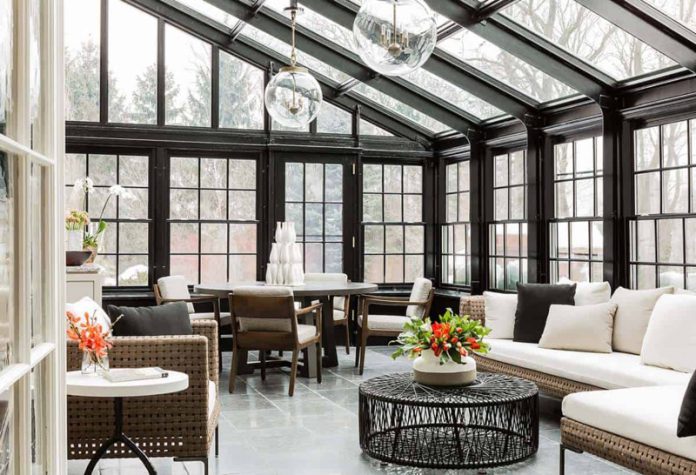 For many people, having a dedicated space for fun parties and get-togethers during the summer is essential. Sunrooms and screened porches are great for enjoying the cool autumn evenings or looking at the beautiful scenery around you while you relax during the day.
But what is the most effective way to make the most out of your designated outdoor space? Would a sunroom or a screened porch be more appropriate? Choosing between a sunroom and a screened porch is an important decision.
You can make the best choice once you understand the differences between these two. In this post, we'll walk you through the pros and cons of each option so you can make the most suitable choice for your home.
Sunrooms and Screened porches: What are these?
Before we can get started and choose between a sunroom and a screened porch, we must understand what sunrooms and screened porches are. Screened porches and sunrooms may seem similar at first, but there are some significant differences between them.
What is a sunroom?
A sunroom is generally a room that's attached to the house. They're often separated with sliding glass doors or patio doors. It will have many windows on each wall, allowing abundant natural light into the room. In addition, some sunrooms have glass ceilings or skylights. This gives the room extra sunlight during daylight hours.
Some sunrooms are designed for year-round use, while others are designed for three seasons. Sunrooms are sometimes referred to as solariums, but this type of sunroom differs a bit.
Different types of sunrooms:
Three-season sunroom: Much like your basic sunroom, this room consists of many windows and a glass ceiling. But the big difference that separates other sunrooms from this one is that it is not temperature-controlled. So during the cold winter seasons, the room is not usually used. This is a more affordable option for those looking for a lovely sunroom.
Four-season sunroom: The only difference between this sunroom and the three-seasons sunroom is that it is temperature-controlled. Even though this sunroom is a more expensive option, it can be used year-round.
Solarium: This type of sunroom is usually made completely out of glass. Both the ceiling and walls are made of glass. Solariums can be heated or cooled to your liking and offer maximum sunlight.
What is a screened porch?
A screened porch is a structure connected to the outside of the house. This structure has screened windows on each wall and is usually connected to the house by a patio door. This type of porch is great for enjoying time outside without being subjected to insects. This isn't its own room but is more of a structure in the house.
Screened porches are not heat-controlled and are not meant to be used year-round as they can become too cold during the winter. In addition, screened porches are much more affordable to construct if your house already has a porch.
Pros and cons of a sunroom
Now that you know what a sunroom is and how this differs from a screened porch, we can look at the pros and cons of a sunroom. Because even though this beautiful room offers many possibilities, there are still some cons that come along with it.
Pros:
Extra room for livability: A sunroom gives possibilities for many uses, even if you decide to use this room for just reading or relaxing during the day.
Possible use year-round: If you decide on the four-season sunroom, you can use this beautiful room all year without a problem.
Increased home value: Adding a sunroom to your house will undoubtedly increase your home's overall value.
Versatile uses: Whether it be parties, a workspace, or a place for your kids to play with toys, a sunroom offers many possibilities. You can even use this for a greenspace for plants.
More natural sunlight: This space brings tons of natural sunlight into your home.
Cons:
Increased property tax: Because your home's value will increase, your property tax will increase as well.
Higher electricity bills: If you decide to add temperature control to this room, your electricity bills are bound to take a hit.
High startup costs: A sunroom can cost anywhere from 5k to 50k dollars to build.
Privacy can become a concern: With all the windows in your sunroom, privacy can become an issue if you live near neighbors.
Pros and Cons of a screened porch
Now we'll look at the pros and cons of a screened porch and what you need to consider before adding a screened porch to your house.
Pros:
Keeps out bugs: With all of the screens, you can enjoy the summer breeze without fighting off mosquitos.
Cleaner than a regular porch: If you already have a porch, you know how easily this can become dirty from dust to leaves. A screened porch will save you tons of time cleaning.
Can safely add electronics: If you want to add a stereo or a TV to your porch, a screened porch allows you to do so.
Can enjoy nature directly: You can still enjoy all the aspects of being outside without worrying that a little critter will join you.
Great for entertaining: It's much more convenient to host get-togethers on a screened porch than on a regular porch.
Furniture is protected: Your porch furniture is much more protected from the weather and other elements due to the screened porch's enclosure.
Affordable to build: Even for those without a porch, this is much more affordable to construct than a sunroom.
Cons:
No protection for allergies: unfortunately, for those who suffer from pollen allergies, a screened porch won't provide any help.
Can make viewing nature difficult: Depending on what type of screens you use, it can be more challenging to enjoy the natural scenery.
Will still experience unpleasant sounds: Because you're only protected by screened windows, you'll still hear any unpleasant sounds around your house.
Hard to enjoy during cold months: A screened porch is great when it's cool or warm outside. But when snow is on the ground, it'll be hard to enjoy your screened porch.