Roohome.com – Having boys nursery loft design in your apartment or house is quite difficult for those who do not how to make it stylish. It is rarely been chosen by kids especially boys who want to have their own bedroom on the top called as a loft. Yet, by seeing this design below it would make your kids have a huge desire to have the nursery like this one. By using adventure concept, your kids will enjoy staying in their room all day long.
Boys Nursery Loft Design With Adventure Concept
Most of the boys like playing around outside your house such as playing water gun, encamp, and so on. What if you create one space by inserting all of that kind of games inside of your boy's nursery? Landusheva Nastia will design it as much as you want. She chooses adventure concept for boys nursery loft design. Firstly, she lets the room be spacious without any dividers which divide one space into another space. That is why many toys can be put on the floor or anywhere.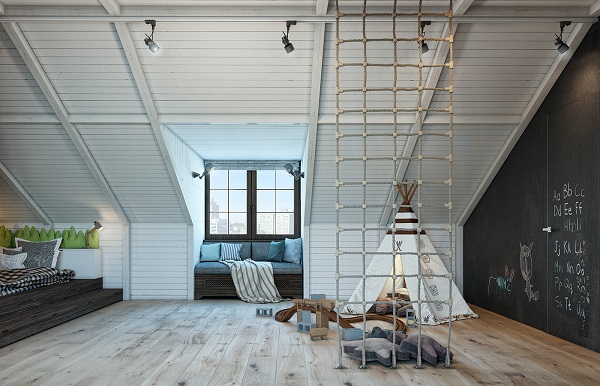 Boys Nursery Loft Design Shows Bedstead Appearance
Move to the bedstead, the designer is brilliant in position the place where to take a rest and sleep. Firstly, she wants to make the bedstead more visible by putting two boards under the bedstead. Afterwards, the bedstead itself is positioned against the brick wall. She does not put any ornaments on a whole wall because to make it more boyish and stylish. This boys nursery loft design is suitable for your kids who are active and creative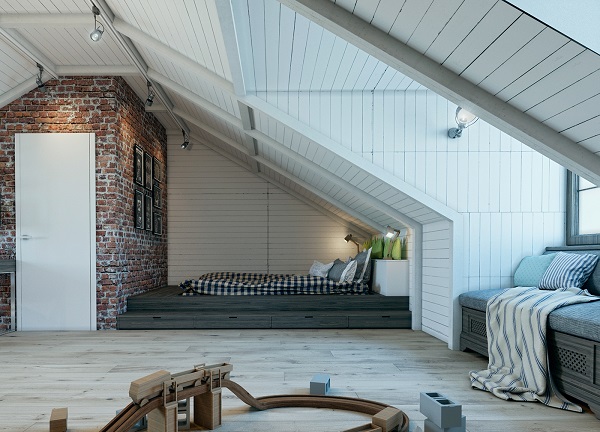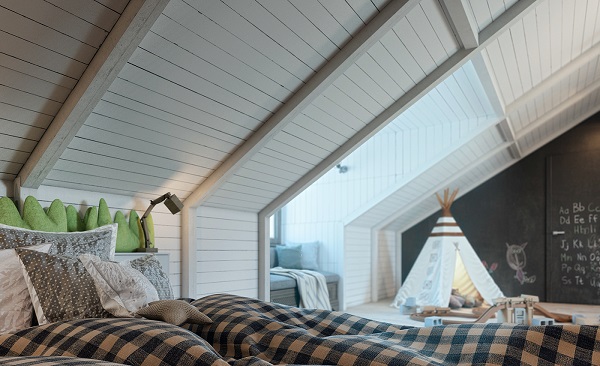 Boys Nursery Loft Design Combines Creative Interior
Although almost of this room full of toys and kind of games, but Landusheva Nastia still want to create study space in this room. She uses the wooden desk and two chairs to make the study space becomes cozy. She chooses creative interior to make it more stylish such as using creative bookshelf which hung up on the wall. Beside the study space, there is a window which is decorated with a mini sofa in front of it. She decorates it because she wants to produce a good quality for kids while studying. Another sofa is also positioned in this space. There is a gray sofa in the middle of the room which is decorated with a gray rug and wooden coffee table.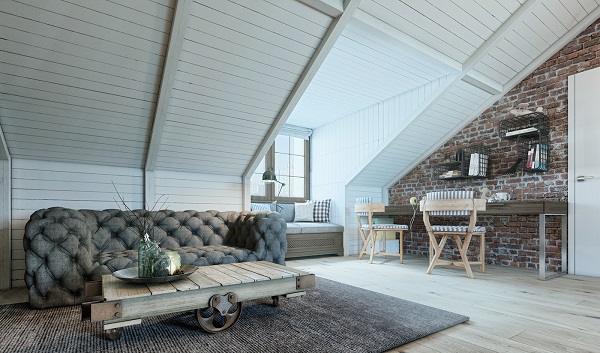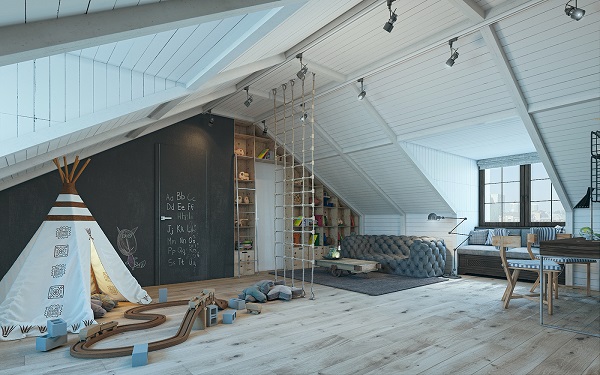 Now, it is time for you to create your kids' bedroom by using this boys nursery loft design which uses adventure as the main concept. Make your kids enjoy spending all activities all day long in their room. If you want to see other designs, just visit and check here. Have a nice day!