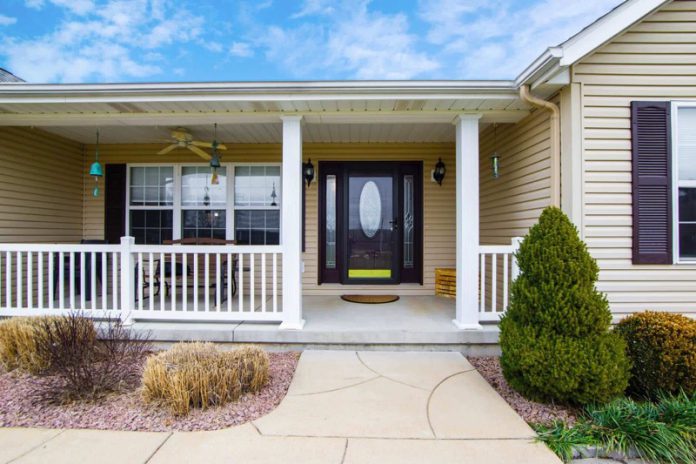 Homeowners often find they want to improve the exterior of their houses. Some of them might do it because they want to add to the home's resale value when the time comes that they want to move on.
Others do it because they plan to stay in that particular house for a while, and they want to make their neighbors or friends envious. Having the best house in the neighborhood can certainly accomplish that goal.
Let's talk about some of the optimal ways to improve the look of your house's exterior if you have the money to do so. 2023 might be the year you undertake one of these major home improvement projects.
Add a Patio
Adding a patio behind your house is one way to improve it. You might consider contacting porcelain pavers if there are some reputable ones that do jobs in your geographic region.
Putting down some porcelain flagstones is the first step toward the creation of an amazing patio that will be the highlight of your backyard when it's finished. Once the flagstones are there, you can consider what furniture you can install to place on your new patio.
You might go with a table and chairs to accommodate outdoor meals when the weather is nice. You can install a grill to do some outdoor cooking. You may even go with an outdoor wet bar if you'd like to mix up some cocktails to enjoy before dinner.
Add Some New Gutters or Gutter Guards
You might also consider installing some new gutters if the ones you have are old and worn down. Gutters usually have a usable life of about two decades. Depending on the wear and tear on them, they might last a little longer or shorter than that.
Your gutters should be functioning at the highest level if you want proper drainage on your roof whenever it rains hard. However, you might also choose to consider gutter guards that will prevent leaves, twigs, and other debris from clogging your existing gutters.
Whether or not you will need gutter guards depends on if your home is close to some large trees that hang over your roof. If there are no trees overhanging the house, you probably don't need these guards.
If you have some mighty oaks, maples, or elms hanging over your home, though, you'll likely require these guards. They can prevent leaves from stopping up your gutters in the late fall when they come off the trees.
Add Some Flower Beds or Boxes
Flowers are not necessary, but they add a lot to a home's exterior. They're beautiful, and they can lend a splash of color if your home is a muted tone, like light brown or gray.
You can either add some flower beds or else you can install window boxes with flowers if you have the type of home that can accommodate them. If flower boxes are on your radar, you'll probably need vinyl siding or something along those lines. Exterior flower boxes are not impossible with brick homes, but they're trickier and more expensive to install.
You'll want to look into what flowers you can get that will bloom in your particular region. You can go with perennials or annuals.
You might get a kind of flower that you can leave out during the winter, even if you get some seriously cold weather in your area. You may also get a type that you can bring inside to care for during the winter months. You can always bring them back out and reinstall them when spring rolls around again.
Add a Water Feature
There are all kinds of different water features that you can add outside your home. You can create one that's purely decorative, like a fountain. You can even get a fountain that's surrounded by a small pond. Maybe you'll get some koi for that pond. You can sit beside it and meditate if you ever feel like your life is getting too stressful.
You might also decide to add an exterior water feature that has a more practical purpose. A rain barrel is an excellent way to go. Rain barrels collect rainwater, and you can then use that water around the house. You can use the water that the barrel collects to water your flowers. You just scoop it up with a watering can and carry it to the appropriate flower bed or box.
You can dig a dry well and fill it with gravel. Then, you dig a shallow tributary that leads to it. If you have a part of the lawn that tends to become oversaturated, you can make sure the extra rainwater rolls down the tributary and into the dry well. Install it correctly, and you won't have to deal with a flooded lawn anymore.
Install a Shed or Deck Box
If you already have a deck, you might want to look into purchasing a deck box that can sit next to your back door or side door. You can put things like shovels and hoes in there if you enjoy gardening. You might also put some snow shovels and bags of salt in there that you can quickly access in the winter whenever you get some serious snowfall.
You might also decide to erect a shed and install it in the backyard or side yard. You can keep your lawnmower in the shed. That's much easier than having to haul it out of the basement or root cellar. You might keep fertilizer in there or anything else you need for gardening.
You can put the shed together yourself, or you can also buy prefabricated ones from Home Depot or Lowes. Once you stash everything in there that you feel you need, you should buy a sturdy lock and put it on the shed door. You don't want anyone sneaking into your yard and pilfering your equipment.
Any of these improvements will add to your home's value immensely.