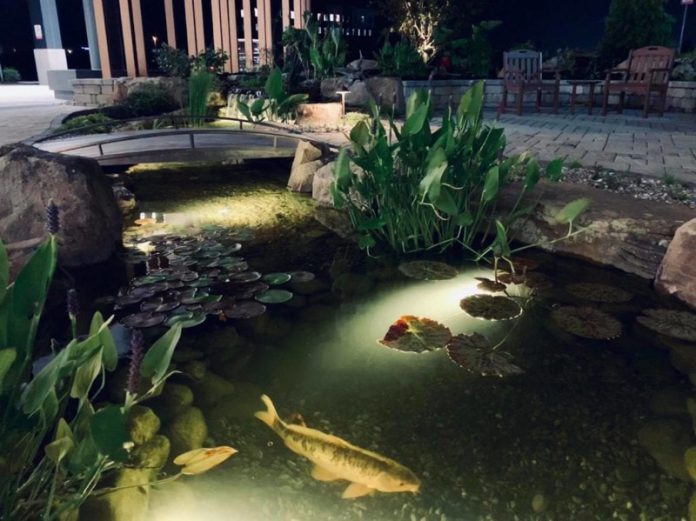 Do you own a pond? If YES, we're sure you want to deck it up as beautifully as possible. A pond without lights and illuminated trees surrounding it feels like Black Friday. You want your pond to look like Christmas throughout the night. Illuminating the pathways and installing underwater light fixtures is a good idea. These days you get wonderful underwater lighting fixtures, and installing them is easy too. We're not here to tell you about the installation part.
The lighting setup you choose can be as simple or as complex as you like. Now, before you purchase lights for fountains, here's a detailed guide to picking the right lights for ponds. Dive right into this post (not your pond) to find out how to pick the right ones!
Selecting The Right Kind of Lights For Your Private Pond
Ponds can be beautified in many ways. Firstly, you need to clean it up, get some foliage around the pond, and select some lights for the pathways and trees. Place some seating to make it comfortable for everyone to hold a picnic around the pond.
Since you're here to learn about selecting the right kind of lights for your private pond, allow us to share more.
You get lights in different colors, shapes, and wattages. So how do you pick the right one for your pond? Let's introduce you to the different lights you can choose.
#1 Bullet Lights for Fountains
If you want to add accent lighting under a fountain or waterfall, 1-watt bullet lights are the best. Most of the light fixture installers choose this one outside the garden pond. You could also use it on small trees to give a fairytale appeal to your garden pond and the surrounding areas.
#2 Spotlights for Fountains
You can get spotlight kits these days – they have everything you need to install the lights near the pond area.
The idea of spotlights is to highlight certain areas and give a contemporary touch. Don't use this to mix and match different kinds of lights. If you choose spotlights, only use this kind of light in the area.
#3 LED Fountain Lights
If you don't intend to add some fountain lights to your fountain (in the pond), it will look dull and lifeless. Fountains ought to have some color and light.
These days you get floating fountain LED lights that you can use to enhance the look of your pond fountain. Adding some light can illuminate the whole pond and the foliage around it. You could have a long and fulfilling BBQ dinner near this area at night without feeling scared or odd.
Fountain lights look beautiful, so choose the right kind of color. You could go for basic white or golden. You could also add some color LED lights like pink, blue, or red. These are some of the favorites of pond owners.
#4 Color-Changing Fountain Lights
Well, the world's getting smarter with smartphones and TVs. Your fountain can be as smart. You get color-changing fountain lights that look surreal at night.
This color-changing fountain could be a good background if you are having a private disco party near the pond.
Moreover, you could change the light as per your mood. You could change the light to pink if it's a romantic dinner with your beau.
#5 Glow Fountain Lights to Illuminate the Space Beautifully
Glow lights are a great option for your pond fountain. But they add a pretty charm to your pond. You could easily install them, and they are quite durable too. Many of these are made of stainless steel, so the durability is 100%.
Glow lights create a focal point, so you might want to purchase this and install it in your fountain.
#6 3-watt Spotlights
3-watt spotlights are great for illuminating the space from 3 to 5 ft away, especially when you have a waterfall feature in the pond.
You get about 10 to 12 ft of light from this spotlight that illuminates the pond and the surrounding areas. It's a great addition to your pond and is also useful in lighting up trees, especially the large ones.
Concluding Thoughts
Having a private pond and not decking it the right way is the biggest nightmare. You need to keep it well-maintained and lit up. Whenever your guests come home, you could rather sit near the pond and enjoy the illuminated fountain right in the middle of the water body.
When you wish to sell it off, you get a better price for the property because anybody would want to buy a house with a well-decorated private pond.