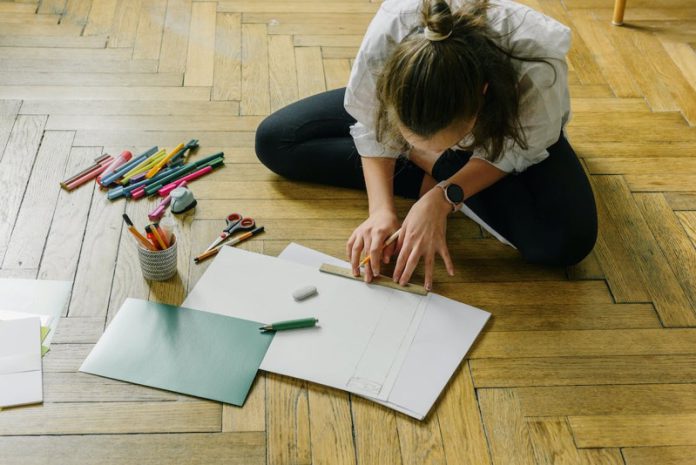 Flooring is an important part of any home. It can enhance a home's aesthetics and functionality and boost its value. If you reside in A-Town, you know that we Atlantans take great pride in keeping our homes beautiful. If you are thinking about updating your flooring soon, you will want to stay up-to-date on the latest trends.
In this blog, we will discuss the latest flooring trends for 2023. So, without any further ado, let's get started.
Luxury Vinyl Flooring:
With improved technology, luxury vinyl flooring is becoming popular in homes. This flooring looks and feels like natural wood, but it is much more affordable and easier to maintain. It is also water-resistant and durable. Luxury vinyl flooring comes in various colors, styles, and textures, making it an excellent choice for any home.
Luxury vinyl flooring allows homeowners to customize the look of their floors and create a unique look. In addition, it's easy to install, so it is perfect for DIY projects.
Carpet Flooring:
Carpet flooring is a classic choice for homes. It is perfect for high-traffic areas and adds warmth and comfort to any room. Carpet also comes in various colors and styles, so it can easily match the look of your home.
For parents and pet owners, a carpet is a great choice. It is soft and plush, making it safe for kids to play on or for pets to sleep on. The carpet is also easy to clean and maintain. Remember to choose the right type of carpet for your home. Make sure you choose one that is stain-resistant, durable, and easy to clean.
If you are seeking the most reliable option, you can check out Your Floor, a leading Atlanta Flooring Company; they have a variety of options for carpets and provide many services related to maintenance.
Wood Flooring:
Wood flooring continues to be popular among homeowners due to its durability and timeless beauty. Wood floors come in different types, such as oak, cherry, pine, and more. They are easy to maintain and will last many years with proper care. In addition, you can easily wipe away dirt and spills, making it a practical choice for any home.
You can also find wider and longer planks of wood flooring, a trend that is becoming more popular. This flooring gives your home a modern look and adds a unique touch to any space.
Natural Floors:
Natural-looking floors create a beautiful and calming atmosphere in any home. This type of flooring can include bamboo, stone, or cork. Natural floors are durable and easy to clean, making them a great choice for any home. They are also eco-friendly and often come in different colors and styles.
In 2023 you will see a rise in the use of natural floors in homes as more homeowners become aware of their benefits. For instance, if you choose bamboo flooring, you can be assured that it is solid and durable.
Reclaimed Wood Flooring:
Reclaimed wood flooring is an amazing option for those who like a more natural look. This flooring is made from old wood beams and other recycled materials. It can give your home a vintage look and is often more affordable than other types of flooring.
Reclaimed wood is also considered eco-friendly and can easily add character to any room in the home. In addition, it is available in various colors and finishes so that you can find the ideal match for your home.
Bleached Wood:
Bleached wood is a newer trend in home flooring. This type of wood gives your home a bright, modern look and helps to make the space look bigger. It is an excellent choice for smaller homes because the light colors can create an illusion of more space. In addition, bleached wood is easy to maintain and requires no special cleaning.
It is also perfect if you have white furniture, as it will create a coordinated look. Bleached wood is also becoming more popular in kitchen designs, so you can expect to see this trend in 2023
Cerused Wood:
Cerused wood is a trend that will be becoming increasingly popular in 2023. This type of wood is treated with wax and iron oxide to create a unique look. It has a matte finish and unique texture, which can add character to any space. In addition, cerused wood is easy to maintain and comes in different colors and styles.
This flooring is perfect for those who want to make a bold statement in their home. It is also ideal for modern and contemporary homes.
Faux Marble:
Real marble is expensive and difficult to maintain, so faux marble is becoming increasingly popular. It looks like real marble but is more affordable and easy to clean. Faux marble can give your home a luxurious look and feel without breaking the bank.
It is available in different colors, so you can get the one that will match your home décor. Faux marble is a great choice if you want something that will last many years without needing much maintenance.
Stained Concrete:
You might think that concrete flooring is just for industrial spaces, but this trend is also becoming popular in homes. Stained concrete can give your home a unique look and is easy to maintain.
Most interior designers prefer stained concrete as it is visually appealing and can be customized according to the home décor.
It is durable and affordable, so you can be sure it will last many years. Keeping that in mind, stained concrete is an excellent option for any home, and in 2023 it will become even more popular.
Terrazo:
Terrazo is an old-fashioned material that is making a comeback. It is made of small marble chips and concrete, which can give your home a unique look. Terrazo is perfect for modern and contemporary homes, as it can easily add style to any space.
This cement-based flooring is easy to maintain and can be customized according to your needs. Its textured surface can create a unique look in your home and is ideal for those who want to make a statement.
Porcelain:
Porcelain flooring is becoming increasingly popular due to its durability, affordability, and easy maintenance. In addition, porcelain is available in different styles and colors, so you can create a unique look in your home.
It is also scratch-resistant, so it can withstand wear and tear. In addition, it has high-quality water resistance that makes it useful for wet areas such as bathrooms.
Conclusion:
These are the top flooring trends you can hope to see in 2023. Whether you're looking for an affordable or more luxurious option, there is something out there for every budget and style. So keep these trends in mind when deciding what flooring is right for you.
It is a great time to try something new and stylish to give your home a unique look that will impress everyone who visits. With all the options available, you will surely find something that will fit your needs. Happy flooring shopping!