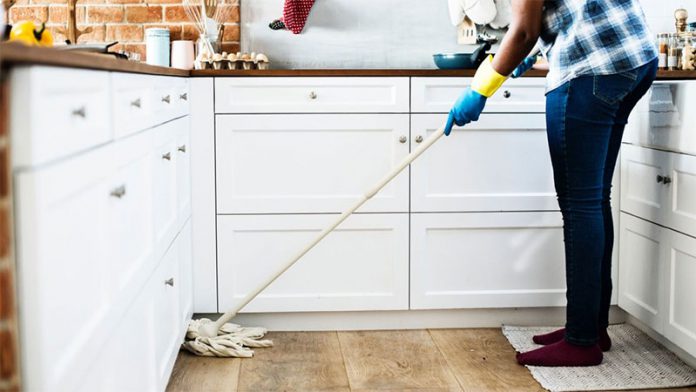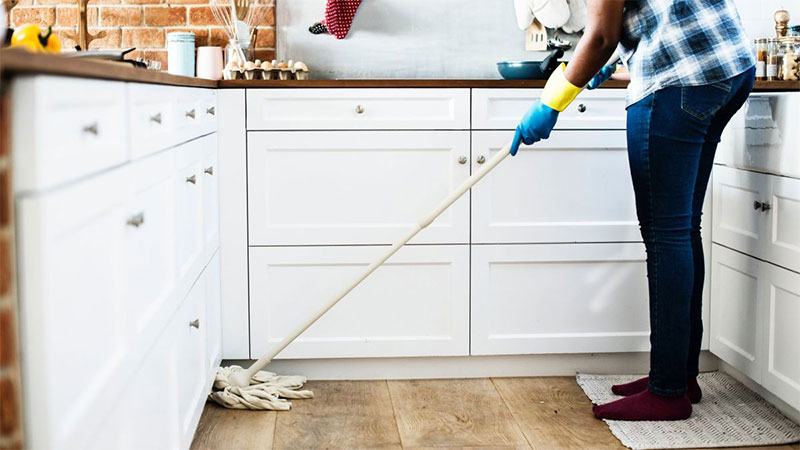 Many of us are spending a lot of time at home right now, which means it gives us more time to get tasks done around the house that we wouldn't usually have the time to do. And while these are tasks that we have been purposely avoiding, they have to be done at some point, and now is a good time as any. The kitchen is the most popular room in the home, and the one that suffers the most from cooking oils, fat, stains, and spillages.
So, we thought we'd kickstart out top 10 tips with clever hacks to tackle the kitchen while you have to stay home. This task would probably be much better with a great throwback playlist, so you can enjoy some music while you clean.
Gloves, playlist, cleaning mind ready? Let's go.
1. The Oven
Let's start with the oven, probably the most time consuming task, and one that is put aside many times. Mix baking soda, dish soap and water together and give the inside of your oven a generous coat. Leave for around 15-25 minutes and wipe off. It should be looking a lot cleaner and remove some of those stubborn stains.
You can follow the same procedure with your oven racks, however simply soaking them in hot soap water should do the trick.
2. Window Treatments
Many of us have blinds featured in our kitchens, and as they're not the best things to clean without getting up on the kitchen counter and pulling a muscle, here's a great hack. If you have a pair of cooking tongs, wrap both sides with a duster and simply use the tongs to clean each slat of the blinds.
If you have curtains, throw these in the wash immediately. We highly recommend blinds over curtains as they're easier to maintain, and they suffer a lot less damage.
3. Taps
This not only applies to your kitchen sink taps, but your bathroom taps too. We're all aware that over time the faucet is prone to calcium build up. To tackle this, use a sandwich bag, or a small plastic bag that you can fill and fill it with a strong de scaler. Tie the bag around the faucet / tap, and ensure there is enough de scaler to smother the faucet.
4. The Stove
You don't associate your stove with tea, but you're about to. Brew a pot of tea that is 5 times it's normal strength, and with a cloth or tissue wipe it generously over the stove. It's known that the tannins in the tea make it hard for the stove to grease. This makes cleaning much easier, and less time consuming.
5. Seating
If you're lucky enough to have a spacious kitchen and you bask in the glory of your kitchen island and it's stools, you're going to want to take care of the seating. Regular vacuuming and polishing usually does the trick, but this needs to be a routine to avoid build up of dust and other chemicals that tend to fly around in the kitchen. For a more in depth review, check out the stool maintenance checklist.
6. The Sink
A neat trick to polish your stainless steel sink, is with flour. Simply wash the sink with dish soap first, sprinkle flour over the whole sink, and wipe! Many people are surprised with the shine flour actually gives to sinks, so if your sink needs a bit of TLC, it's time to get the pack of flour out.
7. The Dishwasher 
We can get frustrated sometimes with the dishes that come out of the dishwasher, still dirty and still with marks. How to get over this? Simply place a bowl in the middle of the dishwasher, ideally in the top rack, and pour vinegar in the bowl. The purpose of the vinegar is to battle the hard water so that your dishes come out without stains, marks and looking spotless.
8. Lemons
You can do a lot with fresh lemons! Need to clean your microwave? Lemons. Need to freshen up your kitchen sink but the room overall? Again, lemons. For your microwave, slice a lemon in half and squeeze the juice into a cup of water. Once you've emptied the juice out of the halves, place these into the bowl and heat for 3 minutes or until the lemon water comes to the boil. It's important to not open the microwave door as the purpose of this is so the steam is trapped inside can make the stains easier to remove. Once you've let it stand for around 5 minutes, you can open the door and give it a wipe down!
As for your sink, you can use baking soda along with lemon juice and pour this down your drain, there should be a fizzy chemical reaction for you to enjoy.
Most of the hacks mentioned throughout this article only require your time, effort, and already existing cleaning products that you should have in your home. Give a few a go and let us know how you get on; our personal favourite is the window treatment tong hack!