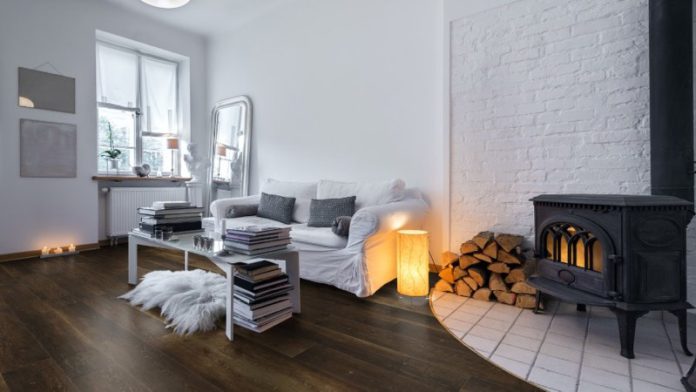 Above is a waterproof Luxury Vinyl Tile floor with easy click joining and built in underlay
Which flooring is best for cold weather?
The best flooring for cold weather and the best flooring for cold rooms has to be a nice thick carpet with a thick insulated underlay. If you are carpeting over underfloor heating however you will need to ensure the carpet and underlay is suitable for underfloor heating, as carpet and underlay with high insulation qualities will actually restrict the heat transferred to the floor surface. Carpet and underlay with a low tog rating (less than 2.5 combined) is suitable for underfloor heating. Higher tog ratings will significantly hinder the performance of the underfloor heating.
What flooring is warm underfoot?
Hard flooring such as wood flooring, laminate, vinyl and stone tends to feel colder underfoot than carpet. Stone floors usually feel the coldest. Underfloor heating works brilliantly with most hard flooring and massively improves the comfort of the overall floor.
There is no such thing as warm flooring materials, as no flooring material generates its own heat. It is simply the solid surface of hard floors that feel cold especially to bare skin. Flooring is also the lowest part of any room which will also be affected by the fact that heat rises, so without underfloor heating the floor will usually be the coldest part of any room.
What kind of flooring is best for elderly?
The number one focus for flooring for the elderly is safety. Flooring needs to be non-slip even when wet, easy to clean, as soft as possible to reduce injury from falls and easy to move across with wheel chairs, walking sticks and walking frames.
The most common floor types used in elderly care homes in the UK are impervious backed carpet and safety vinyl.
Impervious backed carpet provides the softness and comfort of carpet with the added benefit of a waterproof backing which prevents moisture and liquids from transferring through the carpet which also enables effective cleaning.
Safety vinyl flooring is perfect for bathrooms in elderly homes as it is 100% waterproof and non-slip. Cap and Cove safety vinyl is the best version because it continues a small way up the walls which prevents any liquids from seeping between the floors and walls. This completely contains any liquids and enables thorough cleaning with mop and bucket.
Rubber flooring is another good option due to its soft and waterproof properties, however it is not widely used in the UK.
Do vinyl floors make your house colder?
Vinyl floors don't actually make homes colder, the smooth surfaces simply feel cold to our warm bodies. All hard flooring can feel cold to the touch in cold environments.
Cushioned vinyl flooring can be an improvement to standard sheet vinyl as it creates some distance between the floor surface and the cold subfloor. Concrete subfloors can make flooring feel especially cold, the warmest flooring over concrete slab subfloors is thick underlay and carpet.
When wondering how to make cold floors warm without installing underfloor heating the only options are to use the central heating to warm the entire room or to add a thick soft rug.