Roohome.com – A modern bedroom style design with Spanish colonial idea might be the best choice for you. Nowadays, finding a unique design for bedroom must not classy or luxurious commonly. Spanish Colonial idea brings a new side of designing bedroom because it is clearly different with others' design. You probably just knew if there is a Colonial vibe in the middle of this era. Do not hesitate because this creative idea will inspire you.
A modern Spanish colonial idea for bedroom design
A bedroom is a place where you and your family take a rest after spending activity all day long. A cozy bedroom will bring back your energy to face another activity the next day. Do not worry, Becki Owens has a brilliant idea to create your bedroom more comfortable yet stylish. One of her amazing ideas is a modern Spanish colonial which is suitable in this era. She knows how to make space not look old due to colonial vibes but look modern. She always uses unique and modern furniture along with other materials. You can check her work below.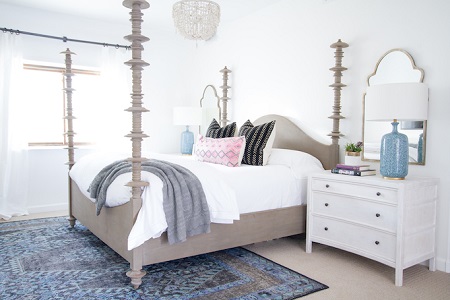 If you have a small space in your bedroom, firstly not to use dark view because it will make your room more narrow. Becki Owens chooses a bright color in order to avoid dark feeling for the owner. Besides that, she picks modern elements to make room out from the old box becomes modern such as the use of bohemian vibe. For the wall itself, she does not put any ornaments in order to avoid crowded space and she paints with Benjamin Moore Simply White.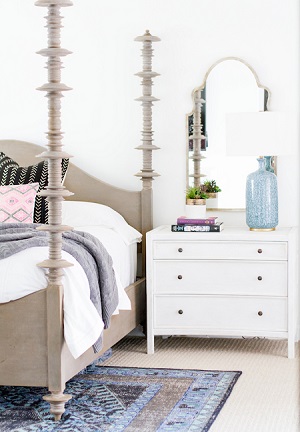 To brighten the room, a light wood as the material is suitable for decorating the bedstead. The four-poster bed becomes the point of this room because the carving is made from wood that shows colonial vibe. After that, a blue and black color of the rug is combining bohemian vibe as the elements for this room. It looks amazing, right?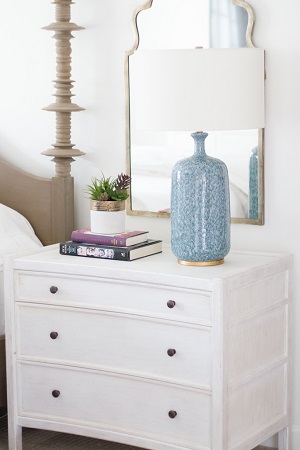 move to another furniture there is a white nightstand beside the bedstead. The colour is suitable with a blue watercolour porcelain lamp above the nightstand. To facilitate the owner for dressing up, there is a mirror which is hung on the wall.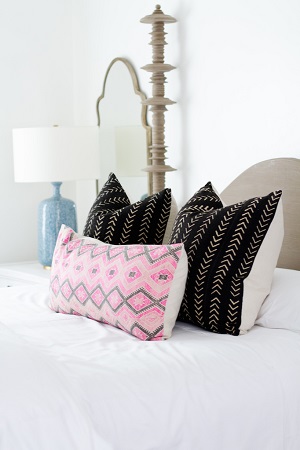 The pillows on the bed is decorated as well by Becki Owens. She chooses a vintage textiles while combining two black pillows and one pink pillow. It looks nice combining vintage colour in the middle of modern bedroom style design with Spanish idea.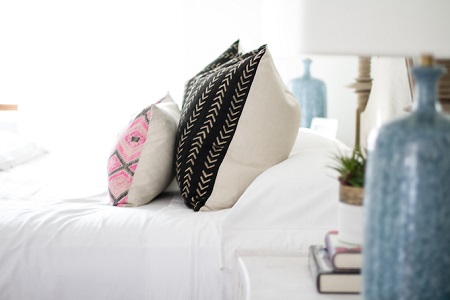 Having a small space in bedroom will not confuse you anymore because this design has inspired you to create your own bedroom. A modern style for bedroom design with Spanish colonial is the best choice for you to bring cozy feeling in taking a rest. If you want to find other awesome design, just visit and check here.