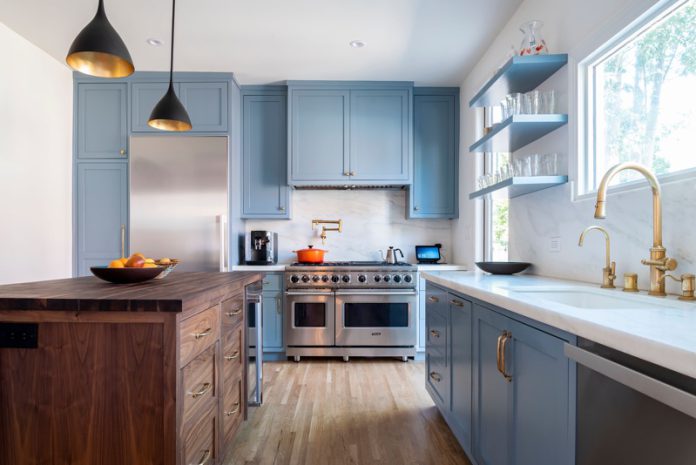 As we approach the prime home renovation project season in 2023, it's time to look at the latest luxury kitchen design trends currently dominating the industry. This year, the focus is on functionality, sustainability, and technology, with a particular emphasis on creating a beautiful and practical space. From bold colors to natural materials, here are some of the top kitchen design trends to watch for in 2023.
Bold Colors
One of the biggest trends for 2023 is using bold, vibrant colors in the kitchen. From bright oranges and yellows to deep blues and greens, homeowners want to inject personality and energy into their kitchen spaces. This trend is all about making a statement, so don't be afraid to go bold with your color choices.
How bold you go is up to you! Starting with a bold color only on your kitchen island or mixing a bold color on the bottom cabinets and a muted or neutral color on the upper cabinets is a great way to get a taste of the ambiance you get with your color choice without going all in.
Sustainable Materials
As the world becomes more environmentally conscious, sustainable materials are becoming increasingly popular in kitchen design. Expect to see more natural materials like wood, stone, and bamboo in 2023 kitchens. These materials not only look beautiful, but they are also durable and environmentally friendly.
Bamboo has been a popular choice for kitchen utensils for years due to its durability and antimicrobial properties, but it has gained widespread popularity for cabinetry as well. Bamboo is grass but can be significantly harder than typical hardwood varieties such as oak or maple when used for cabinetry. Given that it's naturally light in color, it also provides a wide range of choices in stain colors.
Smart Technology
With the rise of innovative home technology, it's no surprise that this trend is entering the kitchen. From smart refrigerators and ovens to voice-activated assistants, homeowners are looking for ways to make their kitchen spaces more efficient and convenient. Expect to see more integrated technology solutions in 2023 kitchen designs.
Minimalist Design
Minimalism is still a popular design trend for 2023, particularly in the kitchen. This trend is all about simplicity and functionality, with clean lines and uncluttered spaces. Minimalist kitchens tend to have a more modern feel, focusing on sleek surfaces and high-quality materials.
If you have an appreciation for small appliances in the kitchen, then sufficient storage space is imperative for a minimalist vibe. Storing frequently used appliances in the pantry or cabinet for quick access will keep your counter space clutter-free and glistening.
Open Shelving
Open shelving is a trend that has been growing in popularity over the past few years, and it shows no signs of slowing down in 2023. This trend is all about creating an open, airy feeling in the kitchen, with shelves that allow you to showcase your favorite dishes and accessories. Open shelving also encourages homeowners to keep their spaces organized and clutter-free.
The key to keeping your open shelves looking intentional and appealing is to focus on uniformity. Use this display space to highlight similar items or even to display natural pantry staple foods, such as pasta and other dry goods, in glass canisters.
Mixed Materials
Mixing different materials in the kitchen is another trend that is gaining popularity in 2023. Expect to see combinations of wood, metal, stone, and glass in kitchen designs, creating a unique and eclectic look. Mixing materials can also be a great way to add texture and interest to your kitchen space.
Black stainless steel appliances and sinks are making an appearance, creating some contrast for stone countertops and backsplashes, along with natural warm wood tones in decor and shelving.
Statement Lighting
Lighting is an essential aspect of kitchen design, and this year, statement lighting fixtures are set to take center stage. Think oversized pendant lights, chandeliers, and sculptural fixtures that add drama and personality to your kitchen space. Having a statement piece to complement the bold color choices will surely bring some character to the room after the last few years of muted neutrals.
Custom Storage Solutions
Homeowners are looking for ways to maximize storage and organization in their kitchens, and in 2023, custom storage solutions should become a top trend. This includes pull-out pantries, built-in storage nooks, and hidden cabinets that make the most of every inch of space. Remember, selecting uniform and complementary storage in a natural material will create a cohesive design and can become a component of your overall decor.
Matte Finishes
Matte finishes have grown in popularity in recent years, and this trend will continue in kitchen design. Matte finishes on cabinetry, countertops, and appliances create a sophisticated, modern look that is both chic and timeless. Black is not your only option for matte hardware, either! Consider brushed brass instead to add some warmth to your design palette.
Textured Surfaces
In addition to mixing materials, homeowners are looking for ways to add texture to their kitchen surfaces. This attempt includes textured backsplashes, patterned tiles, and countertops with unique finishes like honed or leathered surfaces. These countertops are a luxury upgrade and can require additional care and maintenance, but they can be well worth the achieved aesthetic.
Retro Vibes
Retro-inspired kitchen designs are returning, focusing on vintage-inspired appliances, bold patterns, and colorful accents. This trend is about creating a playful, whimsical kitchen space full of personality.
Indoor/Outdoor Flow
With the rise of outdoor living spaces, many homeowners are looking for ways to create a seamless indoor/outdoor flow in their homes. In 2023, this trend will make its way into kitchen design, with sliding glass doors and indoor/outdoor entertaining spaces allowing an easy transition between the two.
Many homeowners opt for a complete outdoor kitchen cooking space in addition to outdoor dining. Blackstone cooktops, grills, sinks and barware are all easy to find for outdoor setups. Don't forget televisions and speakers on your patio space for a complete entertainment experience.
Overall, the kitchen design trends for 2023 are all about creating a functional, sustainable, and beautiful space, with a focus on personalization and customization. Whether you're renovating your kitchen or just looking to update your area, these trends offer plenty of inspiration for creating a perfect kitchen for your needs and style.