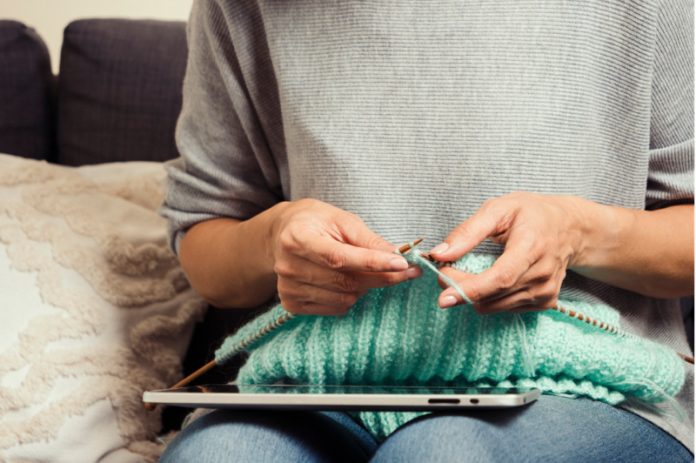 In a world where mass-produced and impersonal home decor dominates, many individuals seek unique and personalized ways to revamp their living spaces. Enter the realm of crafting and knitting, where creativity knows no bounds.
Combining the tactile art of knitting with the practicality of hammering, you can transform your home into a cozy haven that reflects your style.
This article will explore the diverse possibilities of crafting and knitting in home decor, offering inspiration and ideas to help you infuse your living spaces with charm and character.
The Art of Knitting In-Home Decor
Traditionally associated with warm sweaters and cozy blankets, knitting has found its way into home decor. The versatility of knitting enables you to add texture, colour, and a handmade touch to various home elements. Here are a few ideas to get you started:
1. Cushions And Throws
Knitted cushions and throws instantly add warmth and comfort to any room. Imagine sinking into a soft, knitted pillow after a long day or snuggling under a knitted throw on a chilly evening.
Experiment with patterns, stitches, and yarn textures to create a unique and inviting atmosphere. Chunky cable-knit designs bring a cozy, rustic charm, while delicate lace patterns lend an air of elegance.
2. Wall Hangings
Knitted wall hangings provide a stunning focal point and an opportunity to showcase your knitting skills. From intricate tapestries to simple geometric designs, there are endless possibilities for creating eye-catching wall decor.
Play with different colour combinations and experiment with various stitches to bring your wall hangings to life. You can incorporate natural elements like branches or dowels as frames or hang them using decorative hooks. Knitted wall hangings add depth, texture, and a touch of artistry to your living spaces.
3. Rugs And Mats
Knitted rugs and mats offer a cozy alternative to conventional floor coverings. Not only do they provide a soft and warm surface for your feet, but they also add a unique touch to your floors.
Choose sturdy yarns that can withstand foot traffic, and consider incorporating bold patterns or subtle textures to add interest. Whether you opt for a small accent rug or a larger area rug, a knitted floor covering brings comfort and charm to your home.
4. Lampshades And Cozies
Don't overlook the lighting fixtures in your home when it comes to knitting. Jazz up plain lampshades by covering them with knitted fabric, or create decorative cozies for your table lamps.
Use lightweight yarn and openwork stitch patterns to allow the light to filter through, creating a warm and inviting glow in the room. Knitted lampshades and cozies add a whimsy and personality to your lighting fixtures while infusing your space with a cozy ambience.
5. Accessories And Details
Knitting isn't limited to large-scale items; it can create smaller accessories and details that enhance your home decor. Consider knitting covers for vases or decorative bottles, cozying up your dining chairs with knitted seat cushions, or even adorning your staircase railings with knitted garlands. These small touches can significantly impact your living spaces, adding a sense of warmth and uniqueness.
Crafty Creations With Wood And Yarn
Combining the tactile softness of yarn with the sturdy nature of wood can result in striking and functional home decor pieces. Here are some ways to incorporate both elements:
a) Macrame Plant Hangers
Macrame, the art of knotting cords, provides a perfect marriage between yarn and wood. Create stylish plant hangers by intertwining yarn and suspending them from wooden dowels or driftwood. These hangers showcase your plants and add a bohemian touch to your home.
b) Yarn-Wrapped Art
Transform ordinary wooden frames or canvases by wrapping them with colourful yarn. This technique adds texture and visual interest to your walls, and you can experiment with different wrapping patterns and colour combinations to match your decor.
c) Upcycled Furniture
Give your old furniture a new lease on life by revamping it with yarn and wood. Wrap chair legs or table bases with yarn to add a pop of colour, or create unique drawer pulls by combining small wooden pieces and yarn. These small touches can completely transform the look of your furniture.
Functional And Stylish DIY Projects
Crafting and knitting can also be applied to practical items that enhance both functionality and style in your home. Here are a few ideas to consider:
a) Knitted Storage Baskets
Declutter your space in style with knitted storage baskets. These can be used to organize toys, books, or even towels in the bathroom. Experiment with different sizes, shapes, and yarn weights to suit your storage needs.
b) Knit And Hammered Wall Hooks
Create personalized wall hooks by attaching wooden dowels or hooks to knitted pieces. These charming hooks can hang coats, bags, or keys while adding handmade beauty to your entryway or bedroom.
c) Yarn Art Lampshades
Transform a plain lampshade into a statement piece by wrapping it with yarn. Choose a colour that complements your decor and experiment with different wrapping techniques to achieve patterns and textures.
Conclusion
Crafting and knitting offer endless possibilities for revamping your home decor with style. From knitted cushions and throws to macrame plant hangers and yarn-wrapped art, there are numerous ways to infuse your living spaces with warmth, texture, and a personal touch.
Combining yarn with wood can create unique pieces like yarn-wrapped furniture and macrame wall hangings. Functional DIY projects such as knitted storage baskets and knit-and-hammered wall hooks add style and practicality to your home.
Embrace your creativity, explore different patterns and techniques, and let your imagination guide you in transforming your living spaces into cozy havens that reflect your individuality and love for crafting. So grab your yarn and hammer, and let the crafting adventure begin!