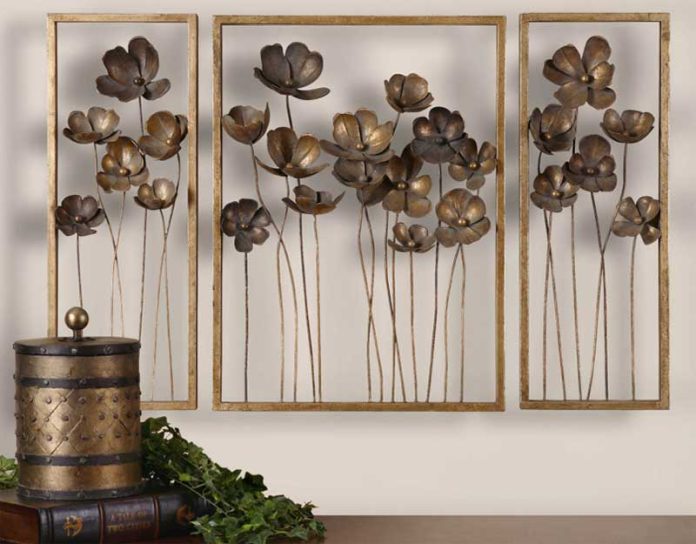 Metal wall art is a fantastic way to add style to a room without breaking the bank. While the majority of homeowners and interior designers rely on typical pieces of décor like paintings, printed texts, and canvas-based photographs, metal wall art provides a unique and eye-catching element to any room. There is no way to go wrong with metal décor, regardless of whether you are an experienced designer. A further advantage, and maybe the most essential for DIYers, is that they can be mounted or installed on the desired surface with relative ease.
The metal art décor that is accessible in consumer markets is manufactured from a variety of metals, which are listed below. While you may get décor made of iron, brass, copper, or aluminum, those made of American steel are more lasting than those made of other metals like brass or copper. When you incorporate these ornamental metal pieces into your overall design, the benefit is that they provide exceptional durability and strength, making them excellent for emphasizing both the interior and outside environments of your house.
Mounting your piece of metal wall art is yet another chore that demands attention to detail in order to get a professional appearance. Consumers may choose from a wide variety of mounting gear to use in their installations and here is a guide to some suggestions on how to display a metal wall art piece.
Idea #1 – Magnetic Hardware for Hanging 
A benefit of magnetic mounting tools is that they assist users in achieving a clean and discreet installation. The magnets are triple-coated for increased durability and wear resistance. Each magnet is shaped like a disk and is capable of holding over 25 pounds of metal weight so the countersunk holes in the middle enable you to fix the magnets to the surface easily and discreetly. They are suitable for any type of metal wall art thus every magnet hanger may be used to embellish the outside walls surrounding the patio or to hang your metal art piece in the corridor.
Idea #2 – Strips of Velcro for Hanging
One of the most heartbreaking elements of installing metal wall art is ruining the surface of the wall with drill holes or markings. Velcro Hanging Strips protect the drywall from damage and sticky residue. These wall-art hanging items are made using Velcro to assure damage-free adhesion. They may be used to firmly hang any metal décor or medals on a variety of surfaces. The kitchen is a vital aspect of the home that contributes to its "cool" appeal. Utilize Velcro hanging strips to secure your creatively produced metal object to the wall tiles or other hardwood surfaces.
Idea #3 – A Hanging Wire That is Clutter-Free
Suspending metal ornaments with an invisible hanging rope is a wonderful and imaginative concept. The fine wire is composed of durable nylon and is scarcely visible to the uninitiated, despite the wall or backdrop color used. It produces the appearance that the art décor is floating in the air, making it an ideal choice for ceilings, walls, and moldings, among other surfaces. Not only is the mounting rope inexpensive, but it is also capable of supporting a suspension weight of between 15 and 50 pounds. That is a substantial weight-bearing capacity, given the weight of normal art décor.
Alternatively, you may include D-hooks into the metal art piece's right and left sides. The hooks offer a hole through which the string may be tied and the art suspended from a screw or nail. D-rings may be added to various sides of an overhanging décor to allow it to hang evenly from the ceiling without revealing the rope.
Idea #4 – Nails
Since time immemorial, nailing attractive works of art to walls has been a popular practice. The nail is hammered into the hanging wall to create a stable surface for the art piece to rest on. While they do not provide the same level of discretion as magnet hangers, the method of hanging is relatively simple. To hang the wall art, locate the point(s) at which it may be hung straight and fix it securely using double-sided sticky tape.
Steel nails may be used to hang steel wall art in a variety of locations throughout the home, including the living room, bathroom, doorways, and stairwell-bordering walls. With the exception of the bathroom, your medal display hanging may also work nicely in these spaces to highlight your accomplishment pendants.
Idea #5 –  Screws
Screws function identically to nails but give a more secure and cost-effective method of securing your metal ornaments outside the house. However, you'll need a powered screwdriver or a standard hand-held driver to drill the screws in. Your outdoor steel wall art will be mounted quietly and will continue to remain hinged for the duration of its life. While you may drill straight into the outside walls, you can also drill through the piece, which results in an equally secure installation. With screws, you may attach a three-dimensional metal monogram of your pet's name to the outside kernel or hang a spectacular metal depiction of your residence's name from the entry tree.
Idea #6 –  Hanging Wreaths Hardware
Using wreath steel hangers can make wall art mounting simple and economical with a square-shaped hook on one end and then with a gently curved loop on the other. Whatever your preferred style or design for indoor or exterior decor, wreath hangers are always a good choice—even for the heaviest metal wall art. Combining your metal décor with a wreath on your front door is an excellent approach to creating a welcome atmosphere for you and your guests.
Idea #7 – Hardware for Standoffs
A standoff is a metal structure that is affixed to the reverse of metal wall décor. It performs two key functions: it secures the artwork to the mounting hardware and it projects the artwork from the wall. The latter features an eye-catching three-dimensional pattern that contributes to the originality of your metal art. If you want to attach the artwork without damaging it or its aesthetic integrity, the best solution is to use standoff hardware as these hangers come in a variety of styles. There are three types of standoff hangers: sawtooth, keyhole, and knuckle-shaped. Utilize standoff hanging devices to exhibit your steel wall art to completely remodel your bathroom decor.