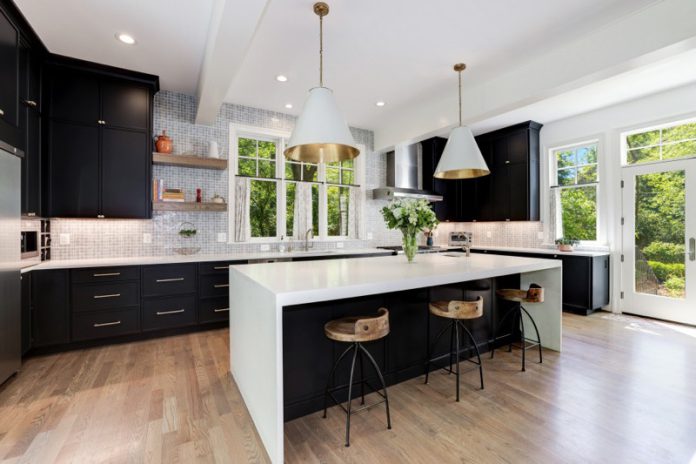 To many homeowners, it is very surprising that black shaker kitchen cabinets are trending in the 21st century. Well, this is understandable because shaker cabinet design was invented way back in the 1800s, a time when cupboards were not as common as they are now.
If you are intrigued by the fact that shaker-styled cabinets with black paint are always in fashion, continue reading this article. We will tell you why black shaker cabinets are always trending as well as how you can leverage their amazing looks for the kitchen interior design of your choice.
About Black Shaker Kitchen Cabinets
Generally speaking, black shaker cabinets are notably the most common varieties of shaker-styled cabinetry designs. Apart from their dark appearance, these drawers are defined by various features, which include the following;
1. Design Multiplicity
As far as cabinet design versatility is concerned, black shaker kitchen cabinets stand out as admirable. From classic to modern fashion, there are multiple varieties of black-stained shaker cabinets. Besides varying in terms of design, shaker cabinets with black paint feature variations in terms of color.
Because of their design multiplicity, black shaker cupboards can give you unlimited access to different design options. Thus, with black shaker cabinets, you are less likely to be tied to one cabinet design as is the case with many traditional and modern cabinet designs.
2. Simplicity in Styling
Did you know that shaker cabinets are the simplest cabinets you can use in achieving any interior design? Because they are marked by simplicity from coloring to ornamentation and layout, shaker-styled cabinets are considerably easier to work with in interior design.
Because of their neutral color, black shaker cabinets can blend with almost all colors, regardless of whether they are neutral or vibrant. Depending on what you want your pantry to portray, you can pair these drawers with rustic or modern beautification features.
3. Durability
According to cabinet manufacturers, durability is an attribute nobody can take away from shaker-styled cabinets. Just like the shaker cabinet brand has served the interior design industry for centuries, black shaker kitchen cabinets can serve you for ages without calling for unnecessary refurbishment or repairs.
Because of the visibly dark shade marking their surfaces, black-colored shaker cabinets can amazingly resist scratches and smudges, as well as conceal spills and dirt marks, regardless of the kind of traffic inside the kitchen in which they are housed.
Are Black Shaker Kitchen Cabinets Timeless Designs?
Of course yes! Since the 18th century when their design was first invented, shaker-styled kitchen cabinets have not only been held in high esteem but have also been included among the most fashionable cabinetry designs.
If you want to know why shaker kitchen cabinets with black paint are always on-trend, consider the following.
#1: Homeowners' Undying Affection for Classic Fashion
While there are uncountable cabinets whose designs are true to the contemporary world, modern homeowners seem to be more attracted to classic fashion. Considering that shaker cabinet design has its roots in traditional fashion, black shaker kitchen cabinets are bound to be timeless.
Even though countless modern-styled shaker cabinets with black paint are presently in existence, they are still looked at as classic cabinet designs, thanks to the ancient background of their design.
#2: The Convenience of Working with Black Shaker Cabinets
Apart from the ever-rising popularity of classic cabinet designs, shaker-styled cabinets with black paint are always trending because of the convenience of working with them. A lot of contemporary homeowners love these drawers because they are easier to work with and are considerably longer-lasting compared to many cabinet varieties.
Contemporary interior designers admire black shaker cabinets mostly because they are flexible. Shaker-styled drawers are not only compatible with almost all kitchen designs but also all colors, which is a fact that makes them attractive in modern interior design.
#3: The Ease of Accessing Black Shaker Kitchen Cabinets
Because shaker cabinet design has been around for so long, finding shaker-styled cabinets is an effortless affair. Black shaker kitchen cabinets to be specific, are ideally very common types of cabinets.
If you window-shop on various online shopping platforms or land-based furniture showrooms, just be very sure you will never miss finding black-stained shaker cabinet varieties.
In choosing the best shaker-styled black cabinets, always consider the following.
The interior design features of your kitchen, for example, coloring and layout
Cost of purchasing and installing the black shaker cabinet variety you intend to buy
Vendor's Reputation
Décor materials inside your kitchen
#4: Cost-Effective Value of Shaker Cabinets
Another reason why black shaker kitchen cabinets are always trending is their cost-effectiveness. Many homeowners love these drawers merely because with them, they can easily get value from their hard-earned money.
Considering that shaker-styled cabinets are built to provide service rather than just be attractive, they are highly rated in terms of durability. If you choose them, chances are high that you will save a lot of money, most of which you could have wasted on repairs if you went for other types of cabinets.
Are Black Shaker Kitchen Cabinets Worth It?
Considering their remarkable features, for example, ease of access and usage, durability, and design versatility, shaker cabinets are worth the attention of any homeowner including you. Regardless of the size, shape, or outlook of the pantry you want to install them in, black shaker kitchen cabinets can serve you well to give a better value for your money.
Therefore, if you are looking forward to decorating your pantry, you need to know that one way to achieve your dream interior design is by installing in the kitchen, black-colored shaker cabinets. Because of the versatile nature of these popular types of drawers, you can easily find cabinet varieties that perfectly match your cookhouse if you choose them today.
Final Thoughts
Widely known as the most popular variety of shaker kitchen cabinets, black shaker cabinets are generally an unequaled attraction in the contemporary interior design industry. From styling to coloring and ornamentation, these drawers boast nothing but exceptional attributes. Black shaker kitchen cabinets are not only easy to work with but are longer-lasting and so, impressively cost-effective.