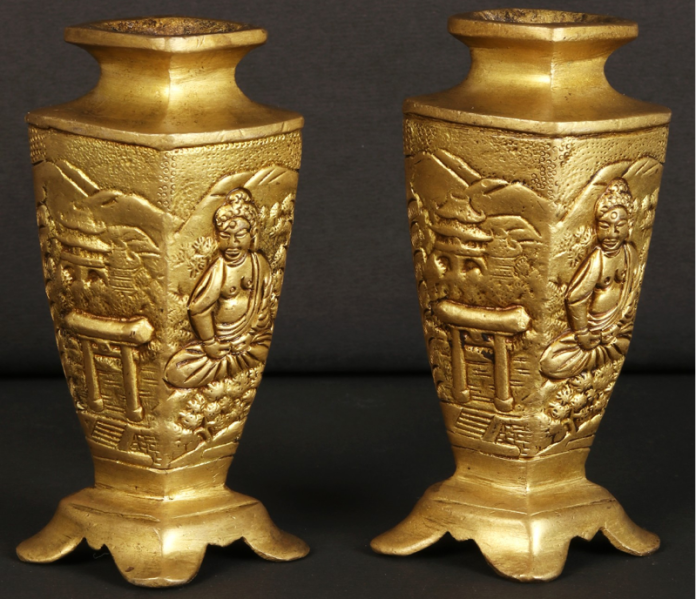 When it comes to decorating a home, vases have traditionally been used for the mundane task of placing flowers and plants. This often undermined the unique beauty, design, and craftsmanship of these vessels resulting in them being treated as ordinary containers. However, in recent years, people have begun to notice the exclusive beauty of vases available in different sizes, styles, and designs. Not surprisingly, vases have become much-favored home decor items as they can be used to add elegance and beauty to the interiors in several different ways. Given below are some effective ways of using vases for making the interiors more appealing and stylish.
Use Bud Vases As Candle Stands
Bud vases have been traditionally used for placing single flowers or small ornamental plants to add natural beauty to a space. However, in recent years the trend of using these bud vases as decorative candle stands has gained much popularity. The slim design of the bud vases along with their generally wide top makes it easier to place the candle inside while also ensuring that the melting wax does not ruin the underlying surface. The vases are perfect for placing and lighting scented candles.
Place Sculptural Branches in Tall Vases
Tall vases can be used for placing sculptural branches and other similar decor items that require a stable placeholder. Vases with a narrow neck are best suited for this arrangement, although care should be taken that the vase is not too tall to hide a major part of the branches. Also, the vases chosen for this arrangement should not be so fancy as to draw attention away from the sculptural items nor should they be too plain and listless to make the arrangement look boring.
Fill Glass Vases With Colored Pebbles/Marbles
Plain glass vases are quite beautiful on their own but their beauty can be enhanced even further by filling them with colorful pebbles or marbles. This helps in creating a rainbow effect and when used with the right lighting it can add vividity to any space. People can easily find a wide variety of glass vases online along with different-sized pebbles and marbles to fill them with.
Use Decorative/Antique  Vases As They Are
Today, people can take their pick from hundreds of different types of decorative vases crafted in an equally wide range of shapes and patterns. Some of these decorative vases are so beautiful that simply placing them in a room enhances the beauty of the space. It is best to use these vases as they are to enjoy the impact of their mesmerizing appeal. In addition to decorative vases, this formula can be applied to some antique vases as well that are too fascinating and do not need any additional decoration.
Arrange Different Types Of Vases On A Shelf
Another effective way of using vases for creating an exclusive interior decor is by arranging them on a shelf. The vases used can have different colors, patterns, artwork, and sizes, or may even be crafted from different materials. The important thing to consider is that each vase in the collection should be unique in some manner and should complement the other vases. It is equally important to avoid the overcrowding of vases in this arrangement as they may make a space seem cluttered.
Put Unique Items In See-Through Vases
Transparent vases offer great scope for experimentation and creativity to enhance the decor of a space. One such method is to put unique items in vases such as layers of different colored sands, pine cones of different sizes, waxed fruits, or sea shells and sea glass. Combining the various items to create a more versatile and balanced look is preferred while using such vases as decor items.
Place Dried Flowers in Jug Vases
Placing a bouquet of different types of dried flowers in a jug vase that is used as a welcome arrangement in the living room is another good option. The dried flowers provide everlasting beauty and do not need to be replaced every few days like real flowers. It is advisable to use jug-style vases for this arrangement and place some dried leaves and vegetation along with the flowers in the vase. Spraying just a tiny bit of perfume on the arrangement will help in enhancing its appeal.
Use Artisan Vases For Table Centerpiece
Artistic vases often feature unique and intricate artwork hand drawn by skilled craftsmen. These vases can be used as the centerpiece for tables in living rooms and dining rooms to add an element of creativity to the space. The abstract shapes, the bold colors, and the uniquely painted finishes, all go a long way in enhancing the appeal of a space and making it more lively and welcoming. To enhance the appeal of the vases, it is advisable to place them on light-colored surfaces to set off their colors and appeal.
Display Uniquely Designed Vases
Vases come in various sizes and displaying uniquely designed ones as part of the home decor can help make a memorable impression. People can use a single large vase that features a unique design and can be placed beside a sofa or a couch or even in a corner to add to the decor of the space. Alternatively, they can opt for a set of uniquely designed vases arranged on a side table or complementing the artistic centerpiece to add to the beauty of a space.
Arrange Flowers in Simple Vases
When talking about vases for enhancing the interiors, using the traditional method of placing flowers is truly timeless. The beauty and color of the flowers liven up even the most boring spaces and with the right vase, this brilliance is reflected in an even more charismatic way. The key is to choose the right vase according to its placement and type of flower arrangement to be used.
Wrapping Up
Vases offer an extremely versatile and stylish option for decorating the interiors while reflecting the exquisite taste of the homeowners. They add an element of artistic beauty to the space and can be used on their own or combined with a wide range of decor items to create that perfect look.