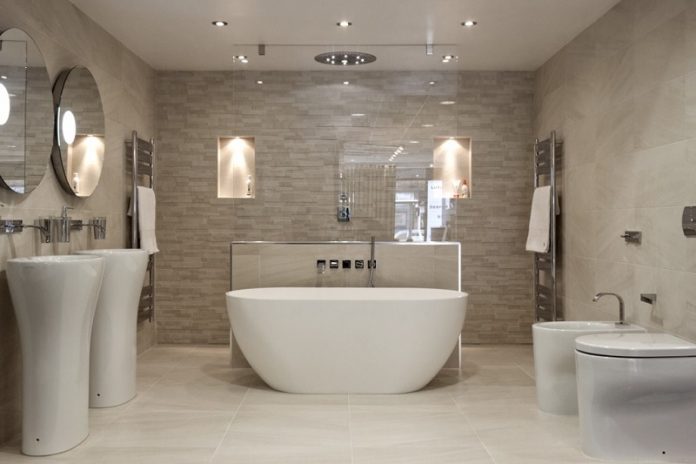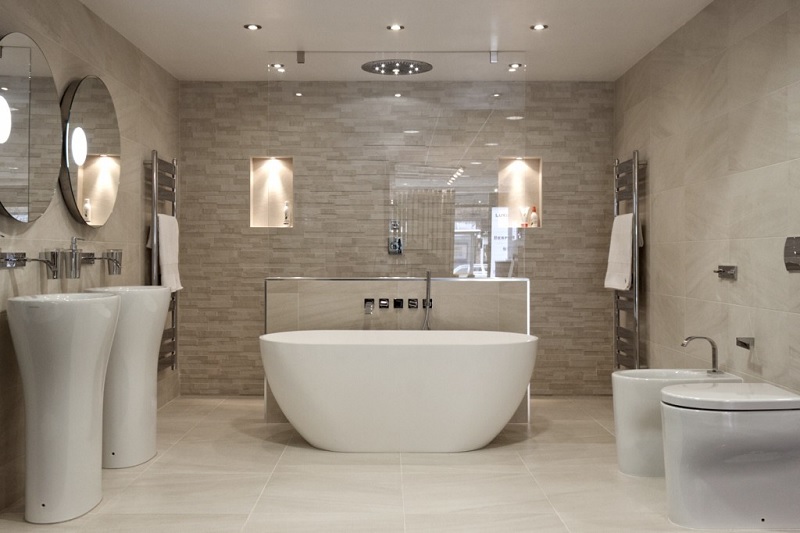 Any family bathroom always tends to look messy and cluttered since there are so many products and things that need to be kept for regular access. No matter how big the bathroom is, there are always enough products to fill the space available. An organized bathroom not only helps you avoid accidents but also makes space look inviting. It may seem like a huge task but the right storage ideas will help you get it done once and for all quickly. Here are 7 perfect storage ideas to keep your bathroom organized and clean:
Hang a shower caddy under your shower head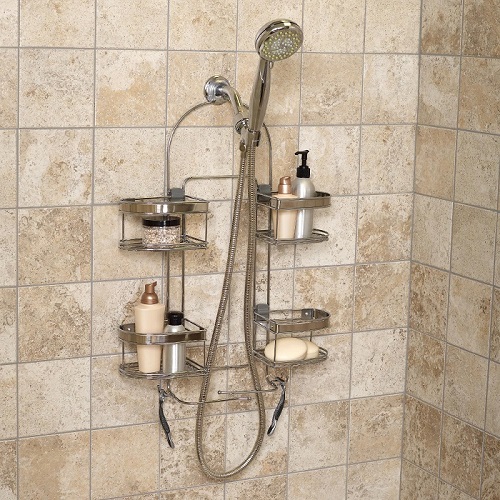 Image Credit: Kmart
Using the space below the shower heads is one of the easiest ways to create more space on the floor. Hang a shower caddy from the shower under the shower head to store all the products that you need for your daily shower needs to make them easily accessible and keep them off the floor. You can also use this caddy to keep loofah and bath brushes to dry them easily.
Install a magnetic strip on the wall space to hang small accessories
This is a great idea for storing your bobby pins and metallic styling tools as they can be neatly lined up on the wall using a magnetic strip. You can also attach small wire baskets to strips that can hold more weight to organize all your products according to their usage. This magnetic strip can also hold your makeup and skincare products with metallic lids.
Hang an organizer inside your cabinet door
You can install a dual-purpose mirror or hang a see-through plastic organizer on the inside of your cabinet door to keep away stuff which you do not want others to see. This also doubles up the space inside the cabinet and makes the cabinet look tidy. Make sure that you clean the organizer once in a while and dry it to prevent mold growth.
Use under the sink space to hide extra toiletries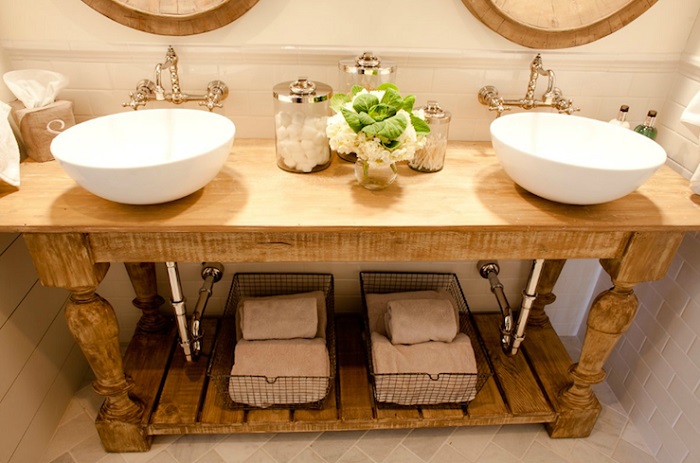 Image Credit: Decorpad
Keep wire baskets below the sink space to utilize it for storing extra toiletries like toilet paper rolls and cleaning supplies. You can also keep a stack of drawers instead of baskets to store your toiletries and extra stuff that is seldom used. You can also use this space to hide a waste paper basket.
Keep a tiered cake stand in the basin area to use vertical space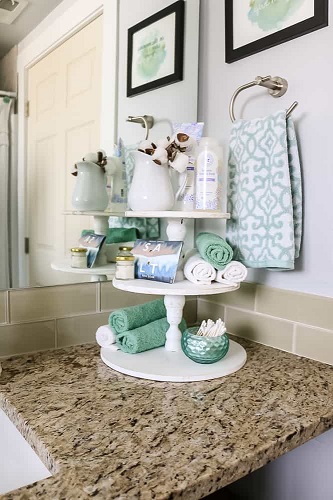 Image Credit: Making Manzanita
Store all your jewellery and small accessories like tweezers, scissors, and cotton balls on a tiered cake stand on the dresser so that they do not lie around in the basin area and make the space look cluttered.
Install a double shower rod to hang towels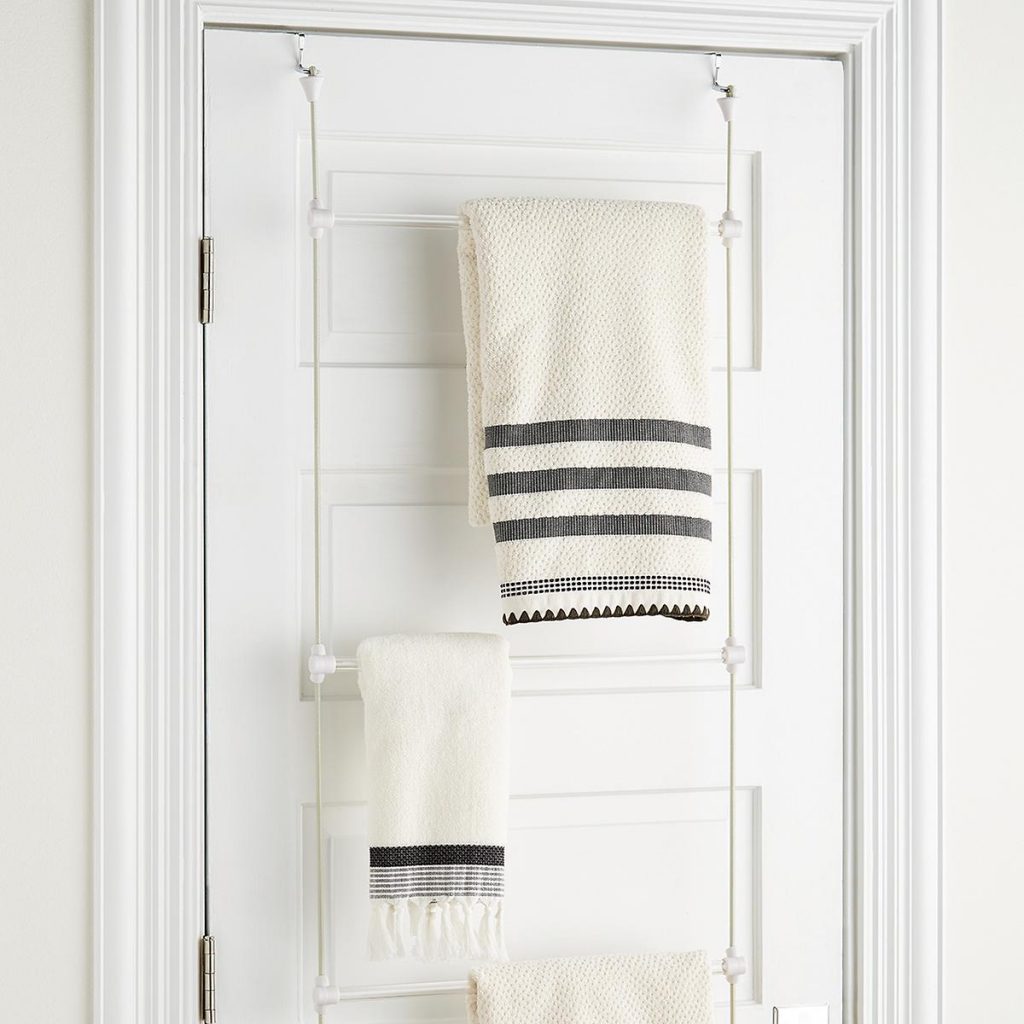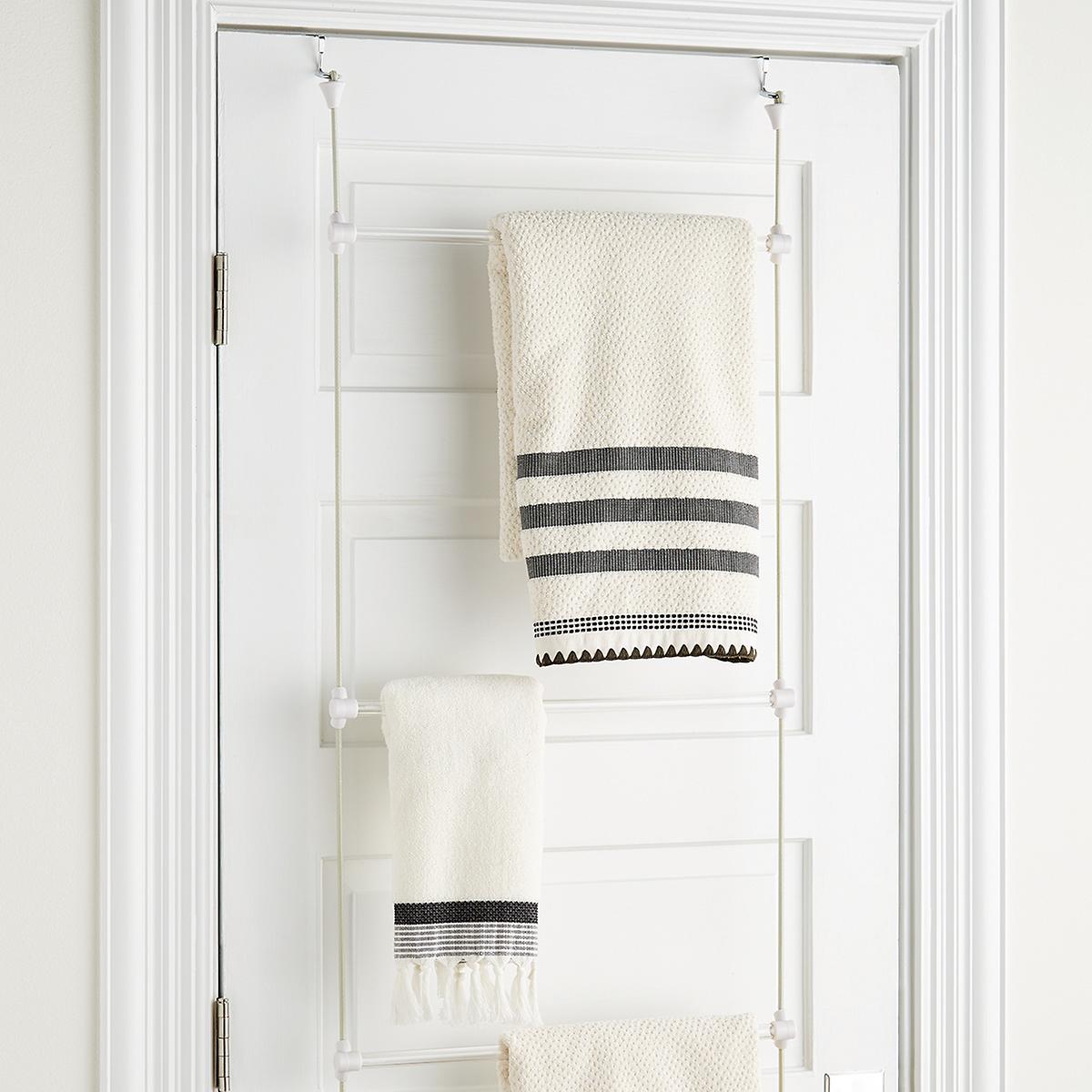 Image Credit: The Container Store
Use a ladder or a double shower rod to store and hang towels without occupying any extra space in the bathroom. You can even hang small clips on the rod and attach products after use from these clips for easily accessing them while showering.
Use a rollaway cart to store towels and robes
You can also use a personalized rollaway cart with 2 or 3 racks to store all towels and robes for each family member so that you never mix up the towels while putting them back on the rack. You can mark the racks using a simple craft paper name tag to make it easy for others to identify their towel rack.
So these are the 7 perfect storage ideas to help you organize your bathroom the easy way without investing a lot of time and money for renovation. These storage ideas are simple enough to be suitable for smaller as well as bigger bathrooms and work well for compact spaces also as they help you save a lot of floor space. We hope you will use these clever storage ideas to transform your bathroom into a clean and inviting space.