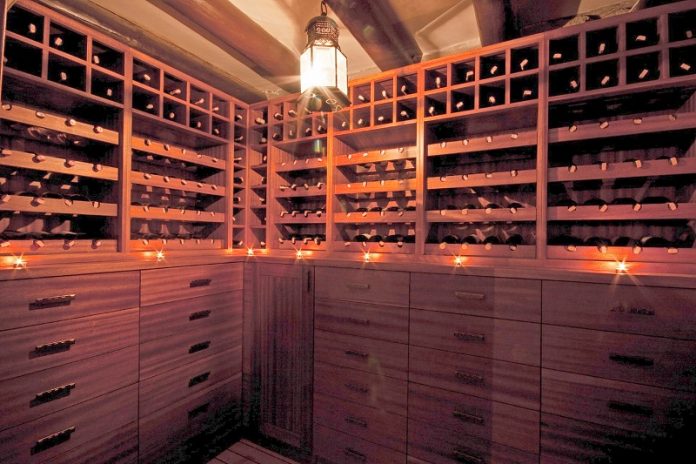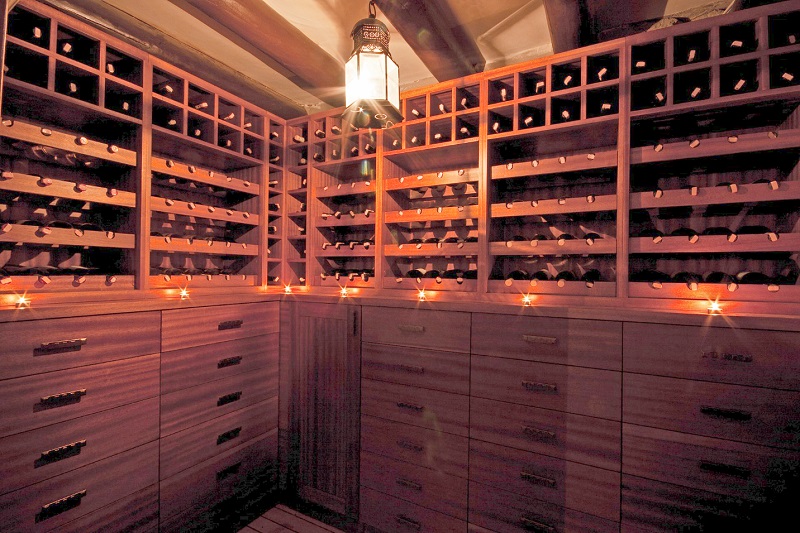 If you have an inner wine connoisseur, you've probably always dreamed of building a wine cellar in your home. However, having a tastefully designed wine cellar is as important as filling it with an exceptional inventory. No matter how small or large the space you have for your cellar is, or where it's located in your home, you'll want it to be appealing.
As such, you will want to consider everything – from the lighting that's most complimentary, to the cabinetry that best evokes the style you want your wine cellar to embody. A wine cellar should be practical and functional, yet elegant. That being said, there are a number of considerations to take into account.
Logistics
Naturally, you'll have to start with determining the logistics of wine cellar placement. It will need to be somewhere with no natural light, whether it be a basement or a converted walk-in closet. Remove any carpeting and put in tile or wood flooring to keep the room cool, therefore ensuring the wine won't spoil.
Secondly, install an effective HVAC system. This should be controlled separately from the rest of the house, as it must be kept at an optimal temperature at all times. Wine cellars should generally be kept around 55 degrees Fahrenheit.
It is equally important to control the humidity, either through the purchase of a humidifier or dehumidifier (depending on the climate where you live). Humidity levels should be kept at about 57 percent.
Choose Your Cabinetry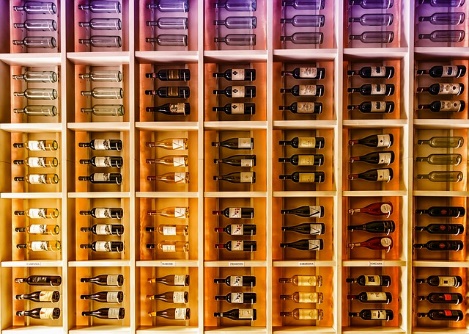 Various kinds of shelving are available for wine cellars, from traditional wine racks where the bottles are lying on their side to stand-up shelves that allow you to put certain bottles on display. You can vary it up between the two, but it's always stylish to put a few bottles on display. If you have wine racks along the walls, consider spotlighting a few bottles on a table in the center of your wine cellar.
Choose the wood finishing for your wine shelves depending on the look you're shooting for. The most popular wood types for wine cellars are redwood, mahogany, and pine.
Redwood boasts a very moderate color, neither too light nor too dark. It is eco-friendly due to its recyclable and biodegradable qualities. Furthermore, it filters the air of toxins. The natural oils within redwood are said to behave as a preservative, and correspond well with humid environments. As a result, redwood cabinetry should help preserve your wine for a long time.
Mahogany, on the other hand, is a popular choice for its deeply intense and rich auburn color. Its finish looks at home in the elegant and plush surroundings of a wine cellar. It is also very durable, meaning it will maintain its strength through years of use.
Pine cabinetry is typically a lighter shade and will give your wine cellar a much more rustic look. It is most common due to the fact that it's significantly less expensive than its mahogany and redwood counterparts. It exudes a woodsy charm that is slightly different from the extravagant connotations of mahogany and redwood.
Find the Right Lighting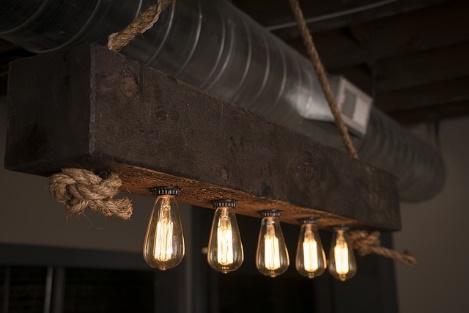 A wine cellar should be dimly and warmly lit. Try to avoid placing an overly large fixture in the center with incandescent and halogen bulbs. This kind of a fixture is too obtrusive for the aesthetic qualities of a wine cellar, and incandescent/halogen bulbs emit too much heat.
Opt for some reasonable LED lighting in the form of track lights, spot lights, or a small hanging light fixture. Some industrial-style hanging lights that are optimally placed will give your wine cellar a lofty look, while also keeping the luminescence to a minimum.
Select a Door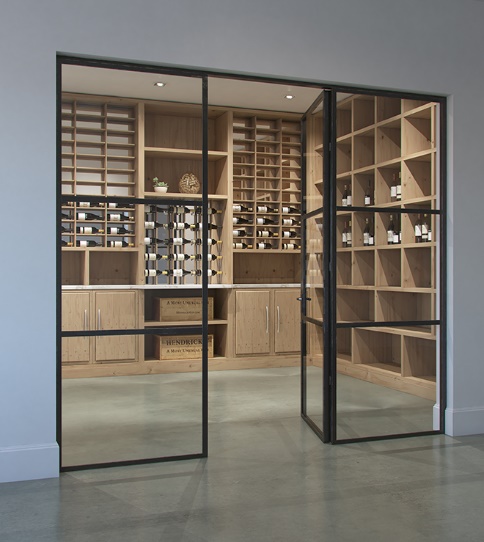 You will need a durable, tightly sealed wine cellar door to keep it insulated. However, don't just shoot for some ordinary dual-pane door. An ornate wrought-iron or stunningly modern steel door will make all the difference in your wine cellar's appearance.
Both are highly insulated, as well as extremely resistant to weathering and wear-and-tear. The intricate scrollwork of a wrought-iron door makes it a perfect finishing touch for those who prefer a more antique look to their wine cellar. It also adds an air of privacy, for those that don't like the inside of their wine cellar out in the open.
Meanwhile, a glass door consisting of a steel frame, although simple, will provide a sophisticated and contemporary look. It's the go-to option for those that like to dazzle their guests with their abundant wine selection.
While doors, cabinetry, and lighting all come together to make your wine cellar a place of utmost comfort and satisfaction, it's most important that you feel a connection to it. Almost as sweet as the taste of wine is the way we experience it, and housing our wine in a way that brings us enjoyment is part of that experience.