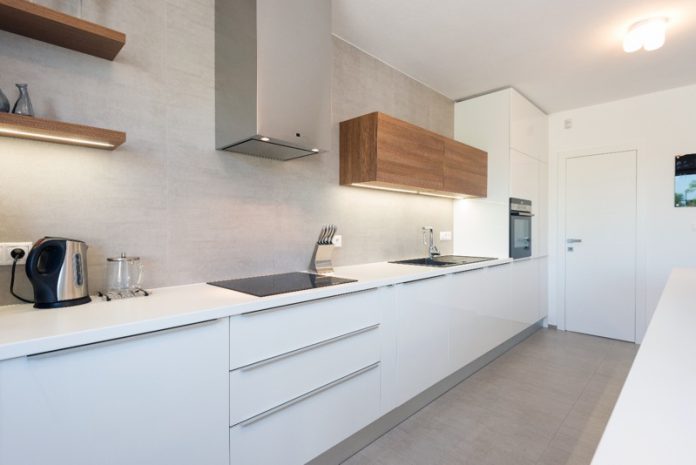 Are you planning to redesign the interior of your kitchen to uplift its visual appearance? If yes, then just know that the type of finish you will choose for cabinets will influence the overall visual design aspects you may wish to achieve.
While there are multiple cabinet finishes you can opt for, a high gloss finish is the best for you if you want a light and gleaming modern-style kitchen interior. Kitchen cabinets with high gloss finish have been trending for the last ten years or so.
This article is a comprehensive review of high gloss kitchen cabinets. Continue reading to find out why cabinetries with a high gloss finish are the best for your cookhouse.
High Gloss Kitchen Cabinets Explained
Cabinets with high gloss cabinets are to a wide extent the true opposite of mate cabinets. The topmost highlight of high gloss kitchen cabinets is their gleaming surfaces. Unlike cabinets with mate finishes, high gloss cupboards are versatile and extremely perfect at reflecting light. While you can install them inside any type of kitchen interior, these drawers look splendid in modern-style cookhouses.
You can find high gloss kitchen cabinets in a myriad of glossy shades, from glossy white to grey, brown, and many other attractive glossy shades, all of which are exceptional in terms of their shiny appearance. All varieties of these drawers are defined by sleek post-modern appearance marked by unique decorative features, for example, stainless steel appliances and quartz or marble countertops, all of which can do wonders in complementing the outlook of a modern-style kitchen interior.
Advantages of High Gloss Kitchen Cabinets
While the majority of people mostly judge them based on their glossy-looking surfaces, high gloss cabinets can be reviewed from different perspectives, including their impressive usability values, contemporary aesthetic qualities, and their impact on the space and lighting of an interior.
Generally speaking, high gloss kitchen cabinets are advantageous in terms of the following;
1. Exceptional Longer Lifespan
High gloss kitchen cabinets boast unique scratch and smudge-resistant properties that make them the go-to cabinets for homeowners in search of durable cabinet designs. Because the majority of high gloss finishes are waterproof, cabinets with these kinds of finishes boast zero susceptibility to water damage.
In this regard, these drawers can serve you for a long time regardless of the traffic and humid conditions in your cookhouse. As far as their material features are concerned, these drawers come in the most durable natural and man-made materials, for example, natural wood and laminate materials.
2. Trendier Design Outlook
There's arguably no guaranteed way of making a kitchen interior look trendier other than the installation of high gloss cabinetries. Generally speaking, everything about these iconic drawers is uniquely trendier and therefore, very attractive.
Combined with expensive beautification features, for example, metallic accessories and fixtures, the glossy surfaces of these drawers can gleam beautifully in the absence or presence of sufficient interior lighting.
3. Practicability
While cabinets with glossy finishes are admirable based on their trendier outlook and impressive longevity, these drawers are to a wide extent outstanding courtesy of their functional properties. Their glossy surfaces are practically important not only in terms of light reflection but also ease of cleaning.
High gloss kitchen cabinets are reputable in resisting scratches and dust and can appreciably conceal fingermarks and scratches to stay looking glossy at all times. In this regard, cleaning these modern-style drawers to an extent is not as difficult as is the case of many cabinet designs.
Disadvantages of High Gloss Kitchen Cabinets
Although they come with many benefits, high gloss kitchen cabinets are disadvantageous based on the following;
#1: Minimal Compatibility with Multiple Interior Designs
As I already mentioned, as much as they can fit in any type of interior, high gloss cabinets are best suited for modern-style kitchen interiors. This is a drawback, especially for homeowners who are highly attracted to classic-style of vintage cookhouse interior designs. However, if you know how to style them properly, you can make cabinets with high gloss paint look good inside a traditional-style or classic kitchen interior.
Common Types of High Gloss Kitchen Cabinets
Modern Wood High Gloss Kitchen Cabinets
As environmental friendliness continues to be the focus of the contemporary world, homeowners are swiftly shifting to natural wood in terms of kitchen furniture. In this regard, cabinet manufacturers are unleashing wood cabinets of all kinds, including varieties with high gloss textures.
Shake-Style High Gloss Cabinets
Loved for their uniqueness in terms of design simplicity, shaker-style high gloss kitchen cabinets should be your first option if you love functional-looking cabinet designs. Because of their simply-crafted designs, these cupboards match a range of kitchen interior designs and décor materials.
Where to Find High Gloss Kitchen Cabinets
You can easily find high gloss kitchen cabinets on various internet-based shopping platforms dealing with kitchen furniture. The takeaway is that you must trawl the web to find out the best online shopping platforms that deal with high gloss cabinets. Customer reviews on these platforms can let you identify the best site to buy your cabinets from.
But to find the most unique high gloss cabinets, you must take note of the following before committing your hard-earned money.
1. Cabinet Material Quality
As I mentioned before, high gloss cabinets come in different types of materials, from natural to artificially-crafted materials like natural wood and fiberboard respectively. Because different materials have different strength properties, always consider buying cabinets featuring the most durable and high-quality materials, for example, natural wood.
2. Cost of Purchase and Maintenance
Besides cabinet material quality, you must beware of the costs involved in purchasing and maintaining your preferred high gloss kitchen cabinets unless you are not working with a budget. Thankfully, cabinets with high gloss paint are not only cheaper to acquire but also maintain. Their buying price is typically determined by design features like material components, color, size, and shape.
Conclusion
Would you like to own a modern-style kitchen with a luxurious-looking gleaming interior? If yes, then why not opt for high gloss kitchen cabinets? These drawers come with shiny surfaces that can make your kitchen seem light and expensive. Besides their trendier appearance, these drawers have an impressive lifespan and are uniquely easier to style.