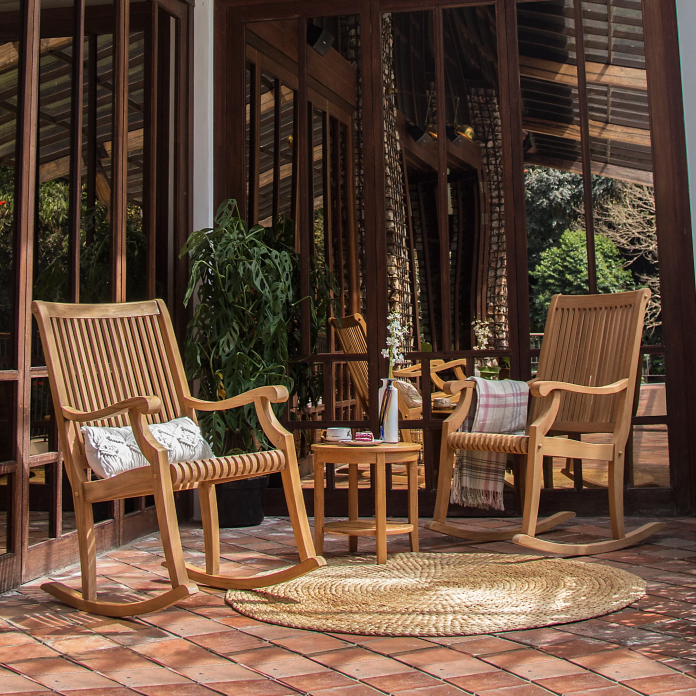 As the winter gradually makes way for a warm and exuberant spring, many people are out and about in search of ways to fully enjoy the outdoors. However, although poolside parties and mountainside jaunts are commonly associated with warmer seasons, you don't need a grand getaway to enjoy a good dose of sunlight and a gentle breeze. All you need by your side is this trusty teak rocking chair to rock you into a relaxing morning, noon or night with its smooth motion and gentle sway.
An investment to last a lifetime, here are five reasons to purchase your own teak rocking chair from Cambridge Casual!
1. Comfortable, stylish, durable
From opulent superboats, to palace floorboards that have retained their beauty with time – if you are in search of the best wooden piece to amp up your outdoors, look no further than teak. Crafted from this naturally weather-resistant hardwood, our comfortable teak rockers are as beautiful as they are durable, adding a rustic sense of fun to your outside area, whether it be a porch, patio, garden, or backyard. Our timeless chairs, made from sustainable Indonesian teak, puts a modern spin on the timeless, much-loved rocking rocker. It will enliven your outdoor environment. The chair is made of naturally weather-resistant teak that has been finely sanded to ensure years of comfort and a piece of patio furniture to withstand the test of time. It is designed to last a lifetime and is incredibly sturdy.
2. Elevate your outdoor living experience
Rocking chairs are frequently referred to as "relaxation chairs." It is, in fact, a valid claim. These chairs are so soothing due to their gentle rocking motion. Additionally, a number of studies have demonstrated that rocking chairs aid in endorphin release that thoroughly helps the body unwind from the inside. A classic piece that is not only a great addition to any backyard, our teak rockers are equally functional and versatile in their use outdoors.
Many parents also have a rocking chair as a furniture staple for good reason. Rocking chairs help babies relax. Additionally, it aids in their sleep during feeding times at night. The smooth, arching motion helps parents and children bond and relax. It can be frustrating to hear a crying baby in the middle of the night. Feeding them is the first step. You'll need a seat that fits you well, and a comfortable rocker is the best place. In the room's nook, or nestled on your patio to allow for the caress of a gentle breeze– your new chair will stand out.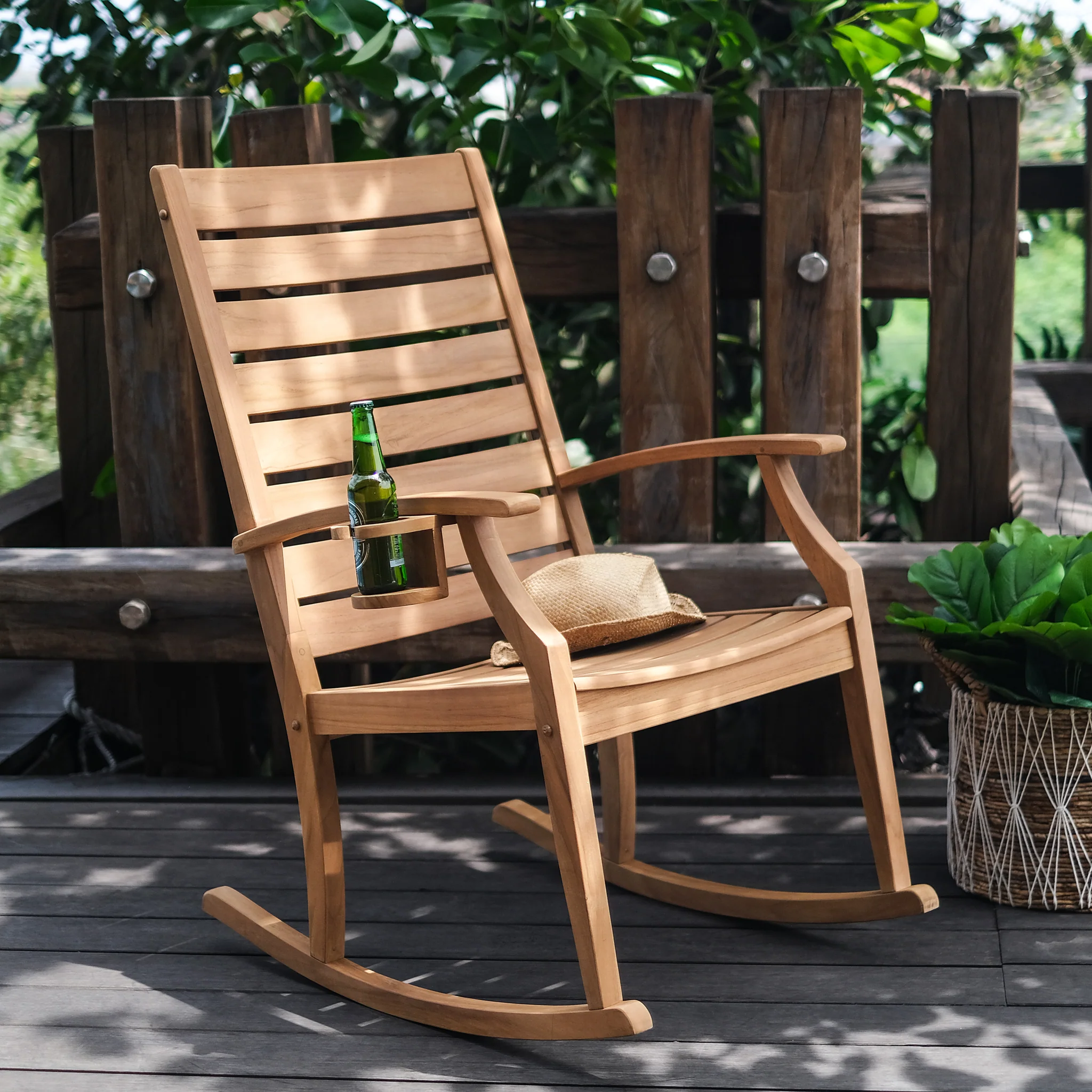 3. Ultimate summer relaxation
The teak rocking chair's gentle movement is accompanied by its contemporary design, inviting shape, and sophisticated allure. With its traditional feel, this porch rocking chair makes this timeless style icon a must-have modern accessory. Its ability to instantly elicit warmth, comfort and well-being makes it so appealing, particularly in the warmer months of spring and summer. Whether it is under a tree in the garden, the soothing sway and gentle-rocking motion of our teak rockers will allow you to enjoy a good book and a warm afternoon breeze as you feel the earth move beneath your feet. Ideal for poolside use due to its natural weather-resistance, this outdoor rocker will find a home anywhere.
4. Perfect for outdoor entertaining
Can a piece of furniture completely revitalize you? It can, if it's a rocking chair! Even though they are typically associated with infants and elderly people, their calming, rhythmic motion can be beneficial to everyone – something that has not gone unnoticed in the medical community. For this reason, in any social setting – the rocking chair is ideal in coaxing conversation, and creating the perfect alfresco ambience for relaxation.
5. A timeless addition to any outdoor space
Any home would benefit greatly from having a rocker. It could be the ideal present for the holidays for you or a loved one, whether it's a traditional porch teak rocker or oversize lounge Rocker with cushion. Better yet, purchase two for your front porch and invite a friend to sit for a while.