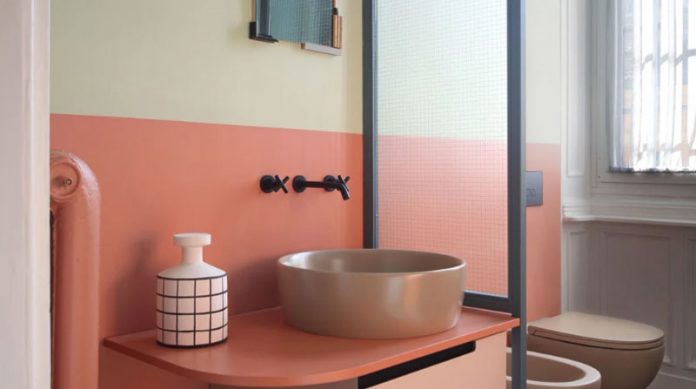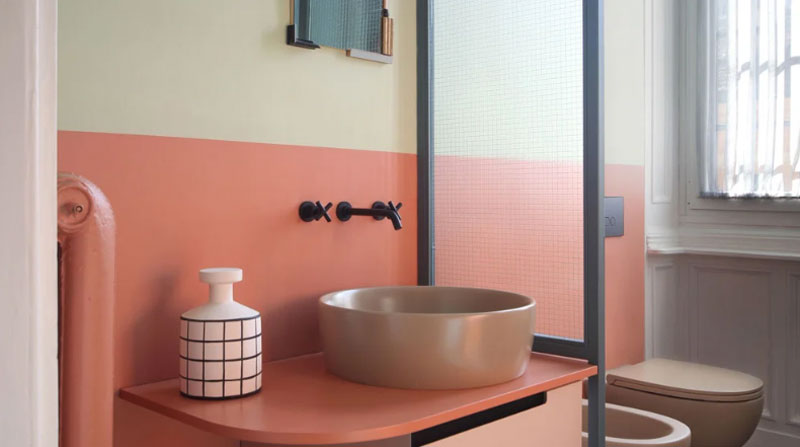 Roohome.com – Do you have a small bathroom?
Have you ever thought that the bathroom design is old-fashioned? less attractive?
if your bathroom is less attractive, this article is suitable for you who are looking for inspiration for interesting and bold bathroom color ideas
Choosing the perfect color scheme for decorating a small bathroom can be tough and can be even harder. If you're looking for some design inspiration, let us guide you.
1. Luxurious Black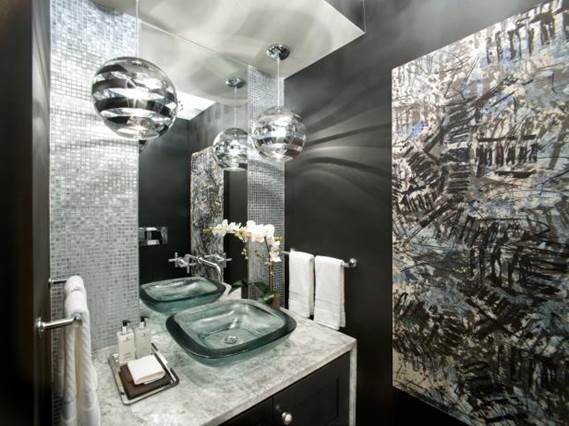 Few people choose black for the bathroom. But the combination of black and silver will make your bathroom look more luxurious. we can combine black with any color, for example silver to make it look more elegant, or white to make it look more simple and minimalist
The use of chandeliers bringing the modern look also elegant look on the toilet. The presence of flowers makes the bathroom nuanced in black and white or black silver does not look too stiff. Flowers are indeed the right decoration to sweeten a room.
In adding an elegant and classy impression to the toilet, expensive paintings can also be used as toilet decoration. The same painting as the toilet makes the toilet more interesting.
2. Bold Magenta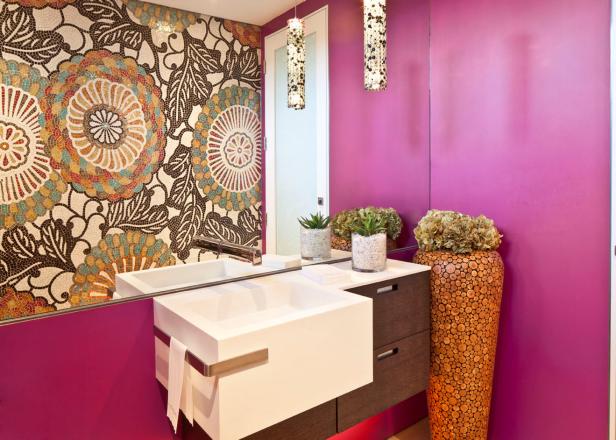 Magenta is a modern color and is very pleasant to look at. This color is so bold and builds our mood, especially in the morning when we prepare ourselves to start the activity. Especially if this color is combined with earth tones and beautiful ornaments, such as batik or wood carving
To show the side of batik to be more dominant, the use of a large mirror is the right way. In addition, bold magenta is not appropriate to be applied to small toilets. However, we can give the illusion of using a large glass so that the toilet feels more spacious.
3. Vibrant Red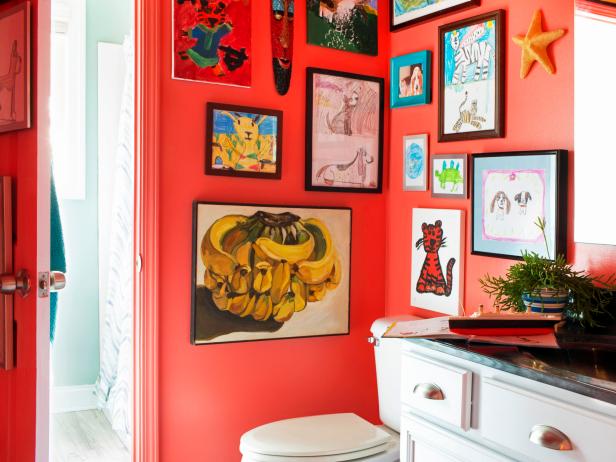 Build a pleasant mood with a red bathroom. Adding paintings on the wall makes your bathroom very beautiful. This bathroom design is vibrant and suitable for children.
Some cartoon or animal paintings make this bathroom very suitable for children to use. However, the application of vibrant colors on the toilet makes this bathroom suitable for use by adults. The use of vibrant colors does give a different feel.
4. Dark Purple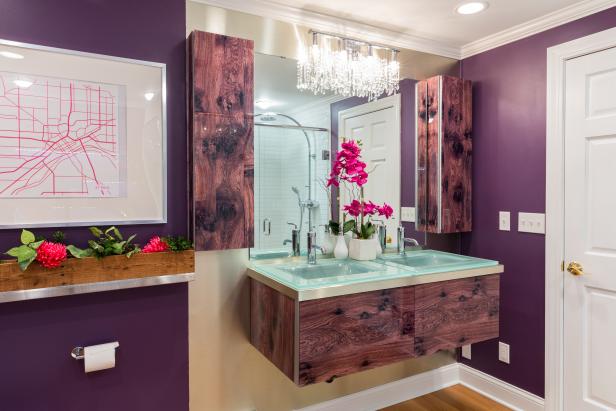 Purple gives a feminine impression.
But experimenting with this color gives bold and beautiful results. Mix purple with wooden furniture so that the atmosphere becomes more alive.
The use of purple in the bathroom gives a mature and sweet appearance. The selection of bright light makes the dark purple color looks shining and makes the bathroom look bright. With this, the bathroom will feel comfortable.
Yellow Stripes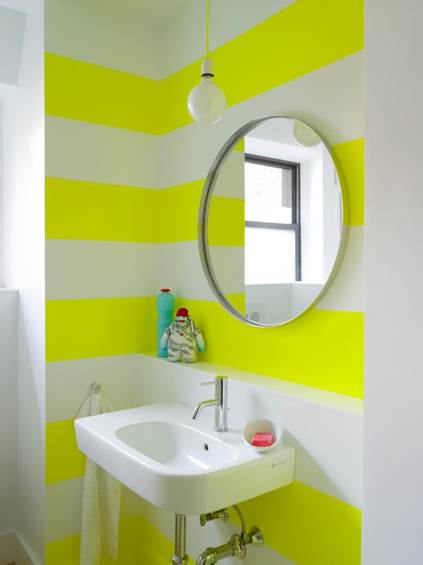 The yellow color is very bright and beautiful. Setiap ruangan yang diaplikasikan warna kuning akan terlihat fresh, bright, and pleasant.
But have you ever combined white with yellow stripes?
The combination of the two colors makes your bathroom more elegant, but don't add too many accessories on the wall so that it isn't too crowded. Besides mirrors needed, this item can also be used as decoration. The use of mirrors to decorate the walls of white yellow stripes makes the walls look cute. The mirror is a fitting decoration for white yellow stripes walls.