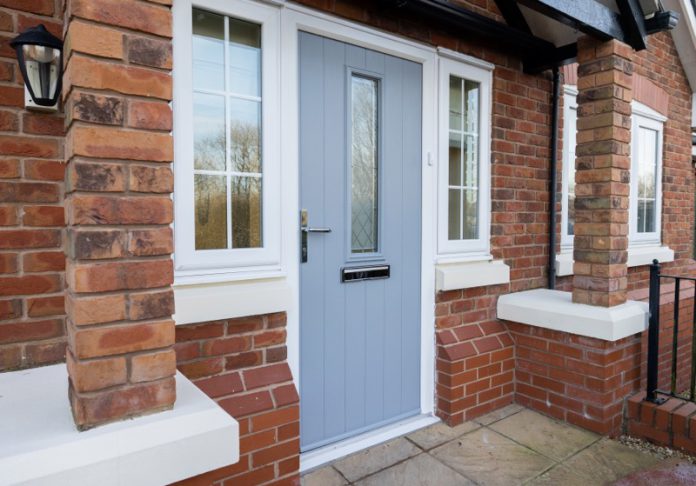 Composite doors have been gaining popularity in recent years as homeowners recognise the numerous benefits they offer over traditional doors. If you're looking to enhance the beauty and security of your home's entryway, then composite doors are the perfect choice for you.
In this ultimate guide, we'll explore what composite doors are, the advantages they have over traditional doors, factors to consider when choosing a composite door, different styles and designs available along with so much more!
What are Composite Doors?
Composite doors are made from a combination of materials, including a solid timber core. This unique combination of materials makes composite doors incredibly durable, weather-resistant, and secure. Unlike traditional doors that are made from a single material, composite doors provide the best of both worlds – the warmth and aesthetic appeal of wood, and the low maintenance and durability of uPVC.
Comp Door supply top of the range composite doors manufactured with a multi-layer composition, including a solid Albasia Falcata timber core with a CoolSkin technology outer layer. With a wide selection of composite door designs to choose from and over 250 colour combinations inside and out, there's something for every type of property.
Advantages of Composite Doors over Traditional Doors
Composite doors offer several advantages over traditional doors, making them the preferred choice for many homeowners. Firstly, composite doors are extremely durable and long-lasting. The combination of materials used in their construction makes them highly resistant to warping, rotting, and fading, ensuring that your door will maintain its beauty and functionality for years to come.
Secondly, composite doors are highly secure. Their multi-layer composition paired with multi-point locking systems and high-quality hardware, further enhances their security features.
Another advantage of composite doors is their low maintenance requirements. Unlike wooden doors that require regular sanding, painting, and varnishing to maintain their appearance, composite doors only require a simple wipe down with a damp cloth to keep them looking as good as new. This makes composite doors a practical and a cost-effective choice for busy homeowners.
Factors to Consider When Choosing a Composite Door
When choosing a composite door for your home, there are several factors to consider to ensure you make the right decision. Firstly, you'll need to consider the size and shape of the door. Composite doors come in a variety of sizes and can be customised to fit any doorway. It's important to measure the dimensions of your doorway accurately to ensure a perfect fit.
Next, you'll want to consider the style and design of the door. Composite doors are available in a wide range of styles, including traditional, contemporary, and modern designs. Consider the architectural style of your home and choose a door that complements it seamlessly.
Another factor to consider is the security features of the door. Look for composite doors that are fitted with multi-point locking systems, high-quality hardware, and toughened glass for added security. Additionally, consider the level of insulation the door provides. Look for doors with a low u-value to keep your home comfortable and reduce your energy bills.
How to Properly Maintain and Care for Your Composite Door
To clean your composite door, mix a small amount of mild detergent with warm water and apply it to the door using a soft cloth or sponge. Gently wipe the door, paying extra attention to any areas that may be dirty or stained. Rinse the door thoroughly with clean water and dry it with a soft cloth.
Avoid using abrasive cleaners or solvents on your composite door, as these can damage the finish. Additionally, do not use sharp objects or abrasive materials to remove any dirt or debris from the door, as these can scratch the surface.
By taking these additional security measures, you can further enhance the security features of your composite door and protect your home and loved ones.
Composite Doors vs. Other Types of Entry Doors
When choosing an entry door for your home, you may be considering other options besides composite doors. Let's explore how composite doors compare to other types of entry doors to help you make an informed decision.
Wooden doors are a popular choice for their natural beauty and timeless appeal. However, wooden doors require regular maintenance to keep them looking their best. They are susceptible to warping, rotting, and fading, especially in harsh weather conditions. In contrast, composite doors are incredibly durable and low maintenance, making them a practical choice for busy homeowners.
UPVC doors are another common option for entry doors. While uPVC doors are low maintenance and offer good insulation properties, they lack the aesthetic appeal of composite doors. Composite doors combine the benefits of both wood and uPVC, offering the warmth and beauty of wood with the durability and low maintenance of uPVC.
Energy Efficiency of Composite Doors
Energy efficiency is a key consideration for homeowners looking to reduce their energy bills.
The solid timber core of composite doors acts as a barrier against heat transfer, preventing the escape of warm air in the winter and the intrusion of hot air in the summer. This means that your home will be more comfortable year-round, and you'll spend less on heating and cooling costs.
Additionally, double or triple glazing can further enhance the insulation properties of the door, reducing heat loss and increasing energy efficiency.
Why Are Composite Doors the Best Choice?
If you're looking to enhance the beauty and security of your home's entryway, then composite doors are the perfect choice. With their unique combination of materials, composite doors offer durability, low maintenance, and excellent insulation properties.
Upgrade your entryway with a composite door today and experience the beauty and security it offers!