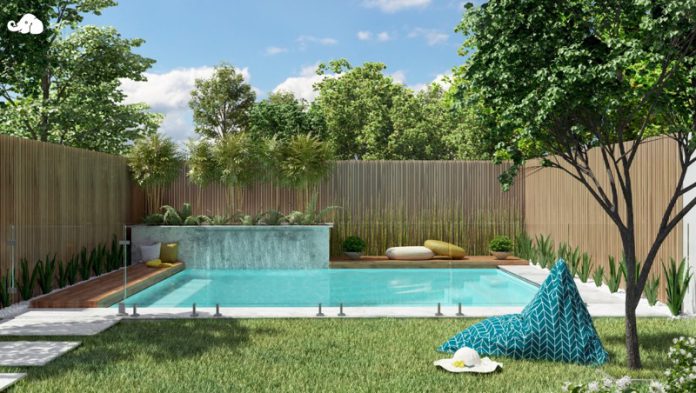 Having a swimming pool is a cherished dream for numerous homeowners. However, the aesthetics of the surrounding landscape are crucial in creating an exquisite oasis in your very own backyard. Pool landscaping goes beyond enhancing the visual appeal of your space; it encompasses functionality, safety, and seamlessly blending your pool with the overall home design for a unified and harmonious look. In this comprehensive guide to pool landscaping, we will delve into the intricate details and provide you with expert advice to transform your pool area into a captivating retreat that will leave a lasting impression on all who visit. Get ready to discover the secrets to creating a truly remarkable poolside paradise!
Start with Safety
Before you start envisioning your dreamy tropical oasis, safety should be your utmost priority, especially if you have young children or pets. It is crucial to ensure that you have a durable and secure fence around the pool area to prevent any accidents or mishaps. Don't worry, Barrier Reef Pools, Australia's leading fibreglass pool company, has got you covered with their range of fencing solutions that are not only designed to keep your loved ones safe but also add a touch of style to your poolside retreat. So, relax and enjoy the peace of mind knowing that you've created a safe haven for your family to enjoy endless moments of fun and relaxation.
Consider the Pool Type
The type of swimming pools geelong you have will significantly influence the landscaping possibilities. With fibreglass pools, known for their exceptional durability and design flexibility, you have a wide array of options to create a stunning outdoor oasis. Imagine lush greenery surrounding the pool, accentuated by elegant water features that add a touch of serenity to your space. Picture yourself relaxing in a tranquil oasis, with the sound of cascading water and the scent of blooming flowers filling the air. At Barrier Reef Pools, we offer a diverse range of meticulously crafted fibreglass pools that can be tailored to bring your unique landscaping vision to life. From small intimate gardens to grand outdoor retreats, the possibilities are endless when it comes to creating the perfect landscape to complement your fibreglass pool. Let your imagination run wild and let us turn your dreams into reality.
Choose the Right Plants
When selecting plants for your pool area, it's crucial to choose species that have minimal leaf shedding tendencies. This precautionary measure will effectively minimise the risk of pool filter clogs, allowing for hassle-free maintenance. Moreover, it's advisable to opt for plants that possess the capability to withstand splashes of pool water, which often contain chemicals. By thoughtfully considering these factors, you can curate a vibrant and effortlessly maintained poolside oasis that enhances the overall aesthetic appeal of your outdoor space. Additionally, incorporating a mix of evergreen plants and flowering varieties can add a delightful touch of colour and fragrance to your pool area, creating a truly enchanting ambience that you and your guests will relish.
Lighting and Furniture
Strategically placed lighting can create a captivating and enchanting mood at night, transforming your pool area into a magical oasis. Not only does it enhance the aesthetic appeal, but it also adds an extra layer of safety and security. Imagine the warm glow of the lights illuminating your patio furniture, poolside loungers, and the elegant shade structures like pergolas or umbrellas, creating a perfect ambiance for relaxation and enjoyment. With this thoughtful attention to detail, your pool area becomes a haven of tranquillity and sophistication, inviting you to unwind and bask in the beauty of your outdoor space.
Add Personal Touches
Consider adding unique features that reflect your personal style and create a truly one-of-a-kind pool oasis. Imagine the soothing sound of trickling water from elegant water features, the convenience of a poolside bar where you can enjoy refreshing beverages with friends and family, or the cosy warmth of a fire pit on cool evenings, creating the perfect ambiance for unforgettable gatherings. These additional touches will elevate your pool to an entertainment hotspot, ensuring that every moment spent by the poolside is filled with joy and relaxation.
Maintenance is Key
Once you have achieved your dream pool landscape, regular maintenance is crucial to keep your outdoor oasis looking its best. Regular cleaning, pruning of plants and checking the pool for pH levels, chemicals and filters should be part of your routine. If you have a fibreglass pool from Barrier Reef Pools, you're in luck as their pools require less maintenance due to their non-porous surface. Regular pool maintenance not only ensures a clean and safe environment for your family but also extends the longevity of your pool. Remember, a well-maintained pool is always more inviting.
Enhance Poolside Comfort
To truly make your pool area a place for relaxation and enjoyment, consider adding elements that boost comfort. Luxury loungers, hammocks, or daybeds not only offer a place to sunbathe or read a book, but they also add an element of resort-style living right in your backyard. For those hot summer days, a poolside umbrella or a pergola can provide much-needed shade, while also serving as an attractive feature. If space permits, consider a poolside cabana, equipped with comfy furniture and perhaps even a mini-fridge. It's all about creating a space that encourages relaxation and enjoyment, making every swim or pool party an event to remember.
In conclusion, creating the perfect pool landscape involves a delicate balance of aesthetics, safety, and functionality. It requires meticulous planning, taking into account the unique characteristics and limitations of the available space. But fret not, if this endeavour feels overwhelming, Barrier Reef Pools is here to lend a helping hand. With their extensive experience and expertise in fibreglass pool installation and landscaping, they can guide you through the process of transforming your backyard into a breathtaking, personalised oasis. Imagine lush greenery, carefully placed rocks, and the soothing sound of cascading water, all coming together to create a tranquil haven right in your own home. Contact Barrier Reef Pools today and let their team of professionals assist you in finding the perfect fibreglass pool for your family, tailored to your preferences and requirements. Don't wait any longer to turn your backyard dreams into reality.