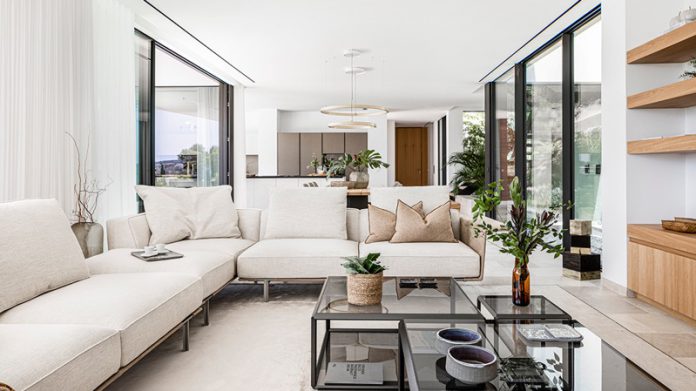 Palma de Mallorca is a warm and sunny Mediterranean haven, inviting seekers of stunning beaches and a delightful climate. For permanent residence or holiday escapes, you can find innovative home designs and plans ranging from luxury living to cozy retreats.
Also, the city's cultural and historical architectural details become more than just elements of the past – they add a unique charm, weaving centuries of tradition into the fabric of modern home design. The article explores the fascinating world of home designs and plans in Palma de Mallorca, where innovative designs blend seamlessly with the city's rich cultural and historical architecture, resulting in homes that offer modern homes with a unique and harmonious aesthetic.
1. Luxury and Relaxation Home Designs
Luxury and relaxation take on a distinctive meaning in Palma de Mallorca home designs, making them particularly enticing for those searching for the perfect residence. Several essential parameters come into play when considering an ideal home design in this Mediterranean haven. For example, Palma properties boast creative floor plans while strategically designed and positioned windows invite the Mediterranean sunshine, bathing the interiors in abundant natural light.
Drawing from Mediterranean influences, they may incorporate elements like Jatoba wood flooring, stucco exteriors, and wrought-iron accents, evoking a timeless elegance that resonates with the city's architectural heritage.
High-end materials like marble and hardwood floors and custom cabinetry ensure luxury in every room, while smart home technology seamlessly integrates modern convenience. These design parameters harmonize contemporary living with Palma de Mallorca's rich cultural and historical architectural heritage, creating luxurious and genuinely relaxing homes.
2. Kitchen Designs Enhancing Culinary Creativity
In Palma de Mallorca homes, kitchen designs enhance culinary creativity. These kitchens are often designed with open layouts, connecting them to the dining and living areas fostering a communal cooking experience. They feature high-quality, state-of-the-art appliances and spacious countertops, allowing homeowners to experiment with diverse cuisines.
One unique aspect is the inclusion of local Mallorcan elements, such as custom-tiled backsplashes inspired by the island's vibrant culture. These kitchen designs inspire culinary innovation and provide a delightful space to savor the region's gastronomic delights like the classic Spanish paella.
3. Bedroom Restful Retreats
In Palma de Mallorca, quality homes offer serene and harmonious bedroom designs meticulously crafted to provide restful retreats. These bedrooms often feature spa-like experiences, with walk-in showers, freestanding tubs, and eco-friendly fixtures. Additional qualities that contribute to a comfy atmosphere in a bedroom, such as soft colors, comfortable furnishings, and a lack of clutter, provide a tranquil escape from the daily grind.
Luxurious bedrooms offer spacious layouts, en-suite bathrooms, and private balconies or patios with sea or garden views. Another unique addition in Palma is the integration of panoramic windows or private balconies, allowing residents to wake up to breathtaking views, further enhancing the therapeutic atmosphere. Well-thought bedroom designs combine luxury with the serene beauty of the region, ensuring that every night's sleep feels like a rejuvenating getaway.
4. Palma's Apartments: Urban Living Redefined
Quality Palma de Mallorca's apartments redefine urban living with attributes that enhance modern-day living. These residences often feature great locations that enhance city life, offering convenient access to cultural and recreational amenities. One distinctive feature of quality Palma apartments is the integration of impressive rooftop terraces, creating inviting spaces that encourage residents to unwind and savor pleasant moments with friends and family while offering breathtaking neighborhood views.
These rooftops provide residents with a unique connection to the surroundings, making them perfect spots to savor the beauty of Palma de Mallorca's urban landscape. Creative apartment designs also prioritize maximizing space in smaller dwellings with innovative designs like sliding doors and open-concept layouts.
That helps make the most of every square meter in these urban homes while enhancing the modern urban living experience. That empowers homeowners to live a fulfiling, streamlined, convenient, enriching, and satisfying life. That makes quality apartments in Palma ideal for professionals seeking a vibrant city lifestyle and families desiring comfortable urban residences that encapsulate the spirit of Palma de Mallorca.
Embrace Palma's Exquisite Home Designs: A Journey to Your Dream Home
In the quest for your ideal home in Palma de Mallorca, thoughtful home designs are crucial for creating a comfortable and enjoyable lifestyle. Whether you seek classic elegance or contemporary innovation, these designs elevate your daily life. Crucially, when considering a property purchase in the capital of Mallorca, it's imperative to identify a reputable real estate agent who understands your vision and can guide you toward the perfect embodiment of your dream home.